Best Things to Do in Boise In the Winter
As the winter approaches, Boise slowly turns into a magical winter wonderland. While some people aren't fans of low temperates, it's hard to argue with the beauty of snow-covered Boise. It's a fun place to be, any time of the year. But there are so many things to do in Boise in the winter that it makes it one of the best cities in Idaho if you are looking for some snowy fun. It's excellent both when looking to spend a romantic weekend as well as when you are looking for some family time. You'll simply fall in love with what Boise has to offer. Here are some of the best things that you can do in Boise in the winter.
Visit the Bogus Basin mountain recreation area
Boise is a fascinating place. If you've grown up there you already know all that makes this charming city so special. But if you are moving in, you are in for a wonderful surprise. Because there are few more underrated cities than Boise. So once you are done with moving companies Boise and are ready to do some exploring, you should definitely visit Bogus Basin.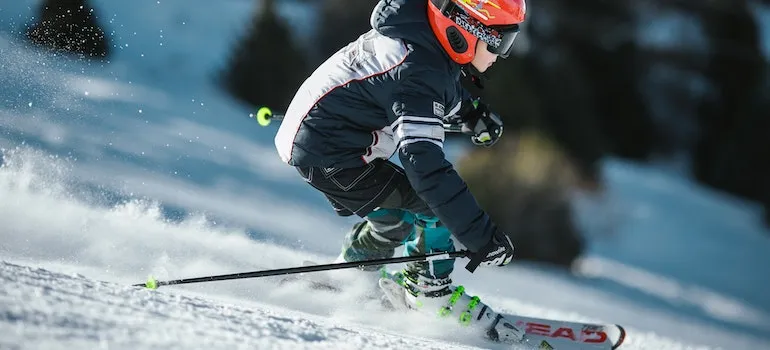 If you are new to Boise you might be wondering what Bogus Basin is. Well, it's one of the best-known mountain resorts in Idaho. It's a family-friendly place where the entire family can have some fun in the snow. It's one of the spots that truly make Boise special. While not strictly located inside the city, it's just 40 minutes from downtown. So getting there shouldn't be a problem.
Why is Bogus Basin one of the best things to do in Boise in the winter?
In most places in the US, winter can be pretty boring. Yes, snow is beautiful, but if there's not much to do it can quickly become boring. Well not in Boise, and it's partly thanks to Bogus Basin. This mountain resort offers all sorts of winter fun. As soon as you finish moving with the help of movers Star ID you can make the trip to the resort.
First of all, you can ski. If it's your first time, Bogus Basin offers both affordable rentals as well as lessons. So both you and your family can fully enjoy the experience. Boise residents already know how special the place is. Many of them have learned to ski right at the resort. It offers skiing, tubing, nordic skiing, and snowshoe trails.
Like adrenalin? You have to try Glade Runner Mountain Coaster
Another special thing about Bogus Basin is that it's home to Idaho's only mountain coaster. What is a mountain coaster you ask? Well, it's just like a roller coaster but up in the mountains. It's 4,330 feet of turns, twists, and a lot of screaming while doing it. You'll get to ride through the trees and mountains while enjoying some of the most beautiful scenery in Idaho. It's so good that you should definitely hurry up with moving companies Meridian and reserve your ticket. They sell out fast and for a good reason. You'll absolutely love it!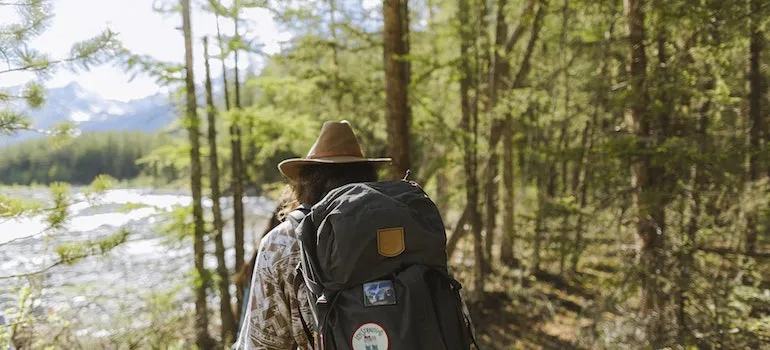 Ice skating is one of the things you can do in Boise in the winter
Ice skating might not seem all too interesting for some, but Boise sure makes it unique. First of all, there are many places in and around Boise where you can ice skate. So, no matter where your local movers Boise relocate you to, you are likely going to have a nearby ice-skating rink.
Some of the most popular ones are at Idaho Ice World, Indian Creek Plaza in Caldwell as well as at the Village at Meridian. Ice Skating at Indian Creek Plaza, for example, is children-friendly. There are buckets for kids to use as they learn. Another interesting thing about this place is that there are gas fires burning just outside the rink. So you can keep warm while you are taking a rest.
Getting your own Christmas tree is one of the most special things to do in Boise in the winter
There's nothing like enjoying the holidays with your family. Winter simply makes all family activities more special. Maybe it's the cold weather that makes us get closer together or everything that the winter season has to offer. But getting your own Christmas tree together with your family surely is a unique experience that can hardly be overstated.
You can head into the wonderful Boise National Forest and enjoy a whole day of activities that include cutting down your own Christmas tree. It's a perfect way to kick off the winter season in Boise. You can go as a family, walk, enjoy the snow-covered trees, and have some winter fun.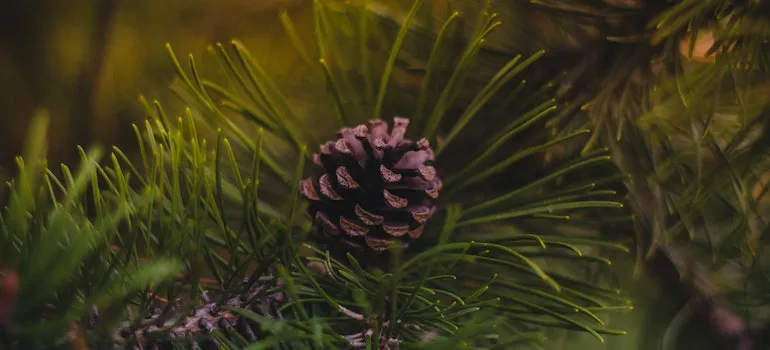 While getting a perfect Christmas tree can be challenging, it just takes some time. And if you are having fun while doing it, it will be a day that you'll remember for an entire year. All up until you do it again the next year. So go out and enjoy the snow-covered forest.
Enjoy the most wonderful Christmas lights in all of Idaho
Christmas is special for many reasons. It's time that families come together to celebrate the holiday and enjoy some winter wonder. One of the most visually beautiful aspects of this in Boise is the Christmas lights. There are many places around the city where you can grab a cup of hot cocoa and enjoy the view.
Best places to enjoy Christmas lights in Boise
There are many great places in Boise where you can go with your loved one or with an entire family to enjoy the spectacle. With so many places with such beautiful light arrangements, it can both be a romantic date as well as something fun for the children in case you are looking for fun outdoor family activities and things to do in Boise in the winter season.
The best places to go are Winter Garden aGlow at the Idaho Botanical Gardens, Scentsy Commons in Meridian, and Indian Creek Plaza in Caldwell. Arguably, the most beautiful lights can be found in the Idaho Botanical Garden. They are thoughtfully arranged and when paired with everything else in the garden they look stunning. One downside is that the tickets can be a little expensive.
Best Christmas lights in Boise for your little ones
Your children, on the other hand, will most likely find the lights at Scentsy Commons most interesting. That's because it's a 250-foot tunnel made entirely of Christmas lights. So you might want to visit that as well.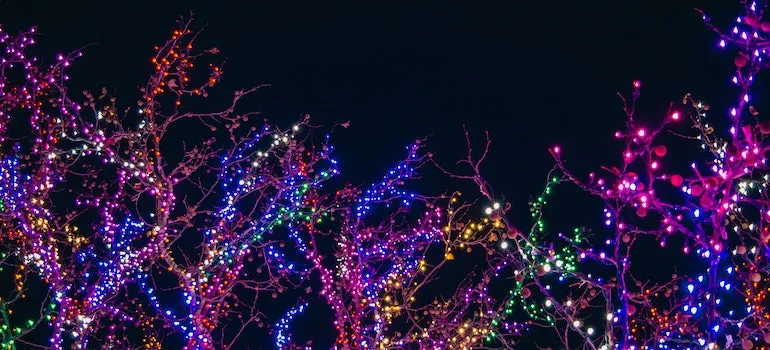 One of the things that you need to know about living in Boise is that it is truly wonderful. The best testament to that is Indian Creek Plaza at Christmas. They try to outdo themselves every year with their light spectacle. So you can expect more than a million lights spread along the creek. It's truly a sight to behold. It makes the entire area seem magical. Something your little ones will appreciate.
You have to visit the Village at Meridian
If you are looking for the best things to do in Boise in the winter, then you can't miss the Village at Meridian. Your little ones will definitely enjoy it. It's a perfect gathering place for an entire family in Meridian. During the holiday season, your little ones can visit Santa, enjoy the Magic of the Holidays light show or simply go ice skating. Aside from the light show, there is also a fountain spectacle.
But it's not just Santa's house that you'll find in the Village. Some great restaurants are located there. You can also do holiday shopping in the many shops or go to the movies. It's definitely a place you should consider as soon as the winter arrives.
Visit the Gateway Parks at Eagle Island for some winter fun
Circling back to fun activities in and around Boise, we come to Gateway Parks. It's an amazing place to spend a day with your family. So as soon as you are done with moving companies Nampa head to Eagle Island. You'll find a perfect place to enjoy tubing with your family. It also features a ski and snowboard hill.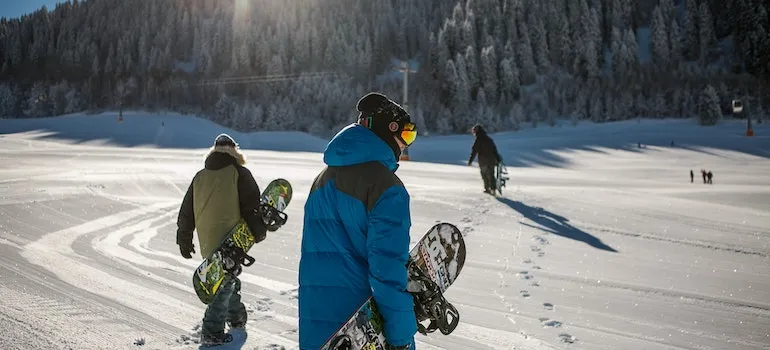 The best thing about Gateway Parks is that they are fully equipped. So you don't need anything special to be able to fully enjoy it. Just dress in your winter clothes and you are good to go. Although it's important to know that you need to have a reservation. You can do it online and a ticket gets you a 90-minute session. The place is crowded so it's best to get your ticket at least two hours in advance. It's also quite busy on weekends and when school is out.
McCall Winter Carnival is one of the most interesting things to do in Boise in the winter
As the new year passes and January slowly gets going, you might find yourself looking for something new to do. Christmas has passed, and you've had plenty of fun, but what now? Well not to worry. Boise truly is a wonderful place that has a lot to offer. Towards the end of January, you should plan to visit the carnival in McCall, Idaho. It's not located in Boise, but some two hours drive to the north.
It might seem far away at first but it's one of the things that makes winters in Idaho so enjoyable. Two two-hour drives will definitely be worth it. It will be an experience to remember for the rest of your life. McCall Winter Carnival is a week filled with stunning snow sculptures, fireworks, a parade, and plenty of live events that you can enjoy. McCall is also an amazing place and you and your family can enjoy ice skating, sledding, and snowshoeing while there.
There are plenty of hot springs around Boise for you to relax in
There's nothing better after a hard day's work than to jump into warm water. Well, this winter you'll be able to do just that because there are plenty of hot springs around Boise. Regardless of whether you want to go out of town or stay in, you can find a perfect place to enjoy a warm bath. It's something that you'll grow to love after moving to Idaho this winter season.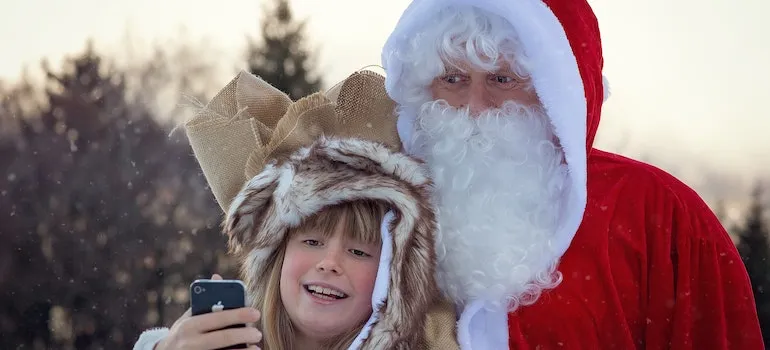 You can head on into the mountains and visit the Springs Resort in Idaho City. It's definitely one of the best activities to enjoy in Boise in the winter. There you will find natural hot spring pools and can enjoy an amazing view of the beautiful Sawtooth Mountains. Although you should make a reservation day in advance, it's worth it.
Another excellent place that you should visit if you are looking for a hot spring is Givens Hot Springs. Located some 30 minutes from Nampa and Caldwell, it features a single large swimming tool. It's perfect for visiting with children since it has a shallow section for the little ones.
There are many amazing things to do in Boise in the winter
Boise is a city that truly has a lot to offer. With only a little more than 230,000 residents, you'll both get to enjoy the peacefulness of a small city but also the amenities of a big one. Boise is a truly wonderful, creative, and interesting place. Both you and your family will have plenty of things to do in Boise in the winter. But more importantly than that, you'll have a lot of fun living there. People are welcoming and you can enjoy all the fun activities that the city has to offer. Whether you want to take a swim in a natural spring pool or if you want to go skiing, Boise is the best place for it.

Everyone from the packers to the movers were awesome! They were all very professional and showed up when they were supposed to. would definitely use them again.
Let our team put together a comprehensive moving plan for you. Complete our simple free quote form or contact us at 1-208-375-0961.