Commercial Storage
Fulfil all your business needs and explore all the benefits
of renting commercial storage in Boise
Get Free Moving Estimate
"*" indicates required fields
There are certain problems that almost every company needs to overcome – high office costs and lack of space for maintaining long-term records. But, what if we tell you that Peasley Moving & Storage has a solution for both of these problems? We help business owners, as well as freelancers, declutter their offices by providing them with record and commercial storage units of the finest quality. We are offering more than just a place to keep your important documents and valuable equipment. With our inventory control systems, security systems, professional logistics, and top-of-the-line equipment, we offer safety and business storage services customized to fit clients' unique needs. So, if you are ready to get rid of the clutter in your office, reach out to us and get one of the finest storage facilities in the greater Boise area. 
Peasley Moving & Storage – business storage solutions your company can rely on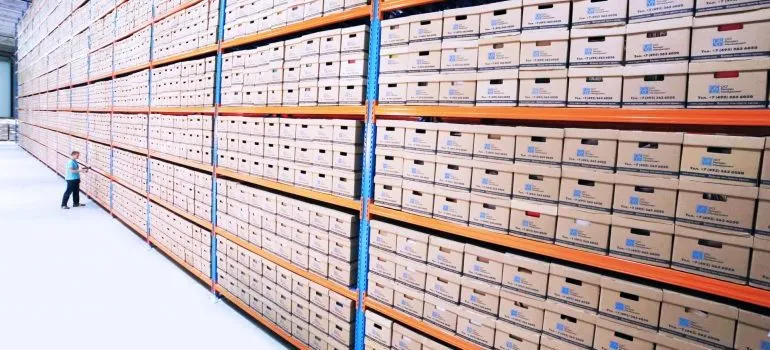 Whoever finds themselves in need of Boise moving and storage services simply can not skip working with Peasley – a company that has been a part of this industry for more than a century. Because we have been in the business this long, we have learned a thing or two about satisfying clients with the help of flexible relocation and inventory storage solutions. At Peasley, both our clients and their belongings are treated with respect and the utmost care. This is exactly what helped us stay in the business and climb on top of the ladder. Today, even after 130 years, we are still recognized as a reliable and trustworthy moving ally.
What are the benefits of storing offsite with Peasley Moving & Storage?
Records and valuable equipment are essential parts of any company, no matter its size or the industry it belongs to. This is why managing and protecting these assets is a necessity. This is exactly what you will manage to do if you opt for Peasley and get a storage facility Boise ID. For more than a century, we have been offering convenient and competitively priced industrial storage options for businesses in the greater  Boise area. But, this isn't the only reason why you would want to store offsite with us. Here are a couple more of them.
With us, you will save time and won't have to deal with preparations and organization. Our goal was to make storing offsite as simple as possible for our clients.
We can provide you with different types of storage solutions, such as mini or portable self storage.
Our facilities have an advanced security system. Every commercial warehouse is monitored 24/7.
Each facility is equipped with a fire protection system, to make sure your records and other items are safe.
We treat delicate items with the utmost care and have temperature-controlled conditions for preserving them.
Our facilities get regular pest control treatment.
Get industrial storage services tailored for your business needs
Even though we offer different types of storage facilities, companies mostly opt for commercial or record storage. By getting one (or both) of these facilities, you will finally remove stacks of paper from your office and get the space you deserve. More importantly, we customize our services according to clients' needs because that is the only way of ensuring their satisfaction. Whether you want to declutter your office or simply place your valuable documents while you are in the middle of corporate relocation, you can count on us.
Innovative commercial storage solutions
For over 130 years, Peasley Moving has provided Boise-area businesses with innovative commercial storage solutions. Our facilities are built to accommodate a variety of items, including:
Retail store fixtures
Copiers, printers, and filing cabinets
Restaurant equipment and furnishings
Trade show displays
Safes and gun cabinets
Hotel furnishings and fixtures
Livestock feed
Manufacturing supplies
Do you want to store away retail store fixtures, printers, copiers, safes, or furnishing? If so, you should opt for our commercial warehouse and business storage. Our facilities are built to accommodate and keep safe items that are big in size and quantity. They all have an advanced security system, as well as a fire protection system, so you have nothing to worry about. In addition to this, our commercial equipment movers can do the heavy lifting for you and relocate all of your equipment. You can focus on your company's work while our movers relocate your stuff.
We support local businesses in our area and want to help them grow. One of the things we are proud of is including into our offer an agriculture warehouse. Before we did that, we had to get an Agricultural Warehouse Certificate and carefully plan the layout of this facility. Today, these facilities are fully functional, safe, and a perfect place for livestock feed and farm equipment.
Reliable and convenient record storage facilities
Generations of businesses in Boise and throughout the Treasure Valley rely on Peasley Moving for safe, secure record storage. Your records are stored in temperature-controlled commercial warehouses with 24/7 protection against fire, theft, and pests.
When you partner with Peasley Moving for records storage, you have access to:
Record pickup and delivery services in the greater Boise metro
Bar-coded record management systems
Computer-generated inventory reports
Secure, on-site document destruction and shredding services
On-site inventory storage rooms
Our experienced, professional, and accommodating commercial warehouse staff are here to help guide you through everything you need to know about commercial and record storage in Boise. Contact us and get your free quote today!
Keeping important records onsite isn't the safest thing. Not only are your valuable assets at risk of natural disasters, but they could also get in the wrong hands. Because of this, it is better to keep your important documentation offsite, rather than onsite. Our secure record storage facility is just what you need. It is well-maintained, water-proof, and can keep all of your records safe for as long as you need it.
The crew that did my move - Cisco, Rick and Deon - were wonderful. Punctual, very efficient, skilled at figuring out the best order for how to do the move, careful with my furniture, easy to work with. My salesperson, S.E. is a joy to work with - just delightful.
-Pamela S., March 17, 2018
See What 106 Customers are Saying
Trusted commercial and record storage facility in Seattle
When you partner with us for records and inventory storage, you will have access to many convenient features, such as:
Record pickup and delivery services ;
Bar-code tracking;
Online inventory reports;
Secure, on-site document destruction and shredding services;
On-site storage rooms, etc.
With Peasley, your vital information will be in the safest hands in Treasure Valley. Our data management, organized delivery, and security system are here to give you peace of mind. You can access your important information whenever you need it and also keep it in a safe place.
Peasley Moving & Storage offers convenient, competitively priced industrial storage options for businesses in Boise and throughout the Treasure Valley. Featuring inventory control systems, professional logistics, top-of-the-line equipment, and more, our facilities provide businesses with reliable business storage services customized to fit their unique needs.


Get your custom commercial storage solution in just one simple step
Do you want to learn more about our record and commercial storage services? If so, the only thing you will have to do is reach out to us. Feel free to ask us anything that interests you. We will answer all your questions and provide you with a precise and free quote. Peasley Moving & Storage makes storing simple and safe. Rely on us and we will help you find the perfect solution for your business records.

Everyone from the packers to the movers were awesome! They were all very professional and showed up when they were supposed to. would definitely use them again.