Piano Movers
Get Free Moving Estimate
"*" indicates required fields
Whether it was passed down as a family heirloom or it's a piece you have bought with your hard-earned money, a piano usually has a great emotional and monetary value for its owners. The real problem arises during relocation -when you have to ensure that such a massive piece is relocated to another destination without any damages. It doesn't matter whether you are moving your precious possession locally or long-distance, because Peasley Moving & Storage is here to be of service. Our piano movers Boise based will provide you with on-time piano moving services at a price that won't break the bank. Contact our experienced team and let the 130 years of experience we have work in your favor.
Peasley Moving & Storage can safely relocate all types of pianos
From upright pianos to baby grand and grand pianos, our rich experience has given us a chance to handle all types of this musical instrument. Everyone with even the basic knowledge of pianos will be able to tell you that every type deserves special and proper handling. While some of them can be relocated in one piece, others need to be completely disassembled.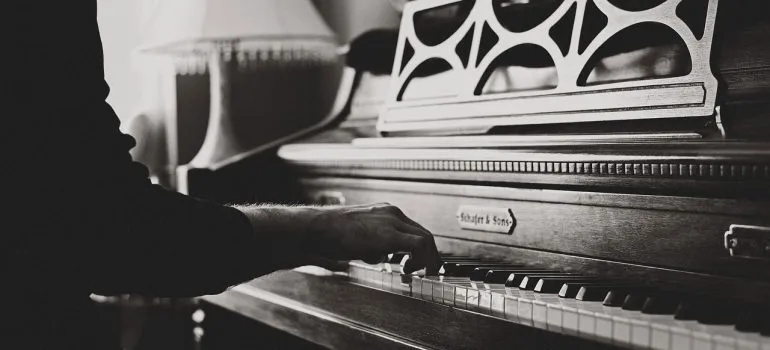 We completely understand that you might worry if you have a massive and expensive piano in your possession. Rest assured there is no need for you to stress over what's to come. This is what our piano moving specialists do best! And this is an endeavor we have undertaken hundreds of times in the past. Our rich history has turned us into top-rated moving professionals who aren't confined by moving obstacles.
Disassembly and reassembly is a specialty of our Boise piano moving team
With 130 years of experience, our piano moving team in Boise, Idaho has perfected the art of piano moving. For us, even the most massive of pianos don't pose a problem. Our professionals will take their time when it comes to disassembling your items, and ensuring parts like legs, music rack, and pedal box are safely removed, wrapped, and ready for transport.
After arriving at their designated location, our professionals will reassemble all of the pieces, getting your precious piano ready for tuning. Due to our careful handling of the disassembled parts, we can guarantee that nothing will be lost between point A and point B! Get a first-hand experience as to how easy residential relocation in Boise can be by picking up your phone and dialing our number.
On-time pick-up and delivery is a staple with our piano movers Boise based
Relocation can certainly be a nerve-wracking process. Therefore, having punctual movers who will respect your time is an important factor when it comes to having a stress-free move. And there's nothing that our piano movers and packers respect more than your time. Once you book your moving date with us, we will give you a timeframe for both the pick-up and drop-off points and dates. The moment we set the date, you can count on us being punctual. Not to mention how efficient we will be after arriving at your property. Our local movers Boise want to turn your relocation into a smooth one, and we want to contribute as much as possible to it.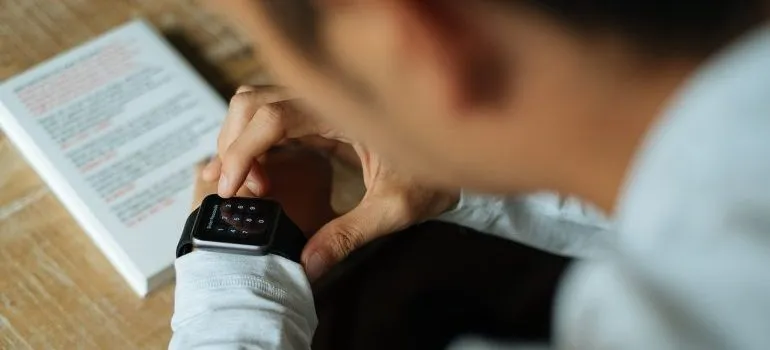 Peasley Moving & Storage takes care of more than just your piano
It's not uncommon to see unprofessional movers damage their customer's floors or walls while moving the piano. But that's never a scenario with our piano movers Boise! Due to our proper training, all of our moving teams know how to keep your property safe. Even if we have to get around tight corners and doors, you can rest assured we will find an optimal solution.
Our moving team always creates the best moving plan in which all the details of your move will be taken into account. We don't mind spending extra time when it comes to ensuring you get top-rated services! That's one of the main reasons why we have an outstanding rating with the Better Business Bureau.
Our piano movers Boise are completely equipped for the job
As you can imagine, it takes special equipment to lift, load, and relocate a piano. Items of this size need proper handling, as well as proper tools. Not only do we have well-maintained moving trucks that will fit your piano like a glove, but we also operate with special moving tools, such as:
Large dollies
Moving straps
Furniture straps
Moving boards or slings
Special wrapping
Our team will assess the needs of your piano, and then disassemble it if needed. After we wrap every piece in special wrapping, we will use our tools for lifting it and carrying it to the moving truck. Neither our tools nor our disassembling techniques will cause any changes in the sound of your piano. In fact, you can be certain that you won't be able to tell your piano was ever disassembled.
Proper storage of your piano at cost-effective prices
Peasley Moving & Storage excels when it comes to relocating your piano near or far. But we also don't fall behind when it comes to keeping it safe long-term or short-term in our premier storage units. Our storage units Boise will keep your item safe while you take care of renovations, moving tasks, or other events. Contact our team if you have an interest in learning all about our prices and different storage plans. And if you are looking for a quick solution, you can request a free and commitment-free quote. We impose no limits or restrictions on any of our services.
Move your piano with ease with Peasley Moving & Storage
With cost-effective prices, on-time delivery, and a great desire to cater to your needs, our piano movers Boise will make sure you don't have any headaches during the process. Peasley Moving & Storage will send our top specialists which will come paired with modern moving equipment. Contact us today and request a free quote from our team. We are here to help you every season of the year, every day from Monday to Saturday.

Everyone from the packers to the movers were awesome! They were all very professional and showed up when they were supposed to. would definitely use them again.