Peasley Moving & Storage is proud of our team of dedicated professionals, many of whom have had long and successful careers with our company.
Operations Team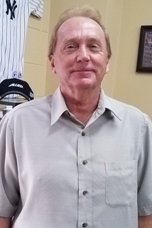 Roger Shenfeld, Branch Manager
Roger joined Peasley Moving (a division of Hansen Bros. Moving & Storage) in 2017, bringing over 35 years of experience in the Moving and Storage, industry. He has worked for several moving agencies associated with multiple Van Lines, in addition to serving in management roles at Sirva (North American Van Lines). Roger holds degrees in Business Administration and Marketing from the University of St. Francis in Ft. Wayne, Indiana. Roger is a native of Ft. Wayne and an avid Notre Dame fan. Roger loves the Boise, Idaho lifestyle after spending 11 years in Las Vegas. In his free time Roger likes watching sports and working on his sports cars.
George Reyes, Operations Manager
George joined our team in 2001 as part of our appliance delivery team. In 2010, he was promoted to the main Peasley warehouse and given responsibility for managing our commercial and record storage.  George now serves as our Operations Manager,  where he brings all of his previous experience with the various areas of the business to bear and is able to work with his team members and customers both to find solutions to issues and concerns.  Outside of work, George enjoys his time coaching Optimist Football, spending time with family and friends.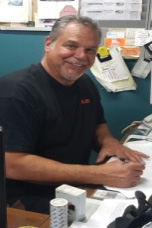 Nick Picciotti, Lead Mechanic
Nick joined our team in 2001 and holds responsibility for leading the maintenance and repair services that keeping Peasley's fleet of vehicles and equipment safe, reliable, and looking their best. He enjoys the challenge of running an efficient shop and takes great pride in troubleshooting & solving engine problems, custom fabrication, and welding too. Outside of work, Nick likes to spend his time golfing, fishing, camping, and shooting.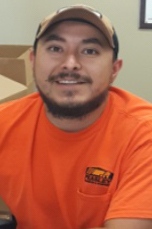 Alex Reyes, Distribution Manager
Alex joined our team in 2001 as a member of the appliance delivery team and worked his way up from there. Alex has spent much of that time in charge of the delivery teams and working out the logistics involved with the routes. Alex is now the Peasley Distribution Manager and enjoys the challenges that brings. When he's not at work, Alex enjoys the outdoors… camping, hunting, and fishing. He and his wife recently "replaced" his son (who graduated and is off to college) with a "better behaved" (fluffy) daughter.
Dustin Olson, Mechanic
Dustin joined our team in 2001 and is responsible for performing inspections, engine troubleshooting, preventative maintenance, and mechanical/electrical repairs to Peasley's fleet of vehicles and equipment. When not at work, he enjoys woodworking, fishing, and camping.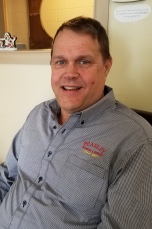 Brian Reppert, Relocation Consultant
Brian joined the Peasley Moving & Storage team in 2018 after 12 years of tremendous success in Seattle, WA at Hansen Bros. Moving & Storage (Peasley's parent company). Brian brings over 25 years of experience in the moving industry and is responsible for providing accurate and cost effective moving solutions to his customers. Brian enjoys the variety in the clients he sees on a daily basis because it enables him to tailor each move to meet the client's needs and expectations. Brian resides in Nampa with his wife and takes great pride in their four grown children. His passion is spending time with his family and some day he hopes to rediscover his golf game!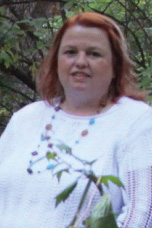 Beth Rice, Relocation Consultant
Beth rejoined the Peasley team in 2015 after taking a break to raise her family. She has over 7 years of experience with the moving industry and uses that to keep the office running smoothly. She juggles phone calls, paperwork and works with sales and operations to make moving as comfortable as possible for everyone involved. Beth enjoys problem solving and finding new ways to get things done.  Beth grew up on a farm in Juniper Idaho, and now lives in Boise with husband and youngest son and 2 dogs Luna and Farley. The other 3 kids are close by all recently married with growing families of their own. Together they enjoy the wide variety of activities that Idaho has to offer.
Administration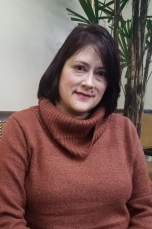 Alicia Stoutenburg, Customer Service
Alicia joined our team in early 2018. In her current role, she answers phones, assists customers with their Interstate moves, processes transportation paperwork, and provides support to both sales and operations. Alicia enjoys creating satisfied customers, problem solving, and working with fellow staff members.
Let our team put together a comprehensive moving plan for you. Complete our simple free quote form or contact us at 1-208-375-0961.