Relocating to Idaho – all you need to know
Has life or business taken you to Idaho? If you are on the verge of relocating to Idaho, you are probably experiencing all sorts of feelings. You are excited, but you also feel unprepared for what's to come. Don't worry! We here at Peasley Moving & Storage have been relocating people to Idaho for many years now. We've accumulated sufficient experience that enables us to advise you on the topic. We have also noticed there are a few things people aren't aware of when moving to Idaho, and those are the things everyone should know. So without further ado, let's get to it!
Prepare for the extreme weather
If you are thinking about moving from California to Idaho, let's just say you are in for quite a ride! Weather in Idaho can be extreme, and by can we mean it usually always is. With frigid and snowy winters and hot summers, those unaccustomed can face a lot of problems. So how extreme are we talking about? The average temperature for December is 24 degrees, while the average temperature in July is 91 degrees.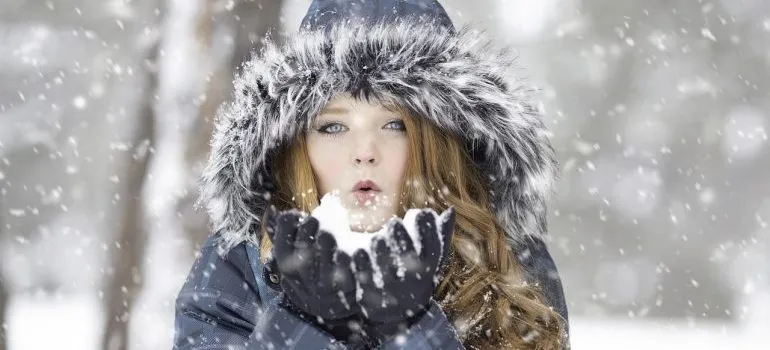 If you are thinking about storing your items in Idaho, we strongly suggest you consider temperature-controlled units only! They will fight off the bad effects that the extreme weather can have on your items by keeping the temperature nice and cool. Certainly, something that will be a good investment, right?
You can become a homeowner by relocating to Idaho
If you are tired of being a renter and would love to have something of your own, you should know that Idaho is the perfect place for turning your homeownership dreams into reality. Homeownership rates in Idaho are very high and they rank as the 12th highest in the nation. As much as 69.6% of people own their homes, which is quite a staggering number.
We all know that purchasing a home is a huge investment and a very big undertaking. That's why when you do find your dream house and gather the funds, you will want to hire the best residential movers in Idaho. Reliable movers will keep both your new house and your belongings free of any damage, saving you the trouble of having to fix their mistakes.
Idaho is a tax-free state!
In addition to low-cost housing and products and services, Idaho is a tax-friendly state, depending on your income level and source. Idaho is exceptionally tax-friendly for retirees. Because Social Security retirement benefits are not taxed at the state level in Idaho. Furthermore, the state's property and sales taxes are minimal. Idaho is also business-friendly in terms of taxes. If you're already thinking about relocating your business to Idaho, one of the best freight companies Idaho is here to help out. Last year Idaho dropped its maximum tax rate to only 6.5 percent, making it more competitive and appealing to companies. Furthermore, Idaho's tax law was streamlined, with the number of income groups reduced from seven to five. Idaho has the "lowest per capita tax burden of any state," with a 1.5 percent property tax and a 6% general sales tax. We know many people would move in a heartbeat because of these stats.
Idaho is one of the safest places in the US!
One of the numerous advantages of living in Idaho is the safety and low crime rates. In comparison to the rest of the nation, the capital city, Boise, has extremely low crime rates. Crime rates in Boise are 25% lower than the national average. The Gem State is one of the top ten safest states in the nation. You won't have to worry much about safety here. And no property taxes! Come on, we'd call movers Meredien ID right away in your place.
Boise is an amazing city to live in
Rare are those who ever regret moving to Boise! This city is one of the best state capitals to live in by many standards, and there really is a lot to love about Boise! We know we love it! If we were in your shoes, we'd start looking for packing supplies Boise ID right away. So what is it that makes Boise such a valuable gem and a great place for raising your kids or making it as a young professional?
The crime rates are low
Boise has a relatively low cost of living
Easy access to outdoor recreational activities
A good climate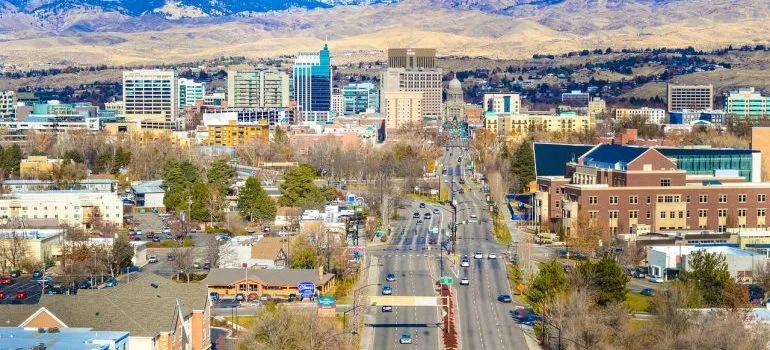 Once you decide to give Boise a shot, you won't have a problem finding a reputable moving company to help you move here. And it's very easy to find the best moving rates and have an affordable relocation when you are basically surrounded by options. We are only one of them and should you choose us, an effective and budget-friendly relocation is guaranteed!
You will enjoy natural beauty after relocating to Idaho
Idaho is a state with a picture-perfect natural setting. The vast swathes of preserved wilderness give Idaho a unique charm and appeal that differentiates it from many other states. That's why it comes as no surprise that Idaho's residents love to spend their time outdoors. From camping, fishing, rafting, hiking, and hunting, you will certainly have many fun outdoor activities at your disposal. And the best part is that you will be in good company! This is the way people here choose to spend their weekend – when the weather allows it, of course.
Moving to Idaho will enable you to live the American dream
By a lot of standards, Idaho is actually the perfect place to live out the American dream and fulfill your full potential. Idaho is one of the best states in the US for the middle class and, as previously mentioned, it's also one of the best states for homeowners. That's only on the state level because different cities in Idaho are just as impressive. Besides Boise, which we have already established is a great city on so many different levels, Pocatello in Idaho is also one of the best cities for career opportunities. But you don't have to take our word for it when you can simply move to Idaho and experience everything it has to offer. And we've just mentioned the tip of the iceberg here.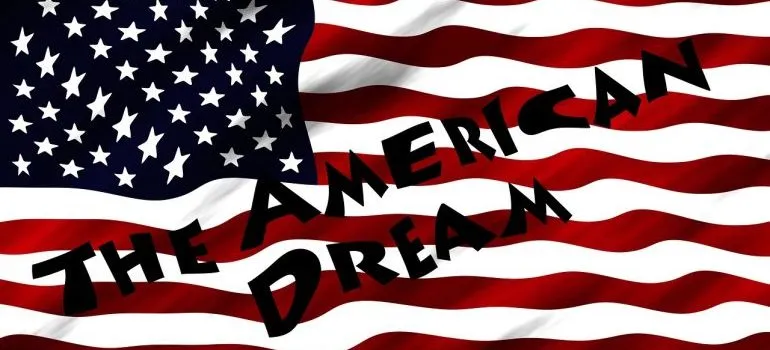 If you move to Idaho, you can forget about long commutes to work!
When you relocate to the Gem State, you will leave behind the heavy traffic, delayed trains, and congested motorways. The quick drive to work is only one of the advantages of living in Idaho. According to the United States Census Bureau, the average commute time for Idaho employees is 21.1 minutes. According to Best Places, this is shorter than the national average of 26.4 minutes. The reason for a reduced travel time is most likely because Idaho is just less populated than other states. You won't encounter the same levels of traffic and congestion as you would in other cities.
Idaho is environmentally friendly
Idaho's citizens are not the only ones that are nice. The environment of the state is extremely pure, with above-average air quality and sparkling clear water. According to U.S. News, Idaho is the 12th best state for environmental quality. Idaho is the second cleanest state in the US. The research looked at the quantity of rubbish buried per capita, the amount of waste created each year, and levels of air pollution, among other things. Wouldn't you like to live in a state with clear water, without air pollution? Even light pollution is minimized here. Boise is one of the few bigger cities in the country where you don't have to squint your eyes while walking at night.
There are many things to do if you like the great outdoors
Idaho is widely recognized as one of the most visually stunning states in the United States, and it also happens to be home to a wide variety of exciting outdoor activities that are open to both locals and tourists. In point of fact, each year the state welcomes millions of tourists who come to explore the state's many parks and other outdoor attractions. In Idaho, you'll have the opportunity to participate in a wide variety of outdoor activities, including but not limited to hiking, skiing, snowboarding, white water rafting, fishing, camping, and mountain biking. These are just a couple of examples of the great things to do in Idaho.
Hike in Stanley
One town in the Gem State that consistently ranks at the top of every attraction list is Stanley. Sawtooth, White Cloud, and Lost River mountain ranges surround the town of Stanley, which has a convenient location in the middle of them all. As a direct consequence of this, the region has emerged as a premier destination for outdoor activities. In point of fact, if you like being outside, this is one of the nicest places you could go. This is the perfect place for you if you like activities such as rock climbing, hiking, and backpacking. The following is a list of places that I think you should visit while you are in the Stanley region.
Relax at one of the Hot Springs
After you've finished trekking, it's time to kick back and relax for a while! After a day of hiking in Idaho's mountains, one of the most relaxing things to do is to soak in one of the state's many hot springs. I took a short trip from Stanley to go to the Boat Box Hot Springs, and my experience there was all I could have hoped for and more. This natural hot spring may be found in close proximity to the road and the river. You won't be able to see the road after you've entered the "tub," so be prepared. Take into consideration the fact that the pullout may only accommodate one or two vehicles at a time. If the water in the tub is excessively hot, you may also need to lower the temperature of the water in the tub. To adjust the temperature to your liking, you need just make use of the bucket that is conveniently located nearby and add river water.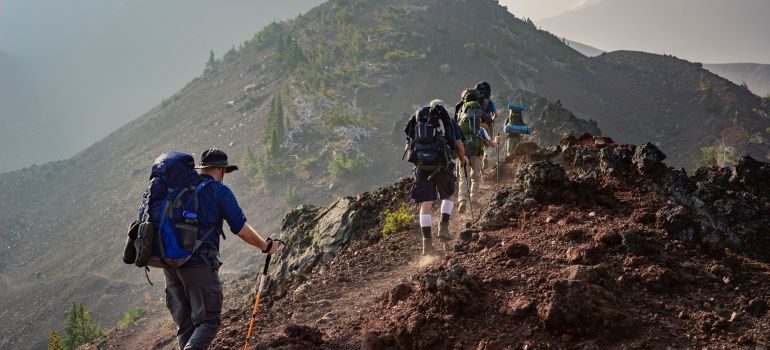 Enjoy in the Boise River Greenbelt
You can't call your trip to Idaho complete without checking out Boise. Even though Boise is a beautiful city, one of the best things to do in Idaho for us is to walk along the Boise River Greenbelt. The Greenbelt in Boise is a walking and bike walkway that extends for 25 miles and is bordered by trees and follows the river as it travels through the city. Due to the fact that we don't like riding next to traffic, we found that this was the ideal method to see the city. In addition, you can go to Esther Simplot Park and Ann Morrison Park. If you are someone who enjoys being physically active, this is the way to go to see Boise!
Relocating to Idaho by yourself or opting for moving professionals?
You've decided that Idaho has everything you could ever ask for. Great! But now comes the hard part. Once you decide to move, you only have two options – choosing to have a DIY relocation or opting for professional help. Now we can't tell you what's the right solution for you as that depends on many different things. But what we can tell you is that you have to be really careful! 
A lot of times, a DIY relocation actually turns out to be more expensive than a move conducted by professionals. That's because people usually have no idea what they are doing, so they end up making mistakes every second. It would be good to take into consideration your past moving experiences as well as take a good look at your budget.
It would be ideal if you could hire professionals when relocating to Idaho, especially if you are moving your business as well and in need of commercial storage. But if you simply don't have sufficient funds, educate yourself about DIY moves. There are certain pitfalls you must avoid and the good news is that they are easily preventable. If you properly prepare, of course! Good luck!

Everyone from the packers to the movers were awesome! They were all very professional and showed up when they were supposed to. would definitely use them again.
Let our team put together a comprehensive moving plan for you. Complete our simple free quote form or contact us at 1-208-375-0961.