Boise outdoor activities to explore with family
After moving to Boise, your family will need some much-deserved R&R. And, what better way to do it during warm spring/summer months, than heading outside. Luckily, there are a lot of Boise outdoor activities to explore with your family after Idaho movers help you settle in. The nature surrounding and permeating the city is simply gorgeous to behold and explore. But, more than that, it offers plenty of opportunities for fun, relaxation, and learning. Therefore, there's no doubt an outdoorsy family will have a blast exploring Boise. So, here are some pointers to help get you started.
The Grove Plaza
If you had one of the best freight companies Idaho to deliver your belongings, you'll have plenty of time to settle in. Therefore, you can allow yourself to take it slow. Settling in is a lengthy process, that can leave you burnt out pretty fast. The best way to prevent that is planning your day so your evenings remain free to explore Boise. And there's no better starting point than smack in the middle of Downtown.
The Grove Plaza is a favorite gathering place for residents, especially during spring and summer. Shops, cafes, and eateries aside, The Plaza host more than 60 events each year. Art exhibits, festivals, concerts – something is always happening here. The majority of events are family-friendly and, the best of all – free. As a bonus, there's a cute fountain in the middle of the plaza, where your kids can splash and play. All in all, a well-rounded experience and the best way to see Boise in the best light.
Explore Boise parks – all 90 of them!
That's right! Boise may not be particularly large, but it more than makes up for it with an abundance of green spaces. In a way, it's like living in nature. So, it's no wonder the city earned the nickname "The City of Trees". Here are some great options where you can spend a fun day:
Julia Davis Park – This park sports a huge play area, perfect for your kids to have fun and socialize. In case of rain, you can also take a tour of one of the three nearby museums.
Kathryn Albertson Park – A great option if your family loves seeing wildlife while playing. Rabbits and deer are common visitors, guaranteed to bring a smile to your face.
Liberty Park – If you're using Boise business storage, you inevitably passed Liberty park on your way there. Though not as large as others, Liberty Parks offers a welcome escape from the city hustle.
The Boise River Greenbelt
Once you find a bit more time (as in the whole day), you should definitely head to The Boise River Greenbelt. This oasis of serenity runs the entire length of the town. That's 25 miles of outdoor fun that you can explore on foot or by bike. Granted, if you want to see it all, the latter is probably the better option. Even if you don't have a bike – it's no problem. Boise Green Bike has stations all over downtown. So, grab one and the adventure can begin!
Lucky Peak Reservoir
If you keep riding southeast from Downtown and along the Greenbelt, after half an hour you'll arrive at Lucky Peak Reservoir. It's a perfect place for a family picnic and summer splashing. If you'd rather chill on the shore, fishing here is a great option, too!
Morrison-Knudson Nature Center
For families enjoying the sight of wildlife, a visit to the Morrison-Knudson Nature Center is a must. Spanning 4.6 acres along the Greenbelt, this is an amazing place to familiarize yourself with Boise wildlife. A trail winding through the Nature Center will take you next to many ponds teeming with fish, birds, beavers, and other wildlife. You can even catch a glimpse of what's underneath the surface, as the Center has to view windows overlooking the pods.
World Center for Birds of Prey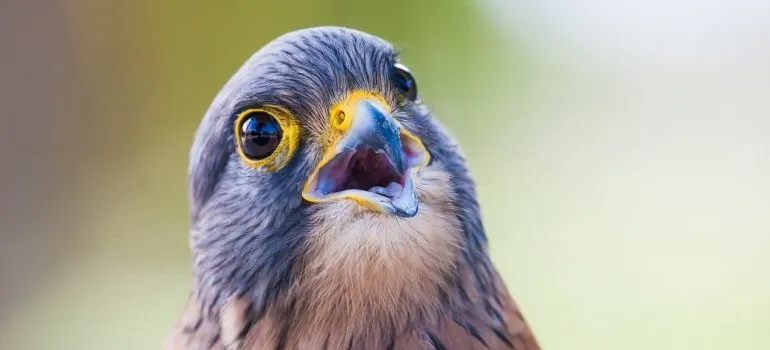 Just a short drive from downtown you'll find one of the most memorable Boise outdoor activities – World Center for Birds of Prey. Get in close and personal with majestic eagles, swift hawks, terrifying condors, and many more fascinating species. Check out interactive displays and multimedia shows to learn more about birds of prey in a fun way. And definitely do not miss the live demonstration! It's an exhilarating experience you and your kids will talk about for months.
Idaho Botanical Garden
Does your family fancy themselves a bit of a green thumb? Then Idaho Botanical Garden is the perfect place for you. What was once an Old Idaho State Penitentiary is now a lush, tranquil haven. Twelve themed gardens offer hours of fragrant fun and relaxation. If your kids love getting close and personal with the plants, plan to spend a few hours at the Children's Adventure Garden. Aside from plants, they will have a blast scrambling through hollow logs and canopied treehouses.
Boise Aquarium
Boise Aquarium may not be the largest or the most magnificent in existence. Nevertheless, it offers tons of fun for nature-loving families. The site is home to more than 250 species of marine and land animals. You will enjoy seeing silly pufferfish, watching sharks feed, and even pet the stingrays! There's also a parrot aviary that will allow you to snap some unforgettable photos.
Boise ZOO
Honestly, who doesn't love ZOOs? Seeing exotic animals frolicking around all day is a satisfying and fun experience for a crowd of any age. But, more importantly – it's educational. Again, in a fun way. So, if you want your kids to develop a love for animals and learn to appreciate them, there's no better place for it than Boise ZOO.
Camel's Back Park
There's no better way to make your kids expand that infinite energy than to take them on a hike through Camel's Back Park. To reach the summit, you can take one of three trails, each of varying difficulty. Once atop the hill, you're in for a treat. A breathtaking view of Boise will greet you and leave you in awe. And, if your kids still have some energy left after that, on your way back you can stop and spend some time on a beautiful playground. That will all but guarantee they sleep like babies!
Taking time to explore Boise outdoor activities is always rewarding
Boise may not be the biggest city, but that certainly isn't a downside. Simply because you can make every day an adventure. Gorgeous nature and charming venues make exploring Boise outdoor activities more than satisfying. So, grab your family and simply pick a direction. It's more than certain you'll stumble upon something amazing, that will make for a great story.

Everyone from the packers to the movers were awesome! They were all very professional and showed up when they were supposed to. would definitely use them again.
Let our team put together a comprehensive moving plan for you. Complete our simple free quote form or contact us at 1-208-375-0961.