Boise Movers You Can Rely On
For over 130 years, residents in Boise and surrounding neighborhoods have turned to Peasley Moving & Storage as one of the most trusted Boise moving companies. We recognize local moves can require just as much effort and planning as a long distance move. That's why our management team, customer service experts, and seasoned movers and take the time to understand your needs and develop a moving plan for exactly what you need.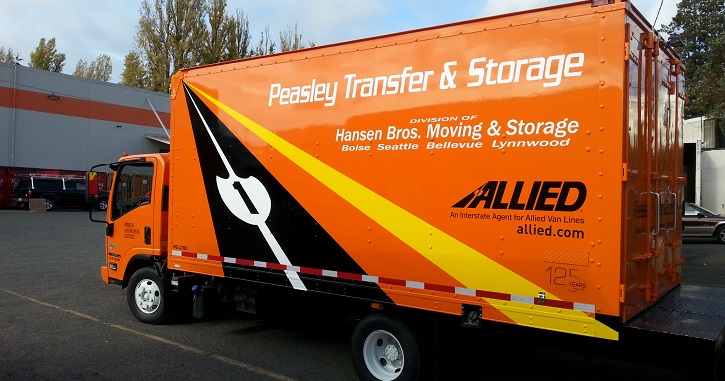 You Deserve A Stress Free Moving Experience from a Top Boise Mover
Local moves happen within a 55 miles of Boise, staying within Idaho state lines. We're dedicated to providing cost-effective moving services for all types of local moves in Boise. Here are some of the things we consider when creating a customized local moving estimate for you:
Do you need our teams to provide packing services for you before moving day? We offer several packing options to choose from, such as full pack, partial packing, and even the supply of moving boxes and materials if you prefer a do-it-yourself approach.
Do you have heavy, oversized or delicate belongings that require extra handling? We know during every move there are fragile items that need more attention. Our teams have years of experience moving antiques, heavy equipment and oversized furniture to new destinations. Let us know about these type of items during the estimating process so we can create the right moving plan for you.
Do you need full service disassembly and reassembly? Not all Boise movers offer extra services for taking apart and reassembling your items at the new location. We minimize the post-move stress by taking care of the time consuming and sometimes tedious process of handling larger and more complex items.
How Do We Determine the Final Cost of Your Local Move?
The final price you pay is simply determined by the time and materials required by your move. Factors include the number of items, rooms, distance, access to your current origin and new destination, and the scope of service you request. Our goal is to provide as accurate an estimate as possible, anticipate needs, deliver a seamless set of moving services, and conclude with a highly satisfied customer.
Boise Moving and Storage is Better With Us
Decades of reliable residential moving is at the center of our business' success. We know there's no one approach to moving, and our service quality sets us apart from any other company in Boise. At Peasley, having professional, courteous crew members perform packing and moving services is one important component of our commitment to our valued customers.
We go the extra mile with our customer service and coordination to make sure you're getting what you pay for and more. When you move with us, rest assured you're getting the following level of service:
Partnership – The process of moving involves many details and logistics. Our management and customer service staff are committed to excellent communications, finding creative solutions to unanticipated challenges that may arise, and ensuring that you are satisfied with the services we provide.
Professional Moving Crew Leads – Successful moves rely on accountability. Every moving team is supported by a working lead who has been background checked, briefed by operations managers and relocation consultants to review your individual moving plan. Supervisors ensure that your move runs smoothly, providing direction, quality assurance and efficiency.
Moving Damage Protection – From packing services and all the way through the moving process, we make sure your possessions, residence, and property are as well protected as possible. Our team will pad, wrap and cover your belongings to guard against bumps and scratches as they're loaded into and out of our moving trucks.
Well-Maintained Equipment – Safety is atop priority at Peasley. We use the high quality and reliable  moving equipment and vans, with regular maintenance conducted by professional mechanics to help us remain compliant with transportation industry regulations. Our service quality is impacted by the vehicles and equipment we use, and that's why we emphasize the need to keep our fleet clean and in great condition.
What Makes Peasley Moving & Storage Different from Other Boise Moving Companies?
We've been successfully moving individuals, businesses and families in the Boise, Treasure Valley, Nampa and other surrounding neighborhoods for well over a century.
We treat our customers like family and we have numerous testimonials that tell this "story"..
Ready to get started planning your move? Request your free, no-obligation estimate today, and a member of the Peasley Moving & Storage team will be in touch shortly.
The team that was sent, Kit, Shannell, Joey were fabulous! Very professional and friendly. Not one item was damaged! I will be sure to recommend them to anyone who is in the need of movers. I was very impressed with the entire experience and my expectations were highly meet. Thank you for the great service!!
-Sarah N., December 1, 2017
See What 91 Customers are Saying
Let our team put together a comprehensive moving plan for you. Complete our simple free quote form or contact us at 1-208-375-0961.