When is it a good time to ask for a binding moving estimate?
Moving is one of those undertakings where you simply can't afford to rush in blindly. In most cases, it starts the same – with drafting a moving budget. And it's at that point that people encounter the first tripping stone. Namely, is there a way to know, for sure, that the cost of the move won't exceed said budget? The answer is a simple one. Yes – that's why Idaho moving companies offer the option of getting moving quotes for their service. While it is common for companies to provide non-binding estimates, there are times when customer can and should feel free to ask for a binding moving estimate. In this article, we explore the conditions under which you should ask for binding estimates.
Start by understanding all types of estimates
To understand why you should always ask for a binding moving estimate, it's essential to know the difference between the two. As opposed to "rough estimates," non-binding and binding estimates require specific details to get a calculation from (moving from/to, moving date, move size/type, inventory list, etc.).
How do movers calculate the price?
Both types of estimates are what movers generally consider as "precise estimates." To determine the overall cost of your move, they'll do an "on-site" or a "virtual estimate". This process is extremely thorough and takes into consideration several factors, such as:
Distance from your origin point to destination;
The combined weight of your belongings;
Number of movers required;
Default moving services;
Additional and/or special services;
Special circumstances.
What you end up with when movers finish their estimate is a detailed list of everything your relocation involves. If you need an extra mover, they'll note it in the list. If you require medical equipment shipping services, you'll find it there, too. This way of calculating moving expenses leaves nothing to chance. Therefore, it's the most reliable way of determining how much you need to set aside for your relocation.
What's the difference between a non-binding and binding moving estimate?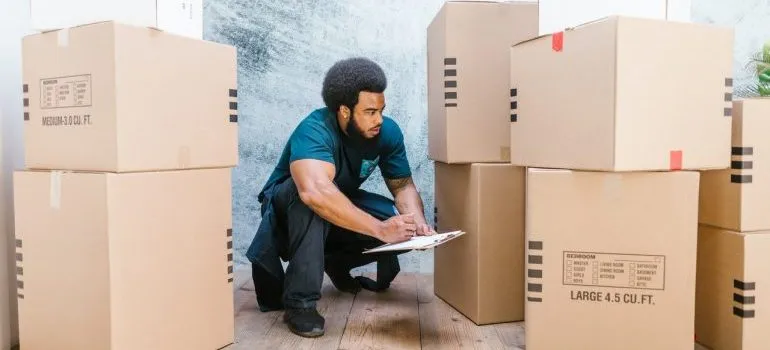 At a glance, the difference between the two is hard to tell. Both estimates contain all the details of your relocation. The price noted is the same. They are both legal documents, made out in writing, requiring your signature and that of moving company representatives to make it valid. But, there's one significant difference.
Four conditions when it is okay to ask for a binding estimate
A binding moving estimate guarantees the price of your move, both for you and your movers. They cannot charge you more, even if the job demands more engagement on their part. Similarly, you can't pay any less than agreed upon, even if you don't use all services you requested. So, a binding estimate fixes the price, making it unchangeable, regardless of the circumstances. So, what are the conditions that call for such an official step in planning your move?
#1: When you need to plan a large-scale move with no room for surprises
There's a lot of planning involved even in the simplest move. However, the majority of it revolves around one thing – budgeting. It's no secret that moving is costly. Therefore, every dime you invest must be put to good use. With a binding estimate, you won't have to set aside more than necessary. An exact number will make it easy to draft a responsible budget.
#2: If you're moving on a very limited budget
A binding estimate guarantees that your movers will finish the job, without charging you more than previously agreed upon. If you're moving on a tight budget, this can be a godsend. It gives you peace of mind during a turbulent time. Also, don't forget to combine it with discounts and promotions. More often than not, your movers will have a pleasant surprise in store. Of course, you'll find this item on the list, too
#3: When you are looking to validate the credibility of your movers
One of the biggest upsides of a binding moving estimate is that it helps you discern reputable movers from amateurish or fraudulent ones. Reputable freight companies Idaho houses have confidence in their skills and abilities. As such, they won't have trouble taking responsibility for your belongings. Simply having the option to get a binding estimate is a sign of trust.
Furthermore, as mentioned earlier, a binding estimate is a legal document. Therefore, their willingness to sign it shows they operate within the confines of the law. This is an additional guarantee of safety that you shouldn't pass up.
#4: When looking to avoid moving scams or past mistakes with hiring movers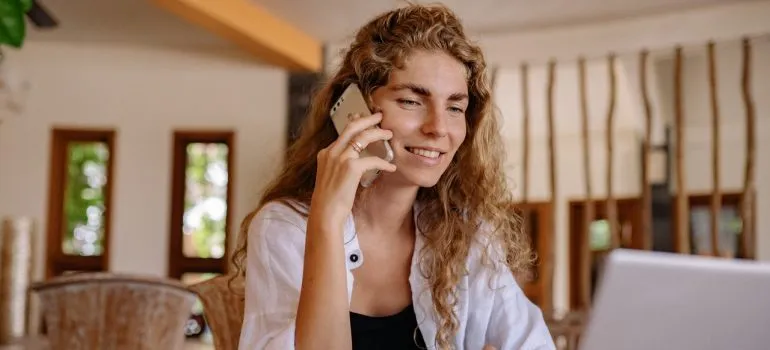 Recent years have seen a rapid expansion of fraudulent movers and moving scams. Tens of thousands of Americans fall prey to these rogue elements every year. They endure incredible heartache and hardship while under their thumb. Not to mention – a great financial loss. But, you ensure you're not one of them when you ask for a binding moving estimate. Dealing with the law is a big "NO" for all scammers. So, when you ask them to sign a legally binding contract, they'll claw to avoid it however they can. And that is a certain sign you should bid them farewell and be on your merry way.
How does it work?
Actually, it couldn't be any easier. Here's how it goes:
Contact your Idaho moving company of choice;
Schedule an on-site estimate;
Wait for a company to send their representative;
Give them a tour of your home/office, clearly (indicating) what goes with you and what stays;
Wait for a representative to finish calculations and present you with a contract;
Sign and enjoy your uncertainty-free move.
As you can see, the entire process is pretty streamlined. There are no hidden clauses, guessing, or messing around. Once your movers complete the calculation – that's it. You have a number that's set in stone and you can keep on planning.
There is a time and place to ask for a binding moving estimate
A looming uncertainty is what makes moving so nervewracking. Combine it with the constant pressure of important decisions and a tight timeframe, and you get a great recipe for stress. But, if you ask for a binding moving estimate, you eliminate a major portion of it. You're introducing order into chaos, thus making your relocation more organized and simple.

Everyone from the packers to the movers were awesome! They were all very professional and showed up when they were supposed to. would definitely use them again.
Let our team put together a comprehensive moving plan for you. Complete our simple free quote form or contact us at 1-208-375-0961.