Tips for storing off-season clothes
Storing off-season clothes seems like an easy task. You get your seasonal clothes, put them into bins or boxes, and store them. Although that seems pretty straightforward, if you want your clothes to last longer you need to take good care of them. It might seem like a lot of work, but in the long run, it will save you a lot of money and time. Properly packing and storing your clothes will help you to unpack them and switch them with ease once the season is over. And no matter if you are packing and strong your winter or summer clothes – these tips will help you optimize your storage and keep your clothes in great condition!
The first step in storing off-season clothes  is to declutter
Switching your clothes when the season changes is an ideal opportunity to declutter. If we are being honest, we always tell ourselves "I will do it next time" and that moment never comes. Decluttering your wardrobe when storing off-season clothes is a great opportunity to make more room in your home and closet. It is okay if you feel overwhelmed or anxious because we all have an emotional attachment to some of our belongings. Maybe you wore that shirt when you met your favorite singer or your partner. And although it might feel hard, it is good and healthy to say goodbye to some of your clothes.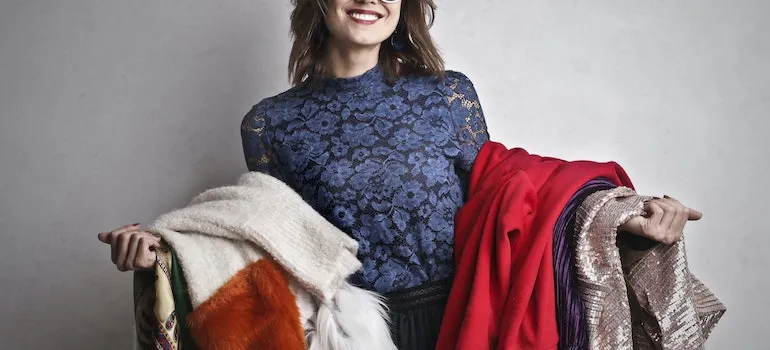 If you have clothing that doesn't fit you anymore, even if you lose or gain weight – it is time to say goodbye. Or you have clothes that are damaged beyond the repair or you never wore them  -throw them away or donate them. You will be surprised how your closet looks bigger and how you are getting better quotes from moving companies Nampa. Fewer things mean cheaper relocation and storage! And as a bonus – it will be much easier to find what to wear if your closet is decluttered and optimized!
You can always donate your clothes
One of the best ways to repurpose your clothes is to donate them to those in need. There are a lot of organizations where you can donate clothes that you don't need. It is much better to donate them than to store off-season clothes that you won't wear ever again. You will need to wash your clothes and get moving boxes Boise so you can sort and pack everything. You can easily label your boxes, and write down what you are donating. Your closet and storage will be clutter-free and you will help someone!
The next step in storing off-season clothes is washing!
Before you store your off-season clothes you need to wash and dry them properly. If you are wondering why – any stained clothes that you leave in storage can cause you a lot of problems. Even if you rent temperature controlled storage Boise you are still risking a lot of problems in the long run. Stains will only set in further and cause discoloration or even attract pests. The smell of perfumes, colognes, and body odors will be much harder to remove once you get your clothes forms storage.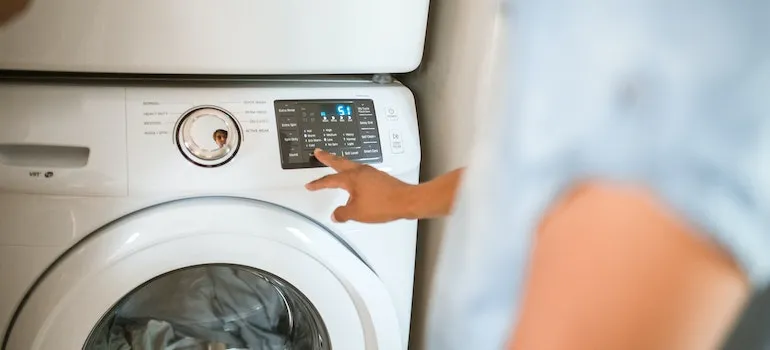 Washing your clothes will prevent a lot of issues, and investing a little time now will give you fresh clothes ready to wear once you switch seasons. An important note is to make sure that your clothes are completely dry before storing them. Damp clothes will cause mold and other problems. So, bottom line – before storing your off-season clothes make sure they are clean and dry. Future yourself will be eternally grateful for this!
Clean your closet as well!
Although you will be focused on preparing your off-season for storage – you need to clean your closet as well. You need to ensure that there are no insects or dust. Be careful when cleaning your closet, and make sure that you dry it before putting your clothes inside. There are a lot of DIY ways to make some dust and pest repellents for your closet, and it will prevent any potential damage to your clothes.
Repairing your clothes is a must!
Before you store off-season clothes make sure to check for any broken zippers, missing buttons, or tears. It is much wiser to mend everything you can now than to let it sit for a couple of months and forget about it. Take good care of your clothes and you can be sure that they will be in great condition no matter how many times you move and pack everything and your dresser. It is important to plan ahead, and do these little tasks in advance, so you can always have your clothes ready to go!
An important decision when storing off-season clothes – hang or fold?
One of the important decisions, when you are storing your winter or summer clothes, is – hanging or folding. This is especially important if you live in a small space and every inch counts. Basically, most of your summer clothing can be folded. Tank tops, sundresses, shorts, shirts – you can safely fold them and store them for the winter. But if you have some delicate items like expensive suits, dresses, or any other formal wear it is much wiser to invest in garment bags and hang them. Besides garment bags, you should get padded hangers so you can prevent those shoulder lumps. It is important to go through your clothes carefully and decide what will be folded and hung so you can avoid potential damage.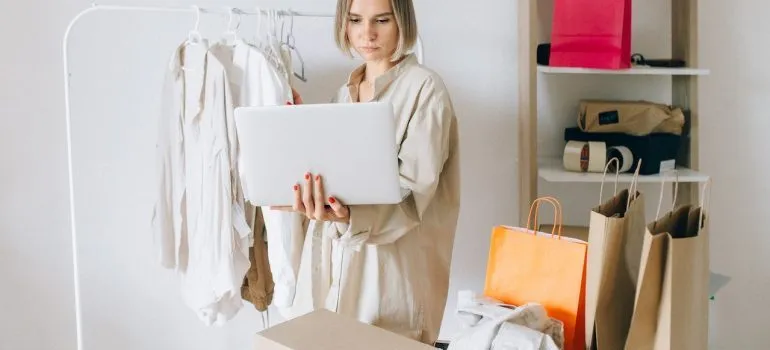 What you should use for storage?
When it comes to choosing where to store your clothes – there is a wide variety of options. From cardboard boxes to plastic bins to cloths bags. Some people prefer one or the other, but you need to choose what is best for your clothes. General advice is that it is much better to use plastic containers than cardboard boxes. If not of good quality, cardboard boxes can fall apart over time and cause stains on your clothes. Also, cloth containers are always a good option since they are designed to keep your clothes safe for a long period of time. If you are afraid of pests and mice – plastic is always a better option.
There are also vacuum-seal bags and they are great if you want to save space. You can combine different containers, especially if you are storing books and photos, furniture, besides your clothes. It is much better to invest in a proper storage solution than to end up with damaged and unusable belongings.
Label everything and make your life easier
One of the important steps when packing your off-season clothes for storage is labeling! You should clearly label every box or container so you can always easily find what you are looking for. With all the climate changes, weather changes quickly, and if you label your boxes properly – you will be able to find that jacket or dress you are looking for. You can use the color-coded system or you can simply put a list of all the clothes in the box. Whatever is easier for you and will help you to stay organized!
You can't use vacuum-sealed bags for everything
Although it is tempting and is a great way to save space you can not use vacuum-sealed bags for everything. Some clothes simply can take months to return to their natural form – and some might never come back. And this is important for clothes that are made from natural fibers. Natural fibers need air to circulate so they can breathe, and in a vacuum-sealed bag that is not possible. Also, if you have some clothing that you would describe as fluffy – do not put them in this type of bag. This goes for winter coats, pillows, leather products, and anything from wool, cashmere, and silk. It is better to get more containers or a bigger storage unit than to damage your clothes.
When storing off-season clothes use pest repellents
Although it might seem impossible for moths and beetles to get to your clothes, it is much wiser to prevent this than to handle the consequences. It is much wiser to include moth repellent in each container of your clothing than to risk it. Some people prefer to use mothballs while others like to use cedar. It is important to note that moth balls are effective but they are a pesticide. And although they are great to prevent pest issues, if you don't use them properly they can be toxic for kids and pets. Cedar is a natural repellant and a lot of people use it. It is much safer than mothballs. But make sure to wrap it with acid-free paper to avoid stains. No matter what you choose, keep in mind that you need to seal your containers air-tight so pest repellents can actually work.
Avoid overpacking
We often try to save space by overpacking our boxes, bins ad storage spaces. It is tempting to try to stuff as many clothes as you can into one container – it will cause you a lot of potential issues. If you can not properly close your box or a bag, you are risking for pests to get in. And if you plan to store a lot of items for a long period of time – this will be a big issue. If it seems that you are running out of space, there are a lot of ways to save space besides overpacking. You can try to roll your pants, and shirts – not only you will save space, but you will also prevent wrinkles.
Where to store your off-season clothes?
One of the most common issues people have is determining where to store their off-season clothes. There are a lot of different options, and all of them have their pros and cons. So making the right decision can really be hard! Depending on the number of clothes you plan to store and other factors – you can make a decision. Some people choose to store things under their bed, while others simply have a bigger closet so they put off-season clothes in the back. This might be a great idea if you don't have a lot of belongings. But if you do – it is much wiser to get a storage unit and store off-season clothes safely.
How to choose a storage unit?
Choosing a proper storage unit might seem complicated, but it really isn't. First of all – you need to decide whether will you be getting a regular storage unit or a temperature-controlled storage facility. People prefer to get a temperature-controlled storage unit when they are storing off-season clothes because that ensures the additional safety of your clothes. The temperature is always the same, and there aren't any changes in humidity or anything. With Peasley Moving & Storage you can find a proper storage unit in no time! 
When it comes to choosing the proper size of your storage unit – you need to measure everything and plan how you will pack everything. Some items can be stacked, while others cannot. If you plan to store some furniture as well, make sure to get a storage unit that is big enough. It is better to have some extra space than to have everything cramped together.
Storing your off-season clothes can be easy!
Storing off-season clothes can be easy if you follow these simple tips. And not only that, by applying them your clothes will be ready to wear once the season changes. Your clothes will be clean, dry, and smell wonderful -ready to just put them on and enjoy the winter or summer season that is just starting. By following all of these steps you are ensuring that your clothes stay in pristine condition and you are saving yourself a lot of time in the future.

Everyone from the packers to the movers were awesome! They were all very professional and showed up when they were supposed to. would definitely use them again.
Let our team put together a comprehensive moving plan for you. Complete our simple free quote form or contact us at 1-208-375-0961.