Comprehensive guide to living in small spaces
Living in small spaces is very popular today. A lot of people choose to live in smaller spaces like studios so they can pursue some other dreams. Other simply like to live in small places since it can be much easier and much more affordable. Whatever the reason might be there are a lot of ways to make your space functional and comfortable. There are a lot of tips and tricks that can give you a lot of different ideas on how to make the most of your living space.
When living in small spaces decluttering is a must!
One of the first things that you need to do when living in a small space is to declutter your home. This can be challenging if you are moving from a bigger home. Even when you hire local movers Boise to help you relocate and pack – you still have to do the hard part. Decluttering your home will be challenging since it can be hard to say goodbye to your belongings. Living in small spaces means that you need to be practical.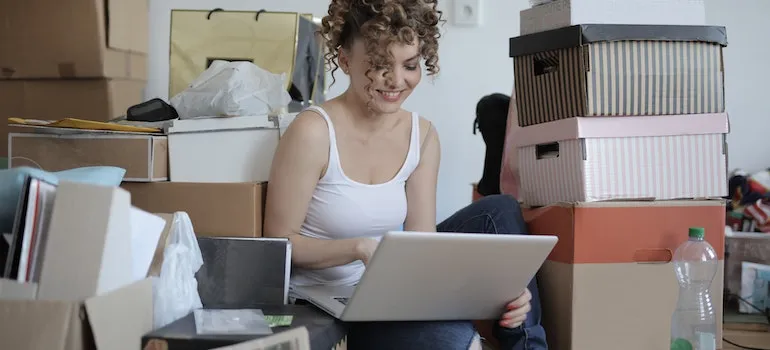 When you start decluttering your home, you should create three piles. The first one should be the one with all the things that you plan to keep and that you use on a daily base. The second one should have all the broken items that you don't use anymore and that you can not fix, but you always keep them somehow. And the third pile should have all the items that you don't use anymore but they are in good condition so you can donate them, or sell them. The golden rule is that once you put something in one of these piles – you can not go back! If you start doing that, you will never declutter your space and you will just run in circles.
Plan the layout in advance
When you live in small spaces you need to plan everything in advance. Before you call Peasley Moving & Storage Idaho to relocate you, you need to plan your apartment. The best thing that you can do with small spaces is to try to zone your areas. Practically that means that you should have a space for sleeping, relaxing, and working. That way, you will have separate places in your small home and it will help you to focus. For example, your bed should go to the darkest part of your apartment. The desk for work should be together with shelves, while the place for relaxing should be in the lightest spot.
Choose your furniture wisely when living in small spaces
If you have the opportunity you should choose your furniture carefully so you can get the best out of your small space. Don't worry, even with a small budget you can equip your home like a pro. The first rule is that you should choose furniture that looks light, not heavy and chunky. For example, simple and light sofas that are lifted off the ground with narrow legs can be a great choice for your small space. Shelves that are leaning against a wall are a must. Not only you will make your space look bigger, but it is also practical for organizing all of your belongings.
Less is better
If you are living in small spaces, then you need to follow one simple rule – it is better to have one big piece than a lot of small ones. For example, it is much better and more practical to have one big L-shaped sofa than to have two smaller ones. The same goes for your rugs. You should get a bigger rug that feels large and expansive. If you get a small rug it will look like it is floating in the middle of your space. You can place furniture partially on the rug, so you can create zones. With smaller spaces, it is always better to go minimalistic than to have a lot of small things just laying around. If you work from home, you can organize your office minimalistic. It will help you to focus easier and you will be much more productive.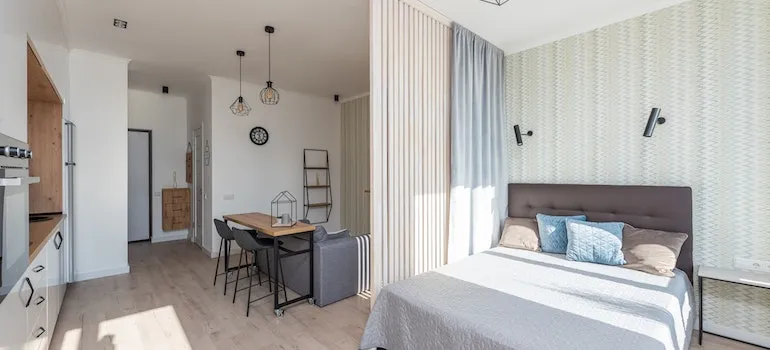 Organization is the key when living in smaller spaces
One of the things that can make a big difference in a small space is organization. It can be hard to organize everything, so don't worry if you need more time. Organize your small space in a way that fits you and your daily needs. A good organized small space can function pretty great. Think of it like this – vertical shelves are your best friend. That is a great way to organize your home and utilize all the space. The second option is storage units Boise. This can be a great way to keep your home tidy, while on the other hand, you can keep more of your belongings. Of course, keeping your storage very well organized is essential since you need to be able to access all of your belongings with ease.
Keeping everything tidy is key!
When you live in a small space, keeping everything tidy is key! In small spaces when you leave 2 or 3 things just laying around it can feel messy. This can be a great way to motivate yourself to pick up everything after yourself. And not only that, but you can also clean a little bit every day. It will be much easier to clean a little each day than to end up with a messy apartment that will take hours to clean.
Create and use some organizational system that works for you. Choose something that will be easy to flow each day. Because if you choose something that seems great but takes a lot of time to do – you will lose interest over time. One of the best things that you can do is to designate one place that can be messy, like a table right next to your door. There you can place your keys, mail, etc. It will help you to stay organized and always keep track of your keys.
Color can be used to your advantage when living in small spaces
One of the best things about living in small spaces is the fact that you can paint it easily. It won't take much time or effort, and you can even do it after your relocation is done by movers Eagle ID. It really is that easy and it can be a fun DIY project. When you are choosing a color for your walls you should go with something lighter since it will make the space feel much lighter and airy. Optionally you can add some black details since they can give the space an additional depth. One of the pro tips is to color your walls and ceiling in the same color since it will give an illusion of much higher space. Also, you can match your biggest piece of furniture to your wall paint. That way, it will blend with the walls and it won't take up so much space visually.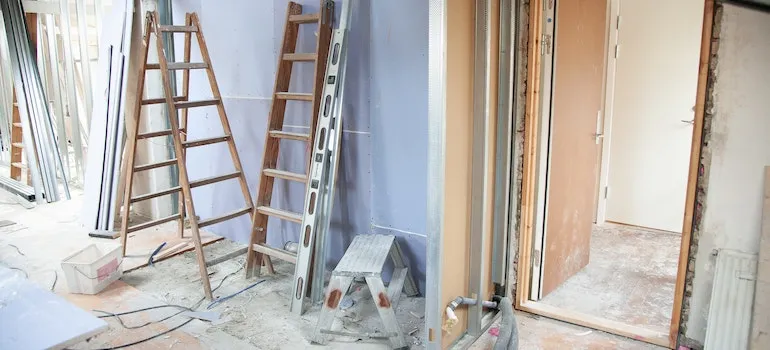 Maximize natural light
One of the easiest and best ways to open u your small space is by adding as much natural light as possible. The best way is to leave your windows uncovered so the natural daylight can get in. If your home is not private enough then consider getting something minimalistic as black-out blinds or a minimalist curtain pole and sheer curtains. Don't add plants or decorations since it will only make your space feel small.
Use space around objects to your advantage
One of the most common mistakes that people make when they organize their small spaces is that they don't leave enough space around their furniture. You should always give breathing space to your furniture and move them from the wall. You will probably be tempted to push everything to the walls, but don't do it. If you move your furniture from the walls it will create an optical illusion. It will seem that the furniture is much farther away from the walls and the whole space will look much bigger. The same goes for organizing your shelves – leave space so they don't look clustered. Also, a glass coffee table will seem much smaller.
Flexible furniture is essential when living in small spaces
One of the essential things when it comes to living in small spaces is flexible furniture. When you are living in small spaces you need to look for furniture that can serve multiple purposes and ideally provides you with additional storage space. You can always rent portable storage Boise, but it is much easier to have a trunk for a coffee table and use it as storage at the same time. Portable storage is a great idea if you have some items that you need once in a while, but don't use them on a daily basis.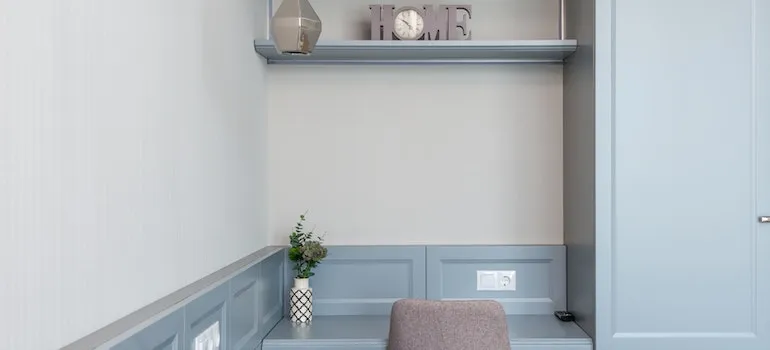 Examples of functional and flexible furniture are numerous. For example, you can use a large kitchen island as a dining table. Or you can get a bookcase that has a desk shelf that you can use as your working table. You can even hang hooks on the side of the bookshelf and gain some more storage space. Or you can get an ottoman bed that lifts up where you can store clothes and blankets that you are not using. And of course, sleeper sofas are a great solution when you are living in small spaces.
Look up!
When we think about a room layout we often think about the furniture and the floor. But when you live in a small space you should look up! Walls are an ideal place to place shelves and cupboards that will give you more storage space. This can be especially useful when you need to store a lot of books and photos. There are so many different options when it comes to wall shelves, so you should find something that fits into your living space perfectly. For example, people often don't use the space between the top of the door and the ceiling and that is a great place for shelves, especially in the bathroom. Also, make sure that you are using corners. They can be a place for bookshelves, a small office setup, or even a closet. You just need to be creative and look up so you can imagine all the ways to use that empty wall space.
The kitchen is usually challenging when living in small spaces
One of the most common challenges in small spaces is the kitchen. Especially if you like to cook and you have a big collection of pots and pans, tools and gadgets. Luckily, there are so many different ways to utilize your kitchen space to the maximum! There are so many useful kitchen gadgets that will help you stay organized. For example, you can get a tilt-out trash can to save space. It will be easier to use and it can also prevent a lot of unpleasant smells. Drawers are a great way to organize a kitchen in a small space, and you can find so many different drawer organizers that you won't have to worry about the usual mess. You can even add more cupboards above your cupboards. That way you will utilize the space that is often forgotten.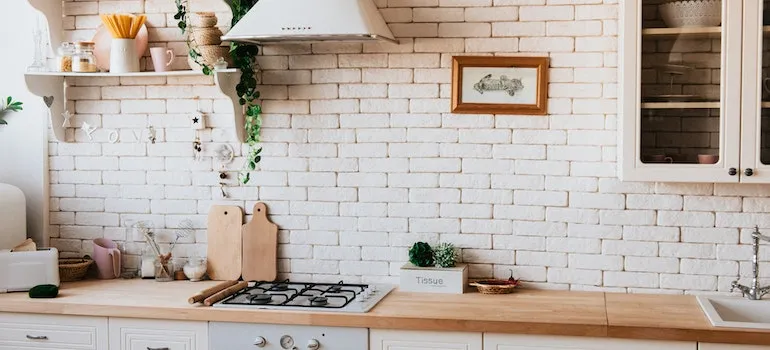 You should feel right at home!
The most important tip is to make your home feel warm and comfortable for you. You should have fun while you decorate and organize your living space since that is the most important thing. Think about how you utilize space and adjust it over time. The best way to adjust and organize a small living space happens once you start living in it. You will learn how you are moving around, what keeps looking messy and what is useful for you. Don't be afraid to change your small space over time and adjust it for yourself. After all, the essential part of living in small spaces is for you to feel comfortable and relaxed!

Everyone from the packers to the movers were awesome! They were all very professional and showed up when they were supposed to. would definitely use them again.
Let our team put together a comprehensive moving plan for you. Complete our simple free quote form or contact us at 1-208-375-0961.