Tips for packing furniture when moving
If you decide to move on your own, you can expect quite a few hurdles in your path. One of them is certainly the arduous task of packing furniture when moving. Beds, sofas, dressers, and tables can be quite difficult to handle, especially if you lack experience. All of these items are heavy, large, but at the same time very delicate and prone to damage. If you want them to stay in good condition after the move, you need to do everything in your power to prepare them for the road ahead. Luckily, Peasley Moving & Storage Boise is here to provide you with some very handy tips! With our help, you'll be able to protect your precious furnishings and ensure maximum safety during transport!
A detailed list will be of great assistance on your adventure
Before you do anything, you need to put together a detailed list of all the furniture pieces you intend to take with you. Doing this will primarily help you stay focused and prevent any items from being overlooked. It can also give you a rough idea of what packing materials you need to get and how many supplies you need based on the number of your items.
Once you have your list complete, fill it out with notes and remarks regarding the items for more clarity. For example, the amount of time it will take you to pack and prepare certain items. Or whether or not you will require furniture installation services once your move is done. With a detailed checklist like this, success is a guarantee!
Successfully packing furniture when moving is only possible with the right materials
Once you know exactly what you're taking to the new home, it is time to start the packing operation. And the first step here is collecting the necessary supplies needed to protect your furniture. To ensure the maximum safety during your move, make sure to stock up on the following:
Bubble wrap and stretch wrap
Sturdy corrugated cardboard sheets
Furniture blankets
Mattress covers
Packing tape
Used blankets and towels
These are the elementary items that ensure your furniture is completely safe from any dents and scuffs. If you want to be sure that your materials are of the highest quality, you can always rely on packing supplies Boise! Your furnishing deserves a royal treatment during the move, and packing supplies are the last thing you want to cut corners on. Once you have a good material stock, it is time to put it to good use.
Completely disassembling your furniture simplifies transport
You should, if possible, completely disassemble all of your furniture. This makes it much easier to move and prevents damage that may otherwise occur. In case you're moving your office furniture and need to use business storage, breaking it down will help you store more items in a smaller space.
Begin your process by disassembling everything that can be disassembled. This means taking legs off of tables and chairs, dismantling wooden and glass tabletops, and removing drawers and shelves from the cabinets. If you're not sure how some pieces fit together, rely on a manual to safely take things apart. During this process, it is very easy to forget about all the tiny nuts and bolts. To keep them all in one place, use ziplock bags, and label what they belong to. Once you break it all down, you can further secure furniture by wrapping it.
Only properly wrapped furniture will remain safe when moving
All pieces you just carefully disassembled should now be neatly wrapped and placed in cardboard boxes. The most important thing to remember is that you should always secure your packed pieces with string or tape. This prevents your protective material from slipping off and exposing your furniture's delicate surfaces. With that in mind, remember to always use moving blankets on any piece of furnishing that contains wooden parts.
For example, wrap your dresser completely with furniture blankets, and then add thick corrugated cardboard on all sides for added protection. For items that contain glass, such as doors or shelves, remember to use packing paper and bubble wrap. Cover your tabletops made out of glass in furniture blankets and then place them in telescoping cardboard boxes. If you don't have these, a thick layer of bubble wrap will do fine.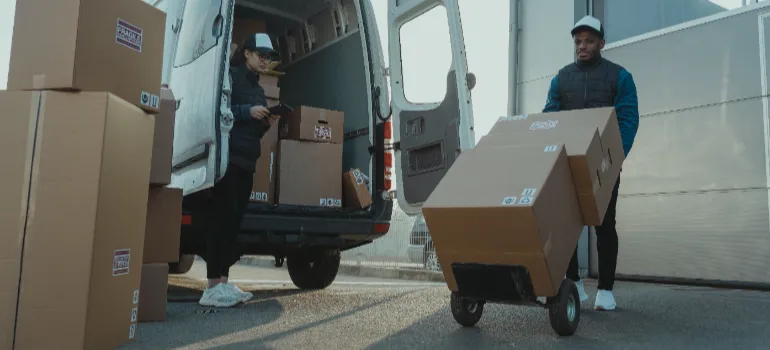 Mattresses and sofas require a slightly different approach. Since they're made of softer fabrics, they are very prone to stains, rips, and moisture. Before packing furniture when moving, wipe it down with a damp cloth to remove dust and debris. Then, use special plastic covers or shrink-wrap to isolate your furnishing. Secure the layers of covering with packing tape, making sure none of the adhesive touches the furniture itself. Once everything is packed, don't forget to label all of your boxes with specific tags (which piece of furniture it belongs to, which room it was in, etc.). List down the components the box contains, as well as the room they belong to. This will make the unpacking and reassembly process easier after the move because you'll exactly know where everything is.
Load your furniture onto the truck with safety in mind
Loading your moving truck is the final step of packing furniture when moving. Now that you disassembled, wrapped, and packed everything, you can start the loading process. Keep in mind, however, that you need to be just as careful during this operation. Here are a few tips that will ensure both you and your items remain safe:
When moving heavy pieces of furniture, always use a dolly. It will help you move bulky items with ease without damaging them.
Use ropes to secure your sofas and couches to the paneling inside of the truck in order to boost stability.
Furniture sliders, or even simple cardboard, can be placed under the furniture legs to prevent them from scratching your floor surfaces.
Place your mattresses in an upright position to conserve space in the moving vehicle.
Keep the moving truck balanced by placing objects of similar weight on the opposite ends of the loading bay.
By properly packing furniture when moving, you greatly reduce the chance of any unwanted damage. Furthermore, you avoid the risk of injuring yourself in the process. If you pair the knowledge you gained today with the help of professional movers, your relocation will be quick and effortless. Once your move is over, you can relax on your sofa and think about the great success you achieved during the process.

Everyone from the packers to the movers were awesome! They were all very professional and showed up when they were supposed to. would definitely use them again.
Let our team put together a comprehensive moving plan for you. Complete our simple free quote form or contact us at 1-208-375-0961.