Things to know before shipping your belongings abroad
Relocating to a new address is not easy. But moving abroad is a completely different story because you will also need to gather all the documents and prepare your household goods for overseas transport. Trying to do all this and balance your day-to-day job will be exhausting. But it doesn't need to be when you have companies such as Peasley Moving & Storage Boise that are here to handle all the planning and heavy lifting. With a list of things you need to do before shipping your belongings abroad, it will be a smooth relocation. Because you will not be able to accidentally forget an important step. In a situation like this, the smallest mistake can end up costing you a lot of money, not to mention the emotional toll. Therefore, it is always prudent to be prepared in advance.
Prior to transporting your belongings abroad get the shipping container
The best way to pack all your belongings for the move abroad is to get the shipping container delivered to your home. That way you can have time to properly get everything organized. However, do not forget to empty self storage Boise and sort through everything. Because there is no reason to pay for it if you won't need it anymore. In addition to this, the delivery of the container itself might not be that simple.
You will have to check the regulations of your district. In most cases, it will not be a problem. So if you have a spacious yard it is a perfect place to put it. But before the truck arrives check if your street is wide enough for it to pass. If you do not have a yard, in rare cases they might agree to leave it on the street. Though this is not a good idea because it can cause traffic accidents.
Before shipping your belongings abroad, you should know what items are not allowed
You need to know what you can and can not bring before shipping your belongings abroad. For example, you are can ship anything in a shipping container. However, all of the items have to go through customs. Therefore you should know that only personal effects will not be taxed. So you will need proof that some of your belongings are truly yours. Like a receipt for a large TV that looks brand new.
If you are looking to ship large quantities of the same item from a commercial warehouse then it is another story. Because one bottle of alcohol is ok as it is considered for personal use. 100 of them means you are commercially importing them for your business. Avoid putting valuables into the container. Likewise, if you have firearms they should go with you on the plane. But always check if that particular weapon is allowed in the destination country.
Pack your belonging for the relocation oversees
Your belongings will travel for a while so you need to secure them for transport. They will not travel in a van as is the case with a residential move. Instead, they will travel in a container so they need to be tightly packed. Before the container arrives get all your boxes ready. Put them in the garage or the yard so you can load them fast. As you put items inside make a note of where everything is. Once they are in customs if they wish to inspect something you will know immediately where it is.
Likewise, make use of straps to secure everything inside. There are hooks all over the container to connect the straps. Thus, you will avoid damages because nothing can fall and break. Once you finish, the shipping company will put a number on the door. Write it down so you can track the shipment.
Going through customs in the destination country
Because you are the one who packed everything inside the container you should be present during the customs control. Also, you can hire an agent, that the company will provide you with. However, you are the only person who knows best where everything is. Likewise, you will need a number of documents that you should bring with you. For example, to enter European Union you will need proof of permanent address in the country. Additionally, a document that states that you owned all the belongings for more than 6 months. Next, proof that you have been living in the States for a year or more. This process will not take long if you have all the documents. So always check before shipping everything.
Unloading everything upon arrival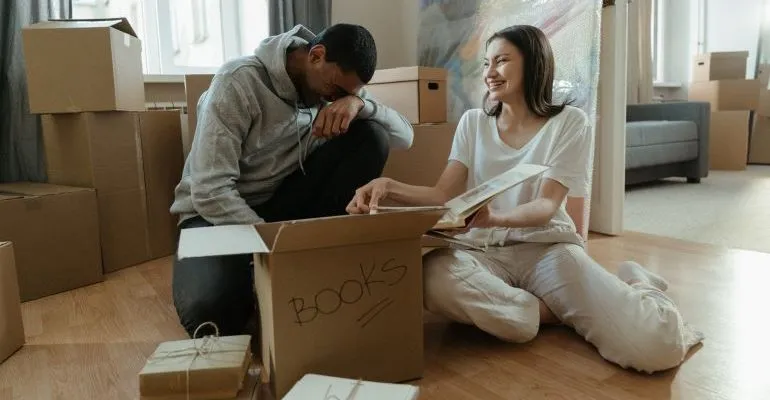 The shipping company will take your container from customs and deliver it to your new address. However, they are not responsible for unloading it. Therefore ensure that you have help once you arrive at your new destination. Likewise, check the regulations about putting a container or a truck on the street in your new city. Because in most cases the rules are much more strict than in the US. Also, keep in mind that the container does not have a ramp. So it is best if somebody is inside passing the items to you. Usually, it takes 2 to 3 hours to finish everything.
Before shipping your belongings abroad make sure you have enough time
Relocation takes time thus before shipping your belongings abroad make sure you have enough time to finish everything. It is best to avoid doing it last minute as you can easily forget something. Especially when it comes to important documents you will need to gather. If you are missing any packing material a moving company in the city of Boise can provide you with everything. Also, you should finish packing before the container arrives. Secure everything with straps and make a note where everything is. With these steps, you will quickly be able to enjoy your new home overseas.

Everyone from the packers to the movers were awesome! They were all very professional and showed up when they were supposed to. would definitely use them again.
Let our team put together a comprehensive moving plan for you. Complete our simple free quote form or contact us at 1-208-375-0961.