International Shipping
Get Free Moving Estimate
"*" indicates required fields
Whether you are planning a move halfway across the world or need to ship items to a friend in a distant location, Peasley Moving & Storage is your trusted partner for all your international shipping needs. With over 130 years of experience, we have established a solid reputation as a reliable and efficient freight shipping company. Our extensive expertise, top-of-the-line equipment, and dedicated workforce ensure that your residential or commercial belongings are transported with the utmost care, arriving at their destination quickly, effortlessly, and affordably. Get in touch with our team and experience the difference in door to door international shipping with us!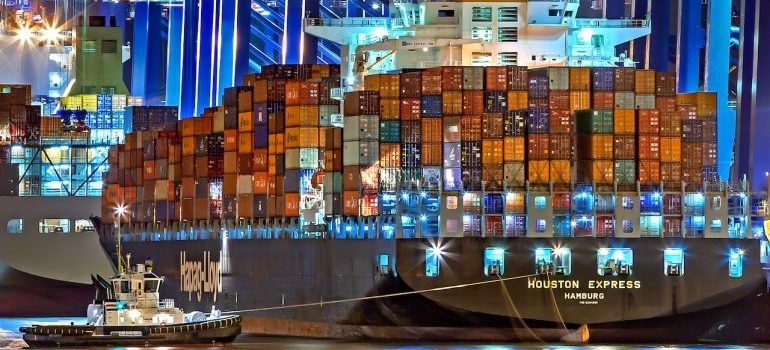 Expect a Quick, Safe, and Affordable Delivery with our International Shipping Solutions
Peasley Moving & Storage excels in providing professional solutions for shipping containers overseas, offering you a key advantage when choosing us for your international shipping needs. We also recognize the importance of timeliness, which is why we have implemented streamlined processes and efficient logistics to ensure the quick and secure delivery of your items.
As one of the most reputable freight companies Idaho has, we have ensured that our shipping containers are specifically designed to endure the challenges of international transport. They not only shield your belongings from the elements but also provide an additional layer of security. With our extensive experience in containerized shipping, we have honed our operations to ensure that your cargo receives the utmost care.
Hence, rest assured that our highly trained professionals will expertly load and secure items within the containers. And thus, prevent any shifting or damage during transit. This meticulous attention to detail and unwavering commitment to excellence sets us apart and guarantees the safe arrival of your items at their intended destination.
Safety and Security: Protecting Your Belongings Every Step of the Way
We prioritize the safety and security of your items throughout the entire international shipping process. As a premier freight shipping Boise company, Peasley Moving & Storage has garnered a favorable reputation with our past customers, who continue to choose us for their shipping needs time and time again. Our commitment to safety is evident in every operation we undertake. Be it from the careful packing of your items or the meticulous handling of shipping containers.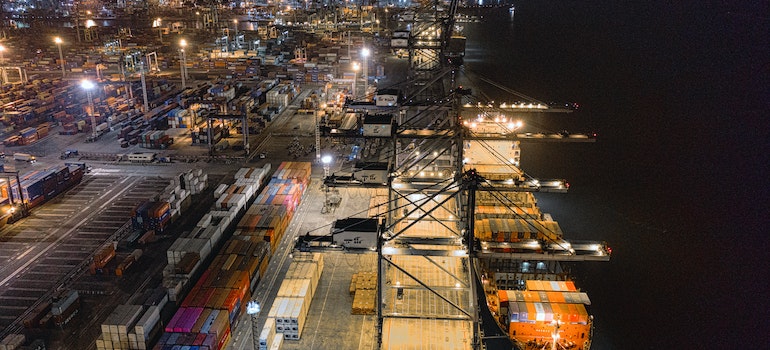 We know that your belongings hold both financial and sentimental value, and we take extra precautions to ensure their protection. Our team of professionals is highly trained and experienced, adhering to stringent safety protocols to minimize risks associated with international shipping. It is to guarantee that your items will reach their new destination without any damage, giving you peace of mind throughout the entire process.
Tailored Shipping Options: Port-to-Port or Door-to-Door Services
Our team at Peasley Moving & Storage understands that every customer has unique requirements when they search for container shipping companies. That's why we offer flexible shipping options to cater to a range of needs and preferences. Whether you prefer a simple port-to-port service or a comprehensive door-to-door solution, our international shipping services are tailored to meet your specific demands.
For customers who only require assistance with the ocean transport leg of their journey, our port-to-port services provide a cost-effective and efficient solution. We coordinate with reputable carriers and utilize established shipping networks to ensure a smooth and timely transfer of your items from one port to another.
If you prefer a more comprehensive and hassle-free experience, our door-to-door services are the ideal choice. Our professionals will handle every aspect of the shipping process, from picking up your items at the original location to delivering them to the new one. With our door to door international shipping services, you can relax and be confident that your cargo is in capable hands. Our team members undergo rigorous training and background checks, ensuring that your items are entrusted to reliable professionals who prioritize the safety and security of your belongings.
Affordable Pricing: Exceptional Service at Competitive Rates
At Peasley Moving & Storage, we believe that premium assistance should be accessible to all. Our goal is to provide you with high-quality international shipping services at affordable rates. We understand the financial considerations that come with shipping items overseas!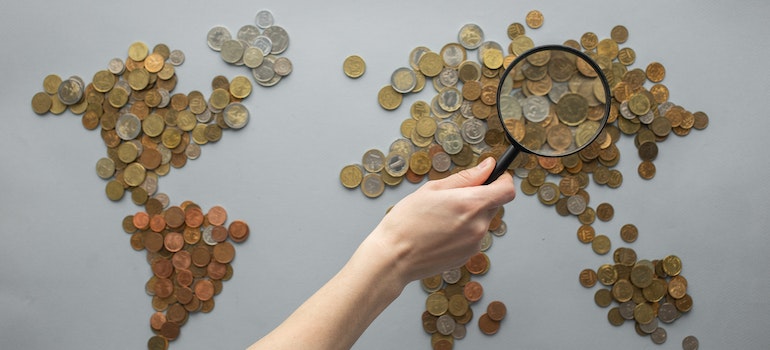 So, when you choose us as your freight shipping partner, you can expect transparent pricing and no hidden costs. We provide detailed and itemized quotes, taking into account factors such as
The size and weight of your shipment,
The destination, and
Any additional services you may require.
Our team will work closely with you to develop a shipping solution that aligns with your budget and meets your specific needs. Rest assured that with Peasley Moving & Storage, you will receive exceptional value for your investment.
Pay Only for the Space You Use: Peasley's Cost-Effective Solutions for Shipping Containers Overseas
Whether you are shipping residential or commercial items, you may have more belongings than you can count or just a few special pieces that require shipping. At Peasley Moving & Storage, we offer cost-effective solutions that allow you to pay only for the space your items occupy within the shipping container. Why pay for unused space when you don't have to?
Our experienced professionals for door to door shipping international excel at maximizing the use of shipping containers, efficiently packing and securing your items to optimize space and minimize costs. We understand that not every shipment requires a full container, and it's our responsibility to accommodate your specific needs. When you entrust your shipment to us, you can rest assured that we will handle every aspect, from safely storing your items in our storage units in Boise until the agreed shipment date to proceeding with the transport when you're ready.
Punctual Delivery: Reliable and On-Time Arrival of Your Belongings
We recognize the importance of punctual delivery when it comes to international shipping. So, here at Peasley Moving & Storage, we value your time and understand the anticipation that comes with receiving your belongings in a new country or location. That's why we prioritize efficient and reliable logistics to ensure that your items arrive at the promised time.
Once we pick up your belongings, we provide you with an estimated delivery timeframe, allowing you to plan accordingly. We take pride in our commitment to meeting deadlines and upholding our promises to our customers. You can rely on our professionalism and dedication to ensure a smooth and punctual delivery process. Rest assured our previous customers have attested to our reliability. You can see our A+ rating on accredited and trusted websites such as the Better Business Bureau.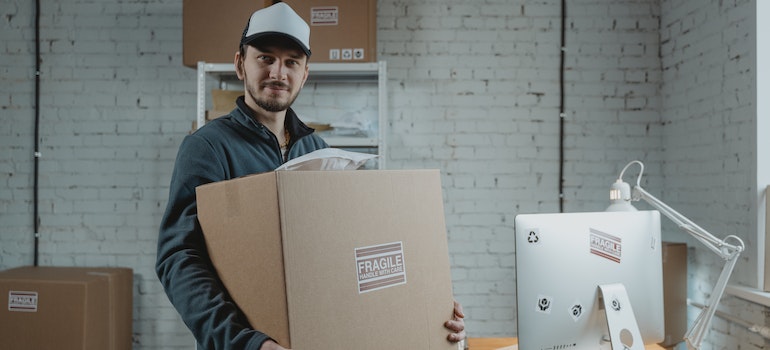 Our Comprehensive Shipping Solutions for Smooth International Transport
Peasly's Team provides comprehensive shipping solutions to ensure a smooth transition to your new destination. Our experts will guide you through each step of the shipping process, providing personalized assistance and addressing any concerns you may have.
From the initial consultation to the final delivery, we are committed to making your international move as seamless as possible. Our knowledgeable staff will assist you with all the necessary documentation, including customs forms and import/export regulations. We work closely with trusted partners and agents worldwide to navigate the complexities of international shipping, ensuring that your items arrive at their destination with minimal hassle.
Quality Packing Materials for Secure and Efficient Transport
Our skilled packing professionals are well-trained and will ensure that your items are securely protected for the journey. We use high-quality packing materials, such as sturdy boxes, bubble wrap, and packing peanuts, to safeguard your valuables from potential damage.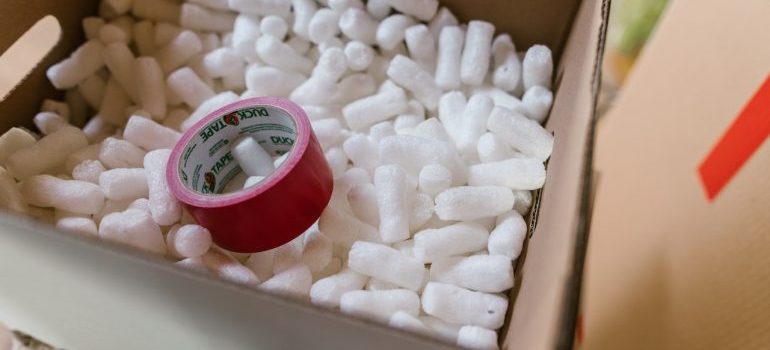 Whether you have delicate artwork, fragile electronics, or bulky furniture, we have the expertise to pack and protect your items effectively. Our team will carefully label each box, providing clear instructions to facilitate smooth customs clearance and efficient unpacking at your new destination. With our customized packing supplies in Boise, you can have peace of mind knowing that your belongings are in safe hands.
Convenient Storage Solutions for a Seamless Door to Door Shipping International Process
Here at Peasley Moving & Storage, we are fully aware that the timing of your international move may not always align perfectly. That's why we offer convenient business storage solutions that complement the shipping process, ensuring a seamless transition for your belongings.
If you find yourself needing temporary storage for your items before or after the international shipment, our secure storage facilities in Boise are at your disposal. Furthermore, our state-of-the-art storage units are clean, temperature-controlled, and equipped with advanced security systems to safeguard your belongings.
Our experienced team will carefully pack and store your items in our storage facilities. Learn more about us, and you will see that we can provide you with the flexibility and peace of mind you need during the transitional period. Whether you require short-term storage while finalizing your plans or long-term storage while waiting for your new home to be ready, our storage solutions cater to your specific needs.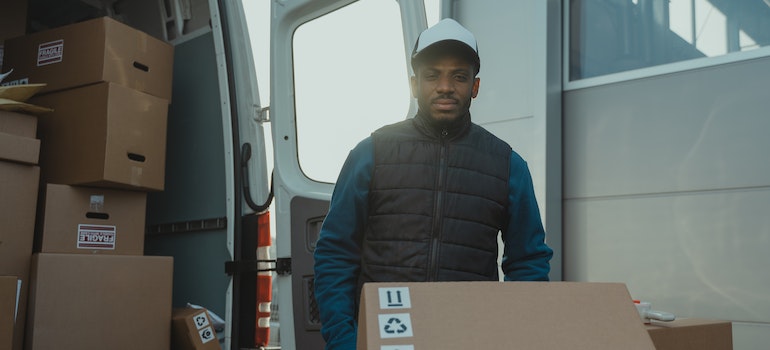 With our integrated storage services, you can rest assured that your belongings are protected and readily accessible whenever you're ready for them. Moreover, our seamless coordination between storage and shipping ensures a smooth transition, allowing you to focus on other aspects of your international move with confidence. Choose Peasley Moving & Storage for all your international shipping and storage needs, and experience the convenience of a comprehensive solution that simplifies your relocation process.
Expertise in International Customs and Regulations
Navigating international customs and regulations can be a complex process. At Peasley Moving & Storage, we have a deep understanding of the various customs requirements and import/export regulations of different countries. Our experienced team will assist you in preparing the necessary documentation, ensuring compliance with customs procedures, and minimizing the risk of delays or complications.
We stay up-to-date with the ever-evolving international trade regulations, ensuring that your shipment adheres to all legal requirements, especially when it comes to medical equipment shipping services. Also, our team will work closely with customs authorities, handling all necessary paperwork and facilitating a smooth customs clearance process. With our expertise in international customs and regulations, you can trust us to navigate the complexities on your behalf, making your international move as seamless as possible.
Unparalleled Customer Satisfaction: Our Commitment to You
It is widely known that at Peasley Moving & Storage, customer satisfaction is at the heart of everything we do. We are fully dedicated to providing a personalized and stress-free experience for each of our clients. Our commitment to excellence has earned us a solid reputation as a trusted international shipping company in Idaho.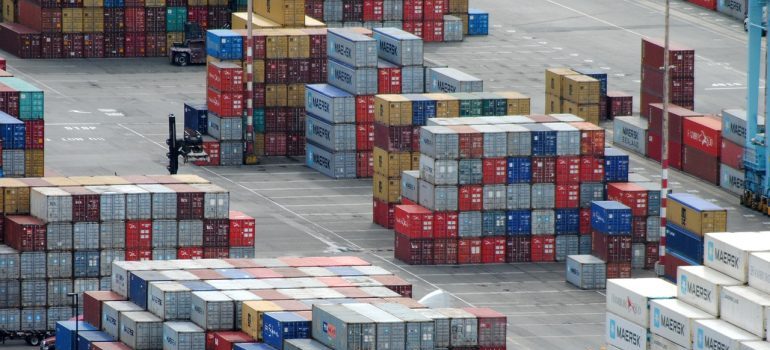 From the moment you contact us to the final delivery of your items, we strive to exceed your expectations. Moreover, our team of professionals is friendly, knowledgeable, and committed to your satisfaction. We value your feedback and continuously seek ways to improve our services to serve your needs better. With Peasley Moving & Storage, you can expect unparalleled customer satisfaction throughout your international shipping journey.
Enjoy a Stress-Free International Shipment Experience
With Peasley Moving & Storage, there's no need for you to worry about your international shipment. We have the experience, expertise, and unwavering commitment to cater to your unique needs. Contact us today to request a free and non-obligatory quote. Our knowledgeable team is ready to answer any questions you may have about our door-to-door shipping international services and guide you through the process.
With over 130 years of experience, we can fully address any concerns and provide valuable insights. So, when you choose Peasley Moving & Storage, you can rest assured that you will receive premier international shipping services tailored to your specific requirements. So, let us ensure that your cargo reaches its new destination quickly, affordably, and without any delays. Take the first step and reach out to us and request a quote today. Our door to door shipping international team is eager to assist you on your international shipping journey. We'll happily provide you with peace of mind and exceptional service every step of the way.

Everyone from the packers to the movers were awesome! They were all very professional and showed up when they were supposed to. would definitely use them again.