Moving by plane: a simple guide
When you think about relocation, odds are that the first things to pop into your head are big moving trucks filled with boxes. And in most cases, this is exactly how you will move, especially when you're moving locally. But if you need Idaho movers for a relocation to a longer distance, across the country perhaps, or maybe even to another continent, then you might end up moving by plane instead. And that is a bit different from moving using a moving truck. So how can you ensure that your plane relocation is successful? Here are the most important things to know if you're flying to your new home.
The challenges that lay ahead
When you need to move somewhere by plane, you'll experience certain difficulties that aren't usually present when moving on top of all the challenges that moving always brings with it. In fact, relocation by plane pretty much combines the worst problems of moving and the worst problems of traveling by plane. While arriving at your new home will be easier, faster and more comfortable if you do it by plane, taking all your stuff with you will definitely be much harder.
Airlines put strict restrictions on both what you can bring on a plane and how much you can bring on a plane. And if you have pets, you'll definitely want to look into whether they can fly with you and how. Finally, if you plan on taking furniture with you, you'll definitely need to ship it separately.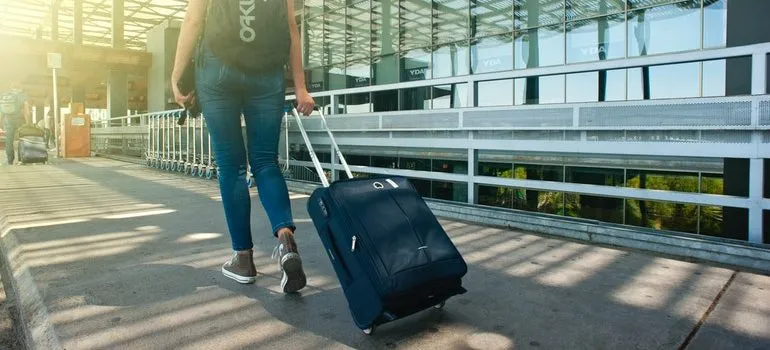 The pros and cons of moving by plane
It is no secret that flying is the most convenient way to travel all over the world. Since the invention of flight, moving people and cargo has become a very fast and simple endeavor. With it, you can let your interstate movers Boise handle your home items, while you reach your new home in mere hours, where ever it is.
The pros: Flying is a relatively relaxing and fast way of moving from one place to another. More importantly, it is convenient and leisurely. Once you reach the airport, there isn't much left for you to do. Once you hand over your luggage, it will be loaded onto the plane, without you having to lift a single finger until you land. Then, once you're on the plane, you can sit back and relax. You've chosen the moving services Boise ID that will match your needs, so all that's left to do is enjoy the flight. You don't have to think about traffic jams, rest stops, or overnight accommodations.
The cons: Unlike driving, flying can be very expensive. This is especially true if you have to travel on a specific day. Because of this, it is very important to carefully plan out your budget. Flying also brings a high risk of your belongings getting lost in transit. Weather and layovers can all contribute to your items being delayed. To counter this, it is much safer to rely on freight shipping Boise services.
However, as fast and convenient as it is, it isn't flawless. As with anything, you will experience certain pros and cons of relocating by plane. Before you decide to do so, you need to understand that flying isn't as simple as just boarding a plane and setting off.
How to move by plane successfully?
Moving by plane won't be easy, but that doesn't mean it can't be done. People move to other states, countries, and even continents every day. Plenty of them flies there. You can do it too. All you need is a few tips.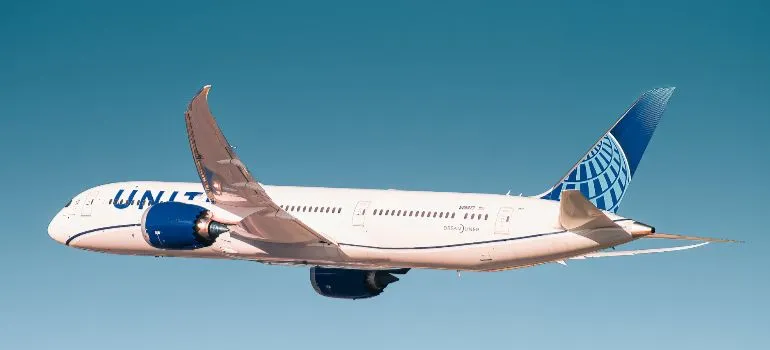 Join forces with professional movers
Getting yourself somewhere by plane is easy. Getting some of your most important belongings somewhere by plane is also easy as long as those things fit in a suitcase. But if you want to move furniture or even just move a lot of stuff with you, you'll need help. This is where freight companies Idaho become your best friend. Since you won't be able to bring much on a plane with you, you'll want to hire a moving and shipping company to deliver your belongings to you instead. Contact international movers in your area – they can help you with packing and preparing for the relocation as well as getting your stuff to your new home.
Ship most of your things ahead of time
Even if you're moving somewhere within the country and driving there, your belongings will usually be delivered a few days after you arrive. When you're moving somewhere you need to fly, this is always how it works. The reason for this is that the majority of your belongings cannot fly on the same passenger flights that you take. Instead, moving companies will usually ship them on commercial flights or, more commonly, by sea.
Even though this takes some time, door to door shipping international is the best way to move your things if you're flying to your new home. But if you want to have your stuff as soon as possible after you land, talk to your movers about when you should ship them. If you send them a few days before you leave, you won't have to wait for a delivery long!
Get rid of as many things as you can
Regardless of whether you're shipping your things separately or hoping to fit everything you really need in a suitcase, decluttering before a long-distance move is a must. Not only will it make packing easier but it'll also lower the weight of your shipment. This will in turn make it cheaper to send. Besides, it's always a good idea to refresh your wardrobe, replace old furniture and upgrade your electronics. You can sell off what you no longer need or just throw it away. But if you want to do a good deed for others as well as yourself, organizations like Habitat for Humanity and Goodwill accept all sorts of donations.
Planning ahead is a must when moving by plane
Planning is important whenever and wherever you're moving. But when it comes to international moving, it is absolutely essential. So start looking into your options early. You'll need to buy plane tickets, potentially from more than one airline if you're transferring. The sooner you do that, the less expensive it'll be. And let's not forget that plane tickets sometimes sell out – you want to get yours before that happens.
Keep the comfort of your family members in mind
If you're moving by plane with family members, you need to consider their feelings and needs during your trip. Here's what you need to be aware of:
If you're moving with children, keep in mind that they can become quite stressed due to all the noise and commotion, or quite bored due to the long queues and flight time. In some cases, they might become unnerved and scared by the alternating cabin pressure. To counter this, bring plenty of snacks and games to keep them entertained during the flight. If they complain about their ears popping due to cabin pressure, you can soothe them by bringing some chewing gum or hard candy. The chewing motion greatly helps alleviate the discomfort.
When traveling with the elderly, it's important to keep in mind that they might not handle the flight too well due to their age and condition. When booking the trip, try finding a direct flight, to avoid long and tiring layovers. Ask your airline about special services for the elderly, including special seats, and special screening lines at security. Lastly, make sure you have all of their medication on hand to be on the safe side.
If you're traveling with a pet, a few different scenarios apply. First and foremost, you need to keep your pet in a carrier during the flight. If your pet is under 20 pounds, and the carrier fits under your seat, it can be with you in the cabin. However, it can't leave the carrier during the flight. If one or both of these conditions aren't met, it will have to go into the cargo bay.
Not everyone is the same and thus, not everyone reacts the same to air travel. Furthermore, not everyone will be able to travel in the same fashion.
Pack smart
Packing is the worst part of both moving and traveling. If you want to bring as much stuff as possible with you, here are some tips:
Read the airline instructions on luggage very carefully – you might be able to bring more stuff than you think.
use vacuum bags to seal your clothes in and save space in your luggage.
pack in both your checked bags and your hand luggage.
if you're moving with a family, use everyone's luggage allowance to the max.
always weigh your bags before going to the airport to make sure they're not over the limit.
compare the prices of weight overage and extra bags – which pays off more?
give some thought in advance to what you can get rid of in case your bags are too heavy.
So packing for relocation by plane will definitely test your abilities. Our general advice is to only pack the necessities and personal items. Everything else can be neatly packed in our storage pods Boise for safekeeping.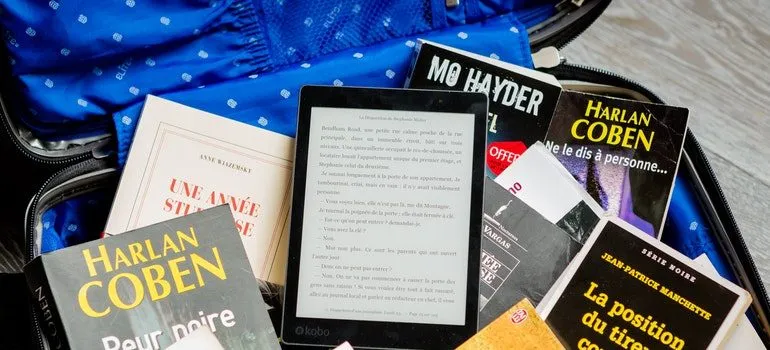 Know what you should and shouldn't pack
When you decide to take a fast route by air, there are a few things you should have with you in order to make the whole experience more convenient. Some flights can, despite their comfort, be quite long. In this case, you'll want to have a few essential items by your side, just to ensure peace of mind. Just the same, there are certain items that you should never bring onto the airplane with you.
The reasons for this are many, but they mostly boil down to health, safety, and security. Let's take a look at some of the necessary, as well as the banned items when it comes to flying. Knowing what you should and shouldn't pack when moving by airplane will definitely make your experience safer and more enjoyable.
Create an essentials kit when moving by plane
To make sure your flight is as comfortable as can be, we advise preparing an essentials box before you head for the airport. This box should contain a few convenient items, which will make your flying experience more enjoyable. We suggest packing the following items:
Earplugs – If you want to catch up on some work or sleep, earplugs are a godsend. They'll help you relax while drowning out the ambient noise.
Portable chargers – Having your phone die on you is something you simply can't allow. Pack an extra charger in your essentials box to ensure you're always up to date on how your long distance movers Boise are progressing.
Pain relievers – You never know when a headache might strike. Consider packing a small pill box with ibuprofen, acetaminophen, or decongestants just in case. The shifts in the cabin pressure could cause a headache, so it's best to be prepared.
A spare change of clothes – It is always good to have at least one spare change of clothing on hand. Remember those luggage delays we talked about? If that happens, you'll still have something to change into until you finally get your suitcase back.
Snacks – No matter how old you are, snacks are always fun! But, more importantly, they are a valuable piece of any airplane kit. In some cases, flights don't have included meals, which means you'll need some food to keep you going until you land.
A book – Boost your imagination with some light reading. If you're in for a long flight, a good book can be all you need to keep yourself entertained.
Avoid packing your carry-on with prohibited items
Before packing your airplane kit, you need to know which items can't be packed in your personal luggage. These items are, as we said, usually a safety hazard, and that is why you can't have them in the cabin. Such items should be left in your checked luggage, or packed in moving boxes Boise, to avoid security issues and delays. Here are the items you should never pack in your carry-on:
Any liquids, pastes, or powders larger than 3.4 ounces or 100 milliliters.
Guns and ammunition. This also includes BB guns, airsoft replicas, and cap guns.
Self-defense items such as pepper spray and tasers
Sharp objects like knives, axes, and razors. Usually, straight razors are banned, while safety razors and electric shavers are allowed.
Tools above 7 inches in length.
Butane, propane, spray paint, hairspray, bleach, and similar volatile liquids.
Do keep in mind, however, that regulations vary from country to country, so don't forget to check with your airline about the specifics.
Moving by plane is different every time – be sure to adjust to the situation
How exactly your relocation goes will depend on where and when you're moving. Different countries have different regulations on what you can bring in or take out on a plane. And different airlines definitely have different rules on luggage. So when you're moving by plane, make sure to look into the specifics that concern your trip. You can usually find all the information you need on government or state websites as well as airline websites. Read these carefully while planning your move.

Everyone from the packers to the movers were awesome! They were all very professional and showed up when they were supposed to. would definitely use them again.
Let our team put together a comprehensive moving plan for you. Complete our simple free quote form or contact us at 1-208-375-0961.