Most affordable cities in Idaho to move to
The ideal place to call home is somewhere beautiful and welcoming where you feel comfortable. But with the economy being what it is these days, the cost of living is quickly becoming one of the most important factors when choosing a new home. If you're one of the people planning on moving soon and are looking for a nice yet affordable city to settle down in, Idaho has plenty of them to offer. So before you hire movers Boise and move to one of Idaho's biggest cities, let's talk about all the most affordable cities in Idaho that people tend to overlook.
What criteria should you look at to find the most affordable cities in Idaho?
The logical place to start when looking for affordable places to move to is looking at prices. How much does it cost to buy a home? What kind of budget will you need for groceries on a weekly basis? Are utilities more expensive than where you live currently? How worried should you be about healthcare expenses? These are all important questions when you want to find a budget-friendly city to move to. But it's not enough to just compare prices. Lower prices combined with a lower income are no better than high prices when combined with high income. What matters most is how far a dollar gets you. So you have to look at the ratio between average costs and average income.
Overall, Idaho is not really considered an overly expensive state. So moving to Idaho is a good idea if you want to live in an affordable place. But there are differences between different cities. Large cities tend to be more expensive to live in while smaller suburban and rural places skew more affordable. To make your choice easier, we've created a list of affordable Idaho cities that also score high on overall livability. Overall livability here includes the state of the job market, crime rates, amenities, and quality of housing. So whichever of these cities you choose, you'll certainly find a good place to live in.
What are the most affordable cities in Idaho to move to in 2020?
Even if you already live in Idaho and are only moving locally, the town you choose can make a huge difference. So consider one of our top five picks for affordable Idaho cities regardless of where you live currently – you might just find the perfect new home to move to.
Payette
A small town of just over 7,000 residents, Payette is a Boise suburb barely an hour away from the city. Both renting and buying prices for real estate here are lower than anywhere in the state and significantly lower than the national average. On average, you can expect to buy a home for around $108,300 and rent for just $761. With the median household income of $50,655, this makes Payette the most affordable Idaho city to move to. On top of good housing and jobs, you will also enjoy excellent weather, nightlife, and outdoor activities. The one thing Payette somewhat lacks in are public schools which rank below average.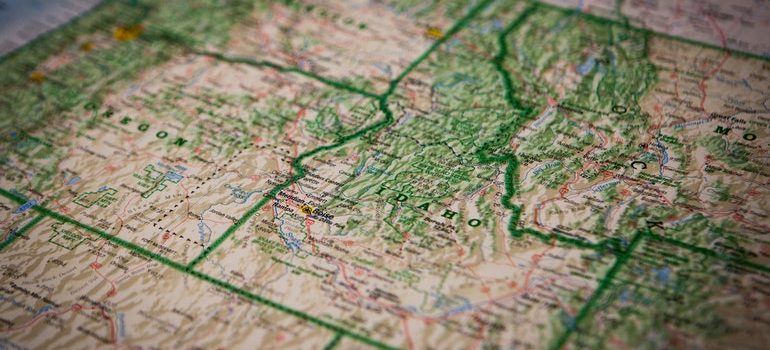 Chubbuck
This Pocatello suburb of around 14,000 residents regularly ranks high on top lists of the overall best places to live in Idaho. The median house price is $160,700 and the median rent is $847 which sounds high compared to Payette. However, these numbers are still noticeably lower than the national average.
Additionally, Chubbuck residents earn more than the national average with the median household income being $59,148. So the difference between earnings and spendings is significant. To make things even better, Chubbuck is a well-rounded suburban area with good schools, good nightlife, good weather, and good weather, making it an excellent place for families.
Preston
Located near the Utah border, Preston is one of the most affordable locations in Idaho for renters. The median rent is only $655 per month! Even with the median home value of $150,400 and the median household income of $48,113, that still earns Preston a spot on the list. On top of low rent, Preston also offers a very low unemployment rate, good weather, and lots of outdoor activities. With a population of only 5,000 and a rural feel, it's great if you don't like big city living.
Ammon
Ammon's population of around 15,500 residents is growing fast. The reason for this? The city is regularly cited as one of the best places to live in Idaho. With the median home value of $189,900 (higher than the national average) and a median rent of $889, you might be wondering why it's even on this list. The answer is that Ammon residents can afford these prices because the median household income is also higher than the national average at $65,019. Moreover, jobs and housing are not the only things Ammon has to offer: good weather, good schools, and lots of ways to have fun await in this Idaho city.
Idaho Falls
If you're looking for a larger city that still has a suburban feel and offers some of the best housing and renting costs in the state, then Idaho Falls is perfect for you. More than 60,000 residents enjoy excellent schools, good weather, lots of amenities, and a great job market. On top of that, Idaho Falls is located just west of Ammon. So if you don't end up liking it, just hire local movers and see how you fare in Ammon!
Moving to one of the most affordable cities in Idaho
Once you've made the decision as to which of the most affordable cities in Idaho to move to, you will need to organize your move as well. Your best option for an easy and stress-free relocation is to hire professional movers. While this seems like the more expensive option, it is usually well worth it in the end. And you can save some money by getting free moving estimates from various companies, then comparing them to find the most cost-effective movers. Make sure to start the moving process early, make a plan, and stay organized. That way, you won't have to rush and you'll avoid a lot of stress.
Let our team put together a comprehensive moving plan for you. Complete our simple free quote form or contact us at 1-208-375-0961.