How to estimate the cost of your Idaho relocation
Moving around the country in search of a better life is a normal part of living in our nation. In fact, the average American will more than 11 times in their lifetime. In the past, most people who packed their bags headed towards big cities – where life was hectic and full of opportunities. However, many realized big city living is not really their thing. And current moving trends reflect that. People are looking for less populated areas to settle down and many have found Idaho to be the perfect destination. If you are also considering a move to the Gem State, you will need to consider the costs first. Boise moving and storage experts will walk you through how to estimate the cost of your Idaho relocation.
First, decide if you want to hire professional help
Moving anywhere is a complicated process. It drains you physically, emotionally, and financially. While it is impossible to avoid stress, you have a lot of control over the physical and financial demands of a relocation. Hiring professional help is one way to completely avoid doing hard physical labor. This is an essential decision when you are estimating the cost of moving to Idaho. When you hire movers Nampa ID residents recommend, the experts will do all of the hard work for you. You can simply sit back and relax.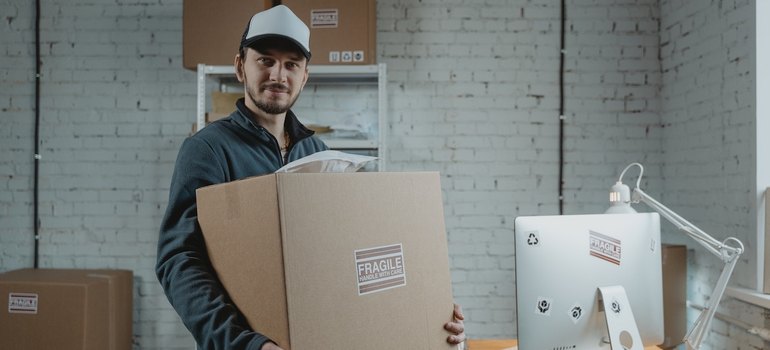 However, hiring movers is not cheap. And the more you rely on their professional help, the higher your expenses will be. Especially if you opt for full service movers. There are many different things you can do to cut down the cost of your relocation. For example, you could do some moving tasks yourself. But, the more steps you complete on your own the harder your move will be. That is the tradeoff. You can reserve a bit more of your budget for professional help and thus save some time and effort. Or, put more effort in to save money. Only you can decide what is worth it.
To estimate the cost of your Idaho relocation consider the distance
Distance plays a big role in estimating the cost of your move. If you are moving to Idaho from across the nation, transportation costs could get pretty high. Logically, a greater distance means more time on the road. That in turn means more fuel for the truck. Not to mention the road tolls, parking fees, and other random expenses. For example, you will probably have to stop overnight and find a hotel to sleep in. Unless you like driving with a sore back. Moreover, you will need to stop for food and drinks as well. It is better if you have a friend or family member traveling with you. Then you can take turns driving and share the gas and food costs. On the other hand, you can hire professional movers. But you have to keep in mind that most moving companies charge more for long distance moves.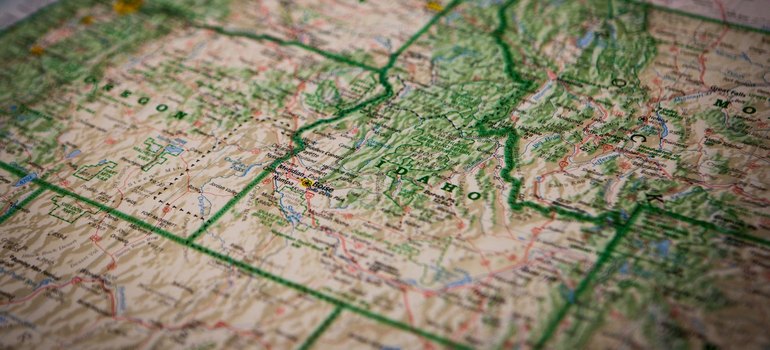 Distance and different types of moves
The distance between your starting and final locations is what determines the type of move. Moving companies Meridian use distance to calculate your moving costs. In general, these are the basic types of moves:
Local – Moving locally is usually the cheapest and simplest option. With this type of move, you are only traveling for an hour or two. In general, any move in a distance up to 50 miles is local. Most common moves of this type are within a city, or from the city to its suburb. Since the travel distance is short, you could probably afford to splurge on a few extra moving services. Packing, loading, and unloading services can make your moving adventure a whole lot simpler.
Intrastate – These kinds of moves are longer and cover a bigger distance. Still, transporting your items should not take longer than a day at most. As the name suggests, they remain within one state. Doing this type of move yourself can be easy as long as you aren't transporting many items. If you are, you will have to make multiple trips or rent a huge moving truck. Hiring movers could actually be a better option when you factor in all of the costs.
Interstate – Also known as long distance or cross country moves these take a lot more time and effort than other types of moves. Prices can vary greatly. You could rent a one way truck and do the transport yourself. Although due to their complex nature this option is best if you have experience in moving. For most people, the best choice is to hire professional movers. Especially if you are moving a business. In this case, speed and efficiency are key. Some of the best Boise office movers can transport your belongings safely and with minimal downtime.
The size of your inventory will impact the final estimate of your Idaho relocation
Our next point is pretty straightforward. The more stuff you have, the higher your final moving costs. This is true for all types of moves. Whether you are moving just down the street or traveling to Idaho from out of state, every box counts. If you are moving your family home, it is likely you have to transport a lot of heavy furniture, electronics, and appliances. Such items are not only heavy, but they take up a lot of space. In order to ensure everything arrives safely, a large moving truck is absolutely necessary. Cramming furniture into a smaller van is a recipe for disaster. Furthermore, a large truck filled with heavy items also means more fuel will be used during shipping.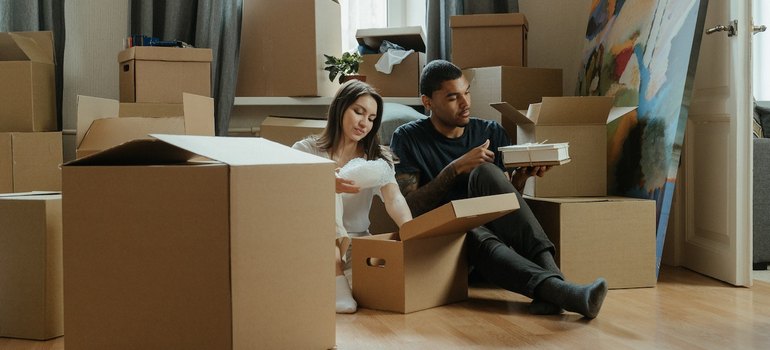 Another factor to keep in mind is time. Specifically the time it will take to pack and load your inventory. Packing for a move can take days depending on the size of your home and the number of rooms. Of course, professional movers will not take that long but hordes of boxes will slow them down. If you want the task performed more efficiently, you will need to hire more workers. Finally, more items also mean more packing materials. Skimping out on sturdy boxes and protective padding is a big no-no unless you do not care about damaging your items. Buying high quality packing supplies Boise movers recommend is not negotiable.
Before estimating the cost of relocating to Idaho try decluttering
Getting rid of unwanted items before a big move is always a good idea. Why waste money and time bringing random clutter to your new home? Moving homes is an opportunity to start anew, in all aspects. And with fewer items to pack, load, secure, unload, and unpack you will be saving a lot of time and energy. A proper declutter could even mean you will not have to hire as many movers as you expected. It will also allow you to decorate your new home any way you want. More importantly, it is a good way of seeing what is actually adding value to your life.
Before you start throwing things out, make a plan. Decluttering can take quite a while if you are an indecisive person. Make sure you set aside enough time so you are not rushing the process. It can be emotionally draining so give yourself enough breaks. Additionally, try decluttering by category instead of by room. This will give you a more accurate idea of what items you own. Once you have decided what items you can part with, divide them into different categories – donate, recycle and throw away. You could even have a garage sale and sell items that are in good condition. It's a great option if you want to get rid of many items fast.
If you want a better idea of how much your move will cost, make a detailed inventory of your items
While writing down every single thing you own is a mighty task, it can be useful in more ways than one. It won't benefit your daily life but in the process of moving it can save you many headaches. If you ever wasted hours searching through boxes for a specific item or spent way more money on packing supplies than you expected – it is time to make a moving inventory. Having an organized list of all of your possessions will keep your move from getting chaotic. Furthermore, it will provide you with a more accurate cost estimate for your move to Idaho. Calculating the weight of your items and buying the correct number of supplies becomes easy. If you are hiring professional movers, making a moving inventory will give them all of the necessary information to complete the job. Remember, there is no room for guesstimating during a move.
Creating the inventory will not be easy or quick. Getting through it will be tough, but you need to keep the final goal in mind. To make things easier for yourself, do one room at a time. Breaking this process into several smaller steps will help with staying motivated. In each room, start with the main items – big furniture pieces, appliances, electronics, etc. After the most important things are written down, continue with smaller stuff. Put special notes on items that are the most valuable to you. Whether they are costly electronics or sentimental photos. Anything that has special value to you in one way or another. You can also note the condition of the items, along with a short description and estimated value. Nowadays, you can even find dedicated apps that can make this process a lot more efficient.
Take into account special requirements when you estimate the cost of relocating to Idaho
This is the final factor you should consider if you want to accurately estimate the cost of your Idaho relocation. Regardless of the distance covered, every move will have some special requirements. Depending on the size and your inventory it might require extra services too. The first thing you should do is make a list of all heavy, or bulky items.  This includes safes, pool tables, sculptures, and similar items. To ensure their safe transport, more workers will be needed. Not only that, but they will need more packing material and special techniques. This all drives up the final cost of your move.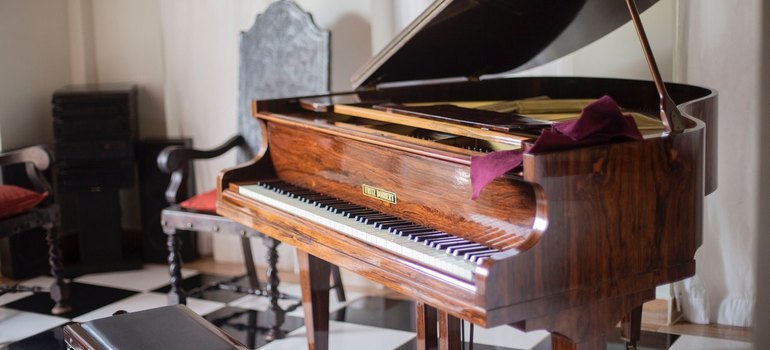 The other thing to consider is your new address. Will the truck be able to park right at the front door? If not, your movers could hit you with long carry fees. If you do not live on the ground floor, it is possible you will run into stair fees too. There are also extra services to think about. Unpacking, storage, and other services could make moving easier and your moving day more efficient.
Budgeting your costs will help you avoid stress
In conclusion, calculating the costs of moving is not a simple process but it is a necessary one. It will make preparing for the move a whole lot easier. Whether you are doing it yourself or hiring assistance knowing how to estimate the cost of your Idaho relocation will come in handy. It will allow you to create a budget and plan your finances accordingly. If you do everything right and do not overlook big expenses, you could even end up saving money. Moving can put a huge strain on your finances, so taking some extra measures to avoid unnecessary costs is a no brainer. Without surprise costs, your moving day is guaranteed to be a success.

Everyone from the packers to the movers were awesome! They were all very professional and showed up when they were supposed to. would definitely use them again.
Let our team put together a comprehensive moving plan for you. Complete our simple free quote form or contact us at 1-208-375-0961.