How to plan a timeline for moving abroad
Decided to move abroad? Making this decision is not easy at all and it requires a lot of renunciation. However, it's a life-changing decision that can improve your lifestyle and bring you many benefits. But, before moving abroad, there are a lot of things to do. Moving internationally is a huge change and there are many obstacles you may come across. Because of this, it's essential to make a strong moving plan to conduct the relocation smoothly. To make a successful relocation plan, prepare a timeline for moving abroad.
If you're not sure how to prepare, ask the moving company to help you to make and realize your moving plan. Professional movers will not only help you with the relocation itself but also with the pre-moving process, such as planning and packing. Before creating your moving timeline, read this guide that Peasley Moving & Storage ID made for you.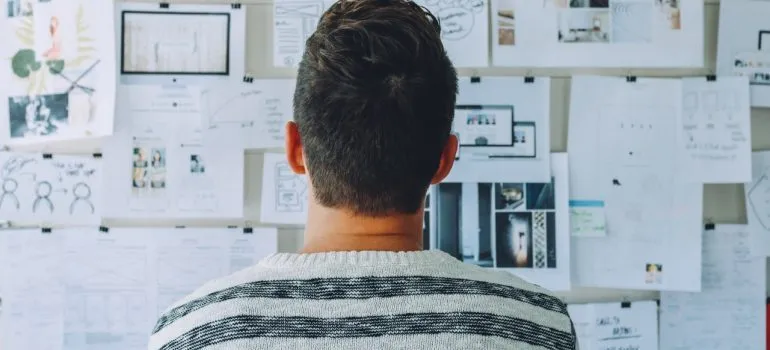 Why do you need to make a timeline for moving abroad?
International relocation is a long and daunting process that consists of many different tasks which require detailed planning. It's a life challenge full of obstacles and sacrifice. So, to avoid potential problems, it's vital to properly prepare for what awaits you and conduct a safe and sound relocation. A timeline for moving abroad can help you stay organized. Without it, it's almost impossible to perform your relocation successfully and without any complications. The timeline for moving abroad will give you peace of mind as you start planning your international move.
How to prepare an international moving timeline?
You probably wonder how to prepare an international moving timeline. Well, it's easier than you think. Supposedly you've already decided where you want to move – the first thing to do is to determine when you want to move. However, if you are not sure whether you'll manage everything on time, consult your movers to help you choose the best moving date. After choosing the destination and moving date, start making the timeline. It should consist of three parts: "before the move," "moving day," "during the move," and "after the move." Each is equally important. Of course, start by making a before-the-move timeline.
Before the move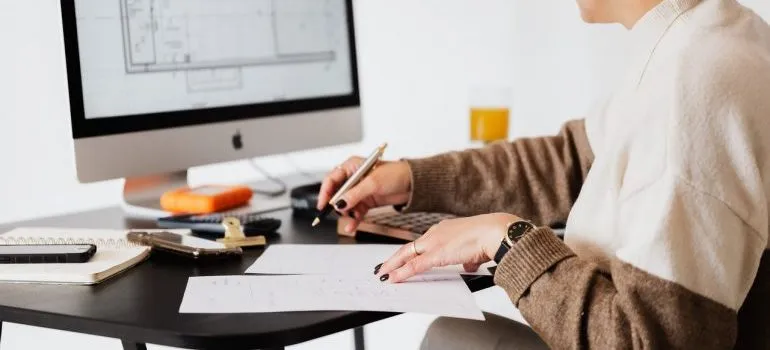 The core to a successful relocation process is to have an effective pre-relocation moving plan. If you prepare everything before the move, the moving day and during-the-move process will go smoothly. Also, if you prepare the floor plan for your new home before the actual move, you will shorten the after the move process. But how to prepare a before-the-move timeline? First of all, decide the period before the move. Then, plan the pre-relocation process by weeks. Here's our example:
Eight weeks before the move
First, gather all the necessary documents. These documents include visas, residence permits, work permits, and other legal documents. When you acquire these documents, search for the right international moving company and get a moving quote. By the way, now that you are here, check our Idaho international movers for your relocation. They are experienced, devoted, and professional. You can be sure they will provide you with a safe and smooth relocation.
Six weeks prior to the move
The first thing you should prepare before anything is to gather your personal documents, such as passports, IDs, international driver's license, diplomas, etc. Next, attain the medical records. Also, if you have a pet, make sure to get its vet documentation. Keep the documents at hand in a file and also create an online copy. When you finish this, move on to making a moving plan.
Four weeks before the move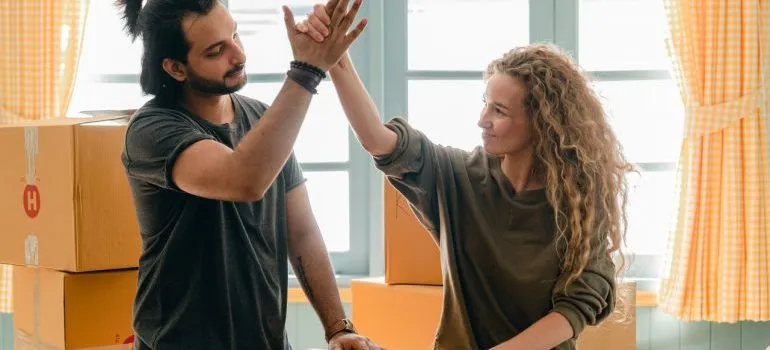 Inform your utility providers about your move and schedule a date for them to come and cancel your services. Then, start making a packing plan. Make an inventory list and, based on it, decide what to declutter. Then, purchase the packaging materials or ask your company to provide you with some. Next, start packing the things you won't need until the relocation such as books for example. To be able to organize your new home, make a floor plan, so you know what will stay and what will go. Don't forget to check what electronics are compatible with your new house.
Packing timeline for moving abroad
Packing is one of the longest and most overwhelming relocation processes. It usually takes about a month if you are moving abroad. So, it is essential to create an efficient packing plan if you want to have a successful door to door international shipping process. Supposedly you've already made an inventory list, downsized your belongings, purchased packing supplies, and packed seasonal clothes and other things you don't need until relocation. Then, it's time to focus on further packing. Where to start from? Here's our example:
Prepare your essentials box. It should contain toiletries, underwear, and other essentials you'll need for the first day after the move. Don't forget to pack your documents and phone and laptop chargers. Also, have a first-aid kit at hand.
Pack your clothes. Clothing seems the easiest to pack. However, if not packed properly, they can take a lot of space in the moving truck. So, use the right packing supplies, such as vacuum bags, to make more space.
Pack your furniture. First, disassemble the furniture before packing. Pay attention to fragile items and protect them with appropriate packing materials. If you are not sure how to detach the furniture, ask your movers to help you.
Pack room by room. Decide your priorities and start packing each room. That will save you a lot of time, and you'll stay organized. Don't forget to label the boxes. Pay special attention to kitchen appliances.
A week before the move
The week before the actual relocation is the most important. Go through the moving checklist template again and see if there's something you've missed to do. Finish the most important tasks. If you think you can't manage everything, ask your movers for additional help. Also, call your movers to confirm once again the relocation details. Use this time to say goodbye to your beloved ones.
(Before) Moving day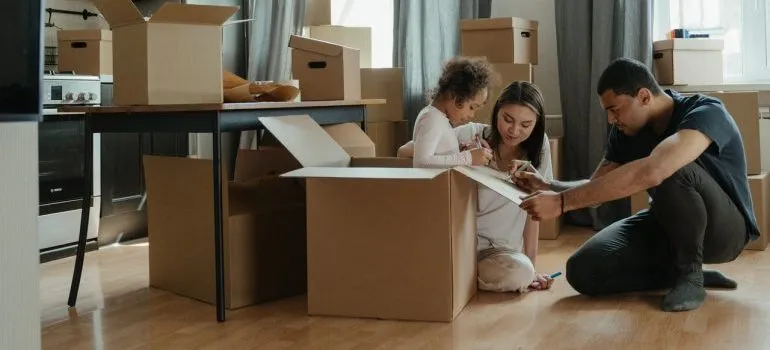 The moving day is almost here. There are a few more things to do. Confirm your flight and check-in. Next, double-check your luggage. Then, sit back and relax. What's done is done. Tomorrow is the moving day, so make sure to get some sleep. The moving day has finally come. Go around the house and check whether there's something left. Also, check your bag of essentials one more time. Wait for the movers to come and be present when they arrive. After they finish unloading the truck, head to the airport.
After the move
Movers finishing their tasks is not the end of your relocation. Now, it's time for the post-relocation process. Luckily, it's not as stressful as moving. You have all the time at your disposal. If you've made a floor plan and after-the-move timeline, then your unpacking will be a piece of cake. Enjoy your new life abroad. Hope this timeline for moving abroad was helpful to you.

Everyone from the packers to the movers were awesome! They were all very professional and showed up when they were supposed to. would definitely use them again.
Let our team put together a comprehensive moving plan for you. Complete our simple free quote form or contact us at 1-208-375-0961.