How to pack clothes for moving
If you are getting ready to move any time soon, then we are sure you have many preoccupations on your mind. You are thinking about hiring movers, gathering the highest-quality moving boxes Boise has to offer, and informing everyone about your move. At the same time, you are constantly thinking about the best way to pack clothes for moving. Well, we don't want you to think about it and worry any longer. Instead, we'll bring you a step-by-step guide on how to pack up your clothing and be ready on the day of your move.
Purge your closet before you pack clothes for moving
You knew this one was coming, didn't you? It only makes sense to go through your clothes and throw away all of those items that no longer fit you. And the more you decide to throw away, the less time you will have to spend on packing. Besides, the fewer items you decide to relocate, the more affordable will door to door shipping international services be. And the same goes for your local move – fewer items equal a reasonably priced move.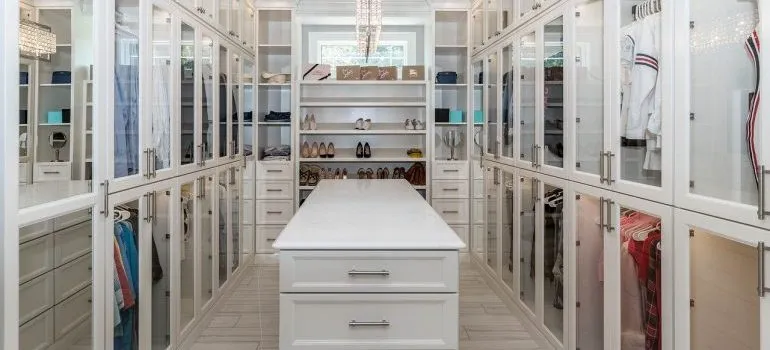 So don't be afraid to throw away a third of your closet if that's what's necessary. If you are having second thoughts about parting ways with a perfectly good shirt that you can't fit into anymore, then it doesn't have to end up in the trash. You can donate your items or have a garage sale, so either be charitable or earn some extra dollars for your relocation. Either way, you'll be the one profiting.
Gather the necessary supplies
Unlike packing your fragile items or IT equipment, the good thing about packing clothes is the fact that you can use a plethora of different packing supplies. Unless you manage to get your clothes soaking wet or torn apart, nothing bad will happen to your clothing during transport. That being said, there are some containers you can use when it comes to packing your belongings:
Cardboard boxes
Plastic boxes
Specialized wardrobe boxes
Suitcases
Trash bags
We definitely suggest that you get at least a couple of hanging wardrobe boxes, as well as cardboard boxes. If you have any pieces that are more expensive and special than others, then you'll want to give them the loving they deserve. And when it comes to T-shirts and pants, you can neatly fold them in suitcases or even trash bags. We here at Peasley Moving & Storage Boise have seen it be done numerous times, and it never fails.
Wash and dry your items
Thoroughly washing all of your items at the moment when you are swamped with moving tasks definitely isn't something you will want to do. But it's what needs to be done before packing your wardrobe for relocation. If you pack your clean clothes with those that could use a wash, you will only end up with a bunch of stinky belongings. It's also just as important to let all of your items dry completely before putting them inside a box. If you are getting ready for a long-distance residential relocation, that means your clothes might have to spend a longer period of time in the box. And where there's dampness, there are also mildew problems.
Keep items separated for every family member when packing clothes for your move
If you are moving with your family or a significant other, you shouldn't make one of the most common moving mistakes out there – throwing everything in a box and calling it a day. When packing clothes for relocation, every family member needs to have a separate box that will contain his or her items. That box needs to be sealed shut and labeled so that it will be easy to unpack once you arrive at the new location.
How to pack a cardboard box when packing clothes
We won't go as far as to say that packing a cardboard box will be an incredibly intricate task – but there's certainly a right and a wrong way to approach it. For the best results and unprecedented safety of your items, we suggest you follow a couple of easy steps.
Make sure you have a box of the right size and assemble it correctly. Small to medium-sized boxes are generally recommended when it comes to packing clothes, as that prevents overstuffing.
To protect your items from water damage and relocation wear-and-tear, line the inside of the boxes with packing paper.
By using the flat fold method, fold all the clothes you plan to pack and place them in boxes.
As soon as you finish placing the items, cover the top of your clothing with another layer of packing paper.
Tape the boxes and never forget to label them.
Repeat this procedure as many times as necessary and as with many boxes as needed. The best thing about it is that this procedure can be used for local moving, long-distance ones, and interstate relocation. It doesn't matter how far you are traveling as long as your clothes are clean, dry, and properly folded.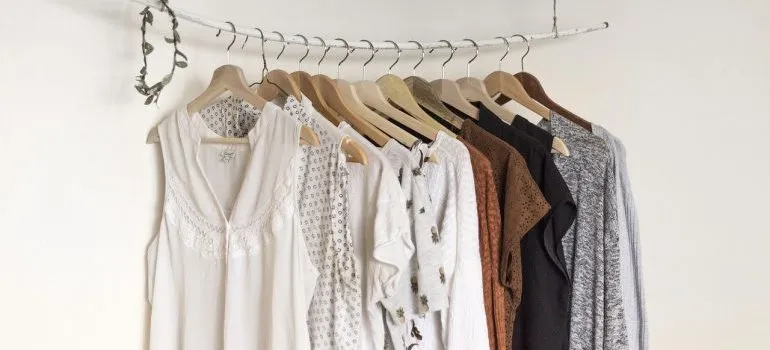 Another way to move clothes during a move
Sometimes, you might feel like avoiding all that stress of packing and unpacking your clothes and you could decide to move your items with the dresser. This is a great plan if you are moving by yourself and are certain that you can lift your dresser. But if you have hired movers for the job, it would be best to first check-in with them.  
If they say that they will move your belongings this way, then you don't have to worry about the best way to pack clothes for moving. But if they say that it can't be done that way, then simply follow the instructions we just gave you.

Everyone from the packers to the movers were awesome! They were all very professional and showed up when they were supposed to. would definitely use them again.
Let our team put together a comprehensive moving plan for you. Complete our simple free quote form or contact us at 1-208-375-0961.