How to help your kids adapt to new surroundings
There are many things one needs to take into consideration when moving with family. Apart from having to organize the relocation while working and taking care of your kids, you will also have to help your kids adapt to new surroundings no matter how old they are. Adjusting to a new place can take a lot of time and depends on many factors. Everybody can struggle with settling in, especially young kids. Every parent should keep this in mind and do their best to help them adapt to their new surroundings. Don't worry if this task awaits you too, this guide is going to provide you with all the information you need. Keep reading to learn more.
Difficulties kids could face after the relocation
Moving to a new place is a process that many describe as an emotional rollercoaster. The sole thought about moving away from your home and starting a new chapter in a totally different environment can make you feel excited and happy. However, you could also get overwhelmed and stressed along the way. Don't worry if you start to feel this way, you are not the only one. But, what you do need to understand is that your kids feel the same way as you do and you need to find some time and help your kids adapt to new surroundings and to the idea of moving to another place. This is a process that's stressful both to parents and children, no matter if you are moving with movers Star ID or not.
But, what are some of the difficulties that kids could face during and after the move?
Not understanding why the family is moving;
Leaving friends and their school behind;
Struggling with finding new friends;
Getting to know the new neighborhood;
Not wanting to get rid of some things, and so on.
If your kid is showing some of these and other signs, know that you will need to talk to them and help them cope with the change. Worry not, the following text will help you with this task and make it easier for both you and your kid(s).
So, how do you help your kids adapt to new surroundings?
One of the things we need to point out is that the way your kids will react to the move will mostly depend on their age. If you're moving with toddlers, they will cope with the change easily but you'll have to deal with other tasks, such as baby-proofing your new home or finding a babysitter on the day of the move. On the other hand, moving with school-age kids and teens is a completely different thing. Older kids are the ones that are going to struggle the most and you need to be by their side the whole time.
Here are some of the things you can do to help your kids adapt to their new home after the relocation.
Talk to your kids about the move
After you set the date and schedule the move with one of Idaho moving companies, you should talk to your kids about the upcoming events. Explain to them why you are moving, where you are moving, and what are some of the things that are going to change. Let them know that it is perfectly normal to relocate from time to time and that their lives are going to stay the same. 
You should talk about new adventures and opportunities that will await them. If you're moving to a different city, tell them a few things about it. Or, even better, plan a trip and visit your future home before the relocation. We are sure this step is going to help them greatly.
Include your kids in moving preparations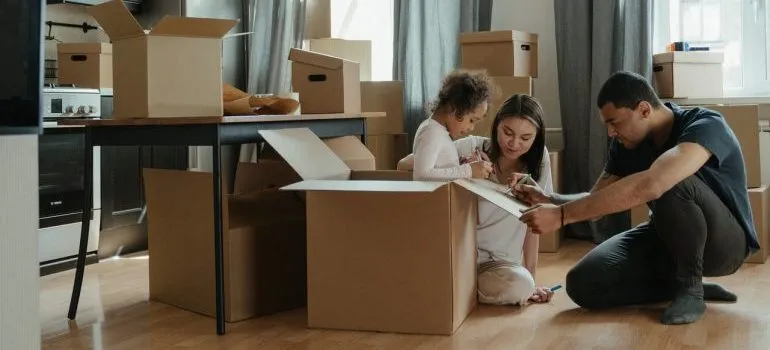 If your kids are old enough, you should think about how you can include them in the relocation process. Doing this comes with many benefits:
Your kids won't be bored
You will show your kids that you trust them
They will feel more mature
They will learn about responsibilities and the importance of proper organization
Your kids can do various tasks. They can declutter their rooms and pack and prepare their belongings for placement inside storage pods Boise. They can help with writing a moving plan or finding a moving company (if they are old enough). If your kids are a bit younger, they can assemble moving boxes or label them using different colors or drawings. You just need to be creative and come up with a task that will keep your children occupied during the relocation.
Help them explore their new surroundings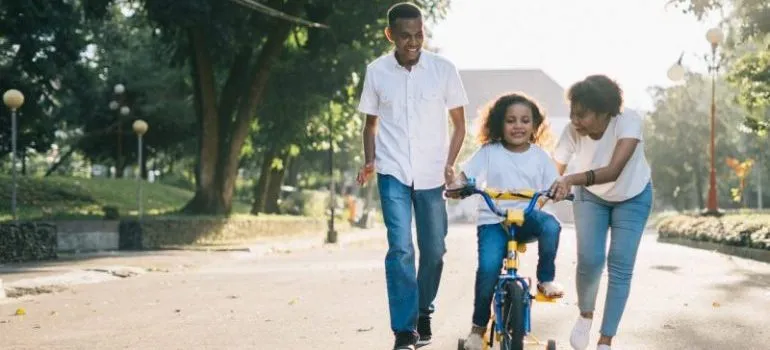 Is the relocation finally over? If you've unpacked all your boxes and there's nothing left to do, congrats! Moving with a family is a serious endeavor. Now, after you've survived the move, you should do some other, more relaxing things. For example, you can explore the new surroundings and learn about your new home.
If you've moved to a new city, you can use Tripadvisor to create a list of places in your area that you want to visit. Make sure to take your kids with you as it will help them adjust to the new area faster and easier. This can be a great adventure and we are sure the entire family is going to enjoy these trips.
Give them some time and space
We are sure you are ready to do everything that's necessary to help your kids adapt to new surroundings. However, sometimes we just need to give them some space and time. Let them deal with the change on their own instead of trying to be there all the time. If you notice any signs of post-moving depression, make sure to talk to them about what's going on and help them overcome the depression. Be by their side but don't overdo it. Kids, especially teens, need some alone time and you should respect this. You will see that everything is going to be okay and that they are going to adjust to the new home in next to no time.

Everyone from the packers to the movers were awesome! They were all very professional and showed up when they were supposed to. would definitely use them again.
Let our team put together a comprehensive moving plan for you. Complete our simple free quote form or contact us at 1-208-375-0961.