How to childproof your moving day
Even if you are moving on your own just down the hall, the relocation process will prove to be a complex, time-consuming, and overall tiring process. That is why it is always a good idea to have the capable and reliable assistance of Idaho movers at the ready. However, if you have young kids, things tend to get even more complicated. Probably the fact that you are already aware of. Amongst the tasks of packing, sorting things at work, and arranging for your new place, you will also have to find a way to childproof your moving day. Luckily, apart from handling your relocation process, we can also share some valuable pieces of advice regarding the latter.
Advice on how to childproof your moving day
While your long distance movers Boise will be able to take care of the majority of the moving process, you yourself will have to mind your kids. However, since you will still have plenty to do come moving day, you ought to find a way to keep your kids safe and at bay while attending to your tasks. This is what makes a safe kids zone such a good idea.
Surround your little ones with toys, playpen, blankets, and other fluffy items you have at your disposal. Such a solution will not only keep them all together occupied, but also safe and at your sight. As moving injuries are not so rare among all the boxes and supplies, it is good to know your offspring is safe at all times. This will also give you peace of mind, something much needed in time of moving.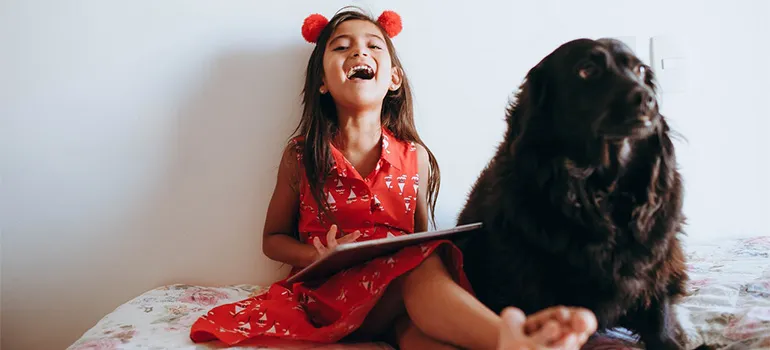 Keep in mind, however, although they will be occupied by playing for some time, they will still need your attention. So, make sure that they have regular meals and naps. After all, their health and daily habits are not to suffer because of the moving. If you find this to be too much of a struggle, consider hiring a babysitter. He or she will keep an eye on your kids all the time while you tend to other things.
Occupy your older kids
Kids that are of school age can certainly help when you are moving to Idaho. You can include them in the packing process, and give them some other easier tasks. Not only will they help you, but they will also feel included and have fun. The former is especially important, as relocations can be rather hard on kids. By allowing them to get involved in the process, you are letting them know that their actions, voices, and opinions matter and that they too have a say in something that is this big.
See that the dangerous items are out of reach
This is one of the most obvious things that you most certainly have in mind on a daily basis. However, moving is hectic. What with all the fuss, transportation and packing, and your curious kids, forbidden items can easily fall into the wrong hands. And let us not forget that magical connection between your child's hands and that thing you told them not to touch. Some of these would include electricity outlets, cables, scissors, knives, and such.
Checklist for childproofing your moving day
The process of moving does have a habit of making us forget the most obvious things, especially the ones that concern us every day. This is probably because the moving day itself is unlike any other normal one. Be that as it may, here are some things to pay attention to when the time comes:
Electrical outlets that were protected or hidden behind the furniture are bound to get exposed come moving day. So, see that you pay attention to these points, and either protect these outlets or keep your kids away from them.
See that you pack cleaning supplies in labeled boxes, well shut, and place them in an inaccessible area.
Pack your medications properly, and far away from your kids' reach.
Knives, scissors, and all other shart objects are also to be well cushioned, labeled, and placed somewhere unreachable for your little ones. For that extra peace of mind, consider putting them in the pantry, or some other room with a lock.
Don't forget that a tower of boxes can be especially tempting for your kids to climb on. To avoid the hazard of this action, and remove the temptation overall, try spreading boxes around the floor instead of stacking them on top of each other. Also, the items containing fragile items are best placed somewhere that you know they will stay out of reach, even if it means putting them in another room.
Make sure to avoid placing heavy boxes on top of other boxes or somewhere high. They can easily fall, should a kid bump into them while running around. So, see that you keep them on the floor and under lighter boxes.
Include your residential movers Boise in the process of childproofing your moving day. They have plenty of experience and will be certain to help.
Don't restrain from asking for help
As mentioned, moving is complicated enough as it is. And, as the moving day is a bit chaotic, it can be rather easy to overlook some simple childproofing tasks. So, if possible, consider finding some distraction for your kids. Perhaps you can arrange a playday with some of their friends' parents. If there is a sleepover offer on the table, don't think twice about accepting it. It will make your move tremendously easier. Not to mention that you would be able to prepare your new home a bit before your kids arrive.
In order to childproof your moving day, you have to plan ahead a bit more than you would with a regular relocation. Still, a little help can go a long way, so make sure to keep that in mind when times get rough. You don't have to be in this alone, and you will have a much nicer time with helping hands on board.

Everyone from the packers to the movers were awesome! They were all very professional and showed up when they were supposed to. would definitely use them again.
Let our team put together a comprehensive moving plan for you. Complete our simple free quote form or contact us at 1-208-375-0961.