Guide for moving during the Coronavirus pandemic
COVID-19 has severely impacted the everyday routines of people… not just in the USA, but in the entire world. And while there are some events we can postpone, moving usually isn't something that can wait. But those who need to relocate during these strange and crazy times shouldn't worry. In this article, we explore the many tips and tricks for making moving during the Coronavirus pandemic safe and simple.
So, if you are getting ready to relocate, this is just the guide you'd want to read. We, at Peasley Moving & Storage Boise, have gathered the most important information about relocating during COVID-19 and shared with you a couple of tips to make it easier for you and your entire family.
Is moving during the Coronavirus pandemic dangerous or not?
Should you relocate during the pandemic or wait for it to end? This is a question we are getting a lot from our clients. Although this isn't the most ideal time for changing your address, this doesn't mean it's impossible to relocate safely. Sure, it won't be as easy as last year, or the year before, but we're here to help you go through it successfully.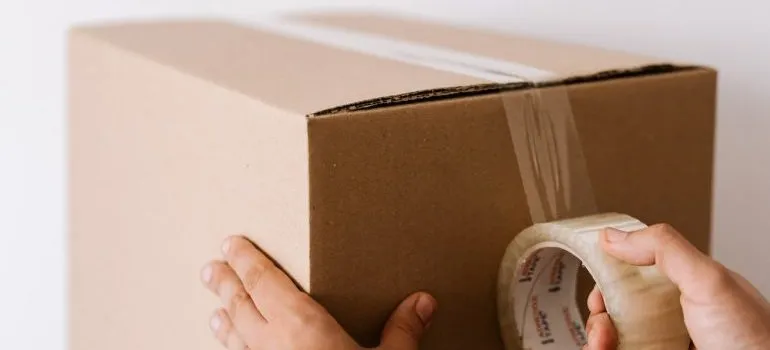 If you follow certain rules and guidelines, there is no reason why moving during the Coronavirus would be complicated. It's the same thing with shopping, going to school, and doing other stuff. We simply have to accept that our everyday routine has changed and that we need to take this virus seriously. So, follow the safety measures and you will keep the problems away.
Moving services are essential even during the Coronavirus situation
Since the moving industry has been defined as an essential niche during this ongoing crisis, most professional and licensed moving companies (ourselves included) are operational, in accordance with regulated COVID-19 measures. Moving can be stressful no matter the current events and we are here to make it easier for all of you.
The important thing here is that both you and local and long distance movers Boise need to follow all safety measures. They need to wear protective gear, disinfect and clean their trucks and other moving equipment regularly. This is something every company should follow and not just those that are a part of the moving industry. So, make sure to ask movers how they can make your relocation safer before you hire them. If you don't like what they can offer you, look for other moving companies. You shouldn't let anyone put your health and safety in jeopardy.
How to protect yourself when moving during the Coronavirus pandemic?
Apart from finding reliable movers during the pandemic who will work according to safety measures, there are other things you can do to protect yourself. After all, you can't expect that others will follow rules if you're not following them in the first place. Here is how you can protect yourself when moving during the Coronavirus pandemic:
Buy all packing materials and hygiene products in one go
Planning a move during a crisis is a vital step for ensuring a successful moving day without complications. One of the things that you will have to plan is when and where you are going to buy all packing materials and hygiene products. Your job will be to buy everything you need for the move in just one go. There's no need for exposing yourself to the virus more than you have to. So, plan this trip carefully. Write down all the things you need to buy and do your best to buy them all at once.
And, when it comes to buying hygiene products, consider buying more than you need for the move. You will want to place a couple of them inside and outside your home so that your movers can use them, too.
Maintain strict social distancing norms
Whether you will be moving on your own or with the help of a moving company, remember about the social distancing norms. Stick to the 6-foot distance rule for your safety as well as the safety of your movers and other people who are helping you. If you are moving over long distances, consider getting door to door shipping international services and have your things shipped to your new home. This way, you will manage to avoid close contact with other people.
Clean and disinfect your belongings and your home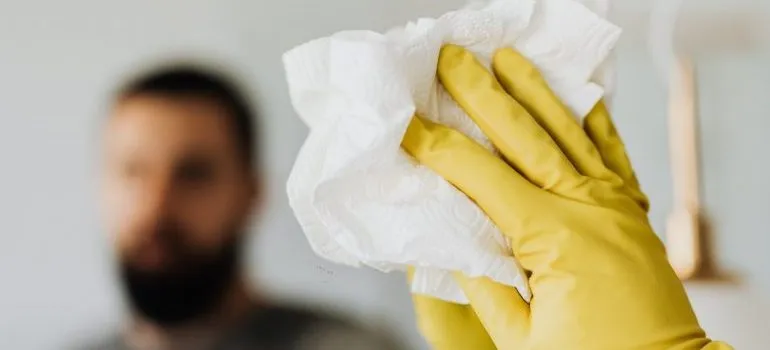 This is another important rule for moving during the Coronavirus pandemic. You need to clean all of your belongings before packing them and clean them once again after the move. In addition to this, you will also need to disinfect your home before and after the move. If you want to avoid harsh chemicals, consider making a natural disinfectant that will be just as effective as the ones you can buy at your local store. And keep in mind that both your old and new home and to be disinfected. This is the only way that can stop the virus from spreading from one home to another.
Should you cancel your move if you are not feeling well?
As you can see, there are many ways of making moving during the crisis safer. However, this doesn't mean you should stick to your moving date even though you are not feeling well. In case you have a headache, sore throat, or you're feeling exhausted, postpone your relocation. We need to think about our safety as well as the safety of other people. So, instead of moving while being sick, wait for your symptoms to go away. Visit a doctor and get tested if necessary. As soon as you get better, you can schedule your relocation once again.
Peasley Moving & Storage is here to help you move in these challenging times. Our services are at your disposal at any time! You just need to get the ones you need. And, in case you want to learn more about moving the Coronavirus pandemic, we will be more than glad to provide you with all information.

Everyone from the packers to the movers were awesome! They were all very professional and showed up when they were supposed to. would definitely use them again.
Let our team put together a comprehensive moving plan for you. Complete our simple free quote form or contact us at 1-208-375-0961.