Transferring medical equipment: facts to know
A medical practice, laboratory or hospital is not just the building it's in. It's all the equipment it holds too. And sometimes, that equipment needs to be moved. Medical practices are not exempt from moving. In fact, doctors' offices move all the time. However, that doesn't make their relocation any easier. Transferring medical equipment is actually quite a complicated task. It takes reliable and experienced Idaho movers to do it right. You should never attempt to do it yourself or trust a suspicious moving company with your equipment. Otherwise, you might end up with your equipment missing or damaged and your practice temporarily shut. It might make you nervous to think about that. But don't worry too much – with the right kind of help, you can move your medical equipment without a problem. First, however, you should know a bit more about the process.
When is transferring medical equipment necessary?
Ideally, a medical practice or lab won't move too often. Having a space that you're settled and comfortable in, that your patients are familiar with and most importantly, that works for you is important. But in some cases, moving is unavoidable. If you've outgrown your current practice or you've found a space that is more conducive to your work, then it's time to call movers Meridian ID and relocate. In the vast majority of cases, you'll want to bring your equipment with you. Medical equipment is expensive. So if it's in good condition, moving it is still preferable to replacing it. However, if your equipment could use an upgrade, consider selling off what you have and buying new things for your new practice.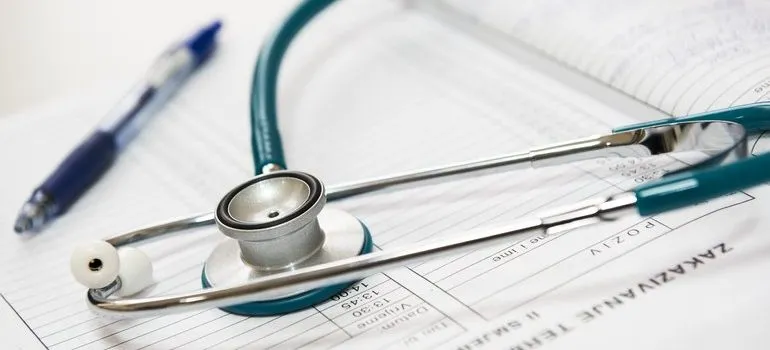 Why is transferring medical equipment difficult?
Anything from a simple syringe to a 50,000lb MRI machine constitutes medical equipment. Some of it is, of course, easier to move than the rest. However, even if you're just moving things like treys, tongue depressors, and needles, you need to be very careful. Medical equipment has to be kept safe and sterile or must be sterilized after the move. It can also be dangerous to handle since a lot of it is made of sharp metal or glass.
However, it is usually the large machinery and heavy electronics that cause the most problems. When moving these, it is imperative to use medical equipment shipping services of a professional moving company with experience in the field. Why is this so important? Medical equipment is incredibly sensitive to the environment and requires special care. It is also very heavy, irregularly shaped and overall difficult to move. So handling it by yourself is pretty much impossible. Leave this task to professionals!
Important things to know about transferring medical equipment
If you're planning on moving your practice or lab soon, then it's time to start thinking about all the medical equipment you'll need to relocate. There are a couple of things you will need to keep in mind.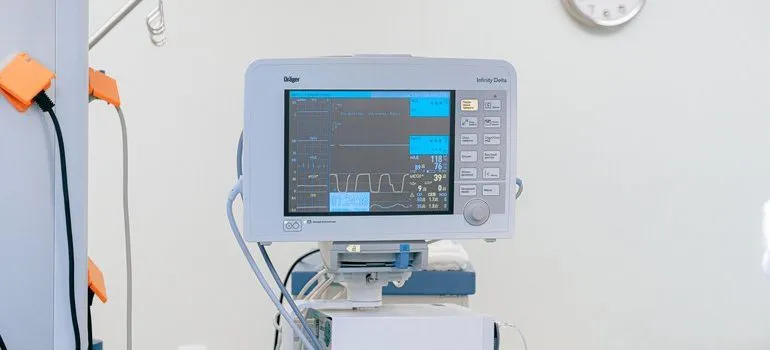 You will need help to do it
Moving medical equipment by yourself is not really an option. Large machinery especially will require special tools and a lot of care. So contact commercial movers in your area as soon as you decide to move because you will definitely have to rely on professional help for this. And you shouldn't hire just any moving company either. You'll need to find movers who have experience specifically with moving, transporting and storing medical equipment. It might take some time and effort to research and find the right company, but it'll be worth it in the end.
It will be expensive
There are no two ways about this: moving medical equipment does not come cheap. It costs extra to move heavy items, items that are hard to carry or disassemble, sensitive items, valuable items… All of which medical equipment is. So you should expect to pay more for the move than an average business owner or residential family. Still, the services of the right movers are more than worth it. A relocation will still cost you less than having to replace all the equipment you own due to mishandling!
Extra coverage is highly recommended
Even with the best movers on your side, things can go wrong. Medical equipment is extremely sensitive and very easy to damage during a move. So it's very important to invest in good coverage. You should not rely on basic valuation offered by all moving companies. Instead, talk to your movers about full coverage valuation and look into third-party valuation coverage for medical equipment specifically as well. That way, even if something does happen, at least you will be able to replace the damaged equipment with no financial loss.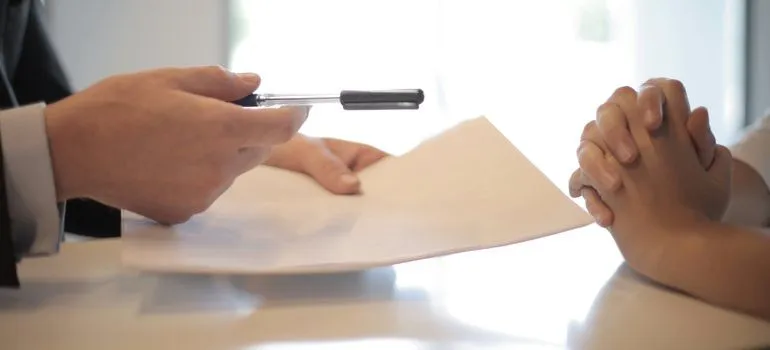 You will need to prepare in advance
Even though you won't be moving the equipment yourself, you will still need to make some preparations before your movers arrive:
plan ahead: be prepared for moving day, close down your practice and refer your patients to other medical centers in the area, be present and have some staff with you to assist movers and answer their questions and overall don't leave things to chance
make sure you have the right movers: hire a moving company with experience in moving medical equipment and don't be afraid to ask them for references so you can check up on how good they are
clean your lab or practice: make sure to clean the practice and sterilize the equipment you're moving; you will still need to sterilize everything again after the move but it's important that the equipment is clean before relocation too
mark fragile items: although all equipment is sensitive, some things are more fragile than others – put a sticker on those and mark them as such
mark heavy items: usually, you should mark things over 50lbs but since most medical equipment is heavier than that, consult with your movers on the weight you should warn them about
note the value of items: you should put a note with the approximate value of every piece of equipment that's worth more than $5.000
Don't panic: plan, budget and hire the right movers and you'll be fine
Although transferring medical equipment is not easy, panicking about it is not going to help. So try not to worry too much. If you plan ahead, prepare your budget well and hire the right Idaho movers for the job, you should have no issues with moving your practice.

Everyone from the packers to the movers were awesome! They were all very professional and showed up when they were supposed to. would definitely use them again.
Let our team put together a comprehensive moving plan for you. Complete our simple free quote form or contact us at 1-208-375-0961.