Tips for storing outdoor furniture in Boise
Living in Boise and having a patio with some nice furniture is something that everyone enjoys. However, there comes a time where you simply can't use those pieces anymore, due to weather conditions. This is the time to be storing outdoor furniture in Boise. There are numerous storage units Boise has for this occasion and you will have no issues finding one that is to your liking. But to make the most out of them, you will want to prepare your outdoor furniture for storage. And that is exactly what we will be talking about in this small guide.
5 steps for storing outdoor furniture in Boise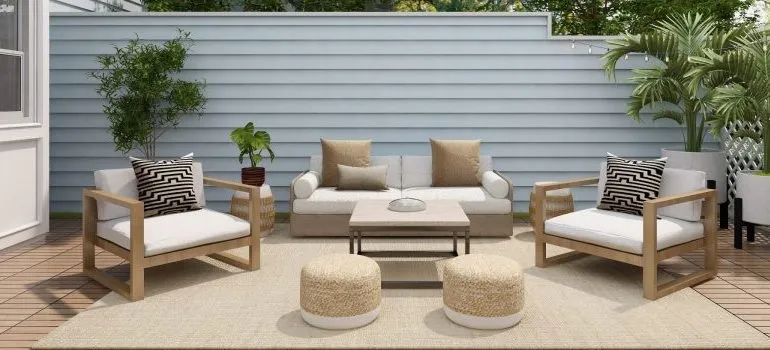 Here are our top 5 tips for storing your furniture pieces:
Clean your furniture thoroughly
Make sure the wooden items are tended to
Protect plastic and metal pieces
Take proper care of any fabric
Wrap the furniture before storing
Of course, if you have any items that require special attention, you will do well to tend to them before storing them. If you require any furniture installation services, or a hand with disassembly, you can always contact Peasley Moving & Storage. Our team will be happy to help you prepare your furniture pieces for their stay inside the storage unit. But for the most part, you will be able to do everything on your own. Follow these tips and you will have no issues.
Cleaning the furniture
The most important tip that we can give you is to thoroughly clean all of your items before storing them. You don't want to introduce any mud, dirt, or even food to a storage unit. These substances can produce mold or mildew, which can have dangerous consequences on your furniture. 
Also, you will do well to inspect every surface for any signs of rust or oxidation. If you do happen to find some rust, you can treat the offending area with a rust-removing primer. Steel wool is quite useful for removing any rust, before spraying the paint that closely matches the finish on the peace. For maximum protection, apply a bit of silicone sealant, as well.
Make sure to tend to wooden items properly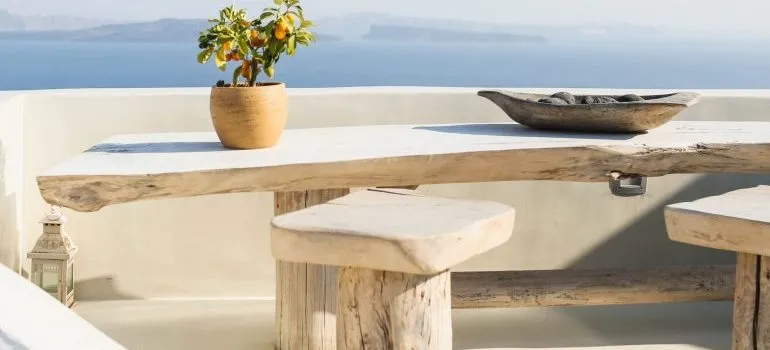 The easiest way to tend any wooden pieces you might have is to create a cleaning solution on your own. While you can buy a professional solution, you don't really need to. Just create a mixture of 1/4 cup baking soda, 1 cup ammonia, and 1/2 cup vinegar, inside one gallon of water. Use the mixture to gently scrub the items before leaving them to dry off. After your furniture dries off, apply a bit of protective sealant to protect them from moisture throughout the year.
How to protect metal and plastic items
Metal items really need to be stored during winter. The presence of freezing rain and snow will surely create some rust, which can endanger your belongings and make them look much worse. If you don't happen to have a place where you can store the items, you can always utilize one of the Boise moving and storage options. Having your items inside a professional storage unit is the best way to protect them all year-round. That being said, you will still want to prepare the items themselves.
For metal items, you can simply use water and detergent to clean any surfaces and brush and hose them afterward. If required, you may want to apply a bit of spray paint or a thin coat of car wax for additional protection.
As for plastic items, you will not be going to worry about any moisture damage. But you do need to take into account that cold temperatures can make the plastic quite brittle. Brittle enough to crack. To avoid this, make sure that your plastic pieces are inside a storage unit before it begins to snow. To prepare these items for the stay, you will want to apply simple dish soap and water, rinse thoroughly, and leave them to air-dry.
Taking care of the fabric
If you happen to have any cushions that have removable covers, you will want to refer to the user's manual for further instruction. Ideally, you will be able to take them off and put them inside the washing machine. Gentle cycle is all-around best for these materials. But do refer to the manual if you have one. You may be even able to add some bleach to kill any traces of mildew. But, again, the manual will tell you if you are allowed to do that safely.
In case that you can't machine wash the fabric, you will want to utilize a dry cloth and a sturdy brush to apply a very mild detergent. Never power-wash the cushions as that can ruin the material or even break the seams. We advise that you do not machine-dry your fabric, even if the manual says otherwise. In our experience, it is best to leave the covers to air-dry. After they are dry, you can stack them loosely in a clean space (definitely not on the floor). For maximum protection, you will want to use a weatherproof storage bag or even a plastic box.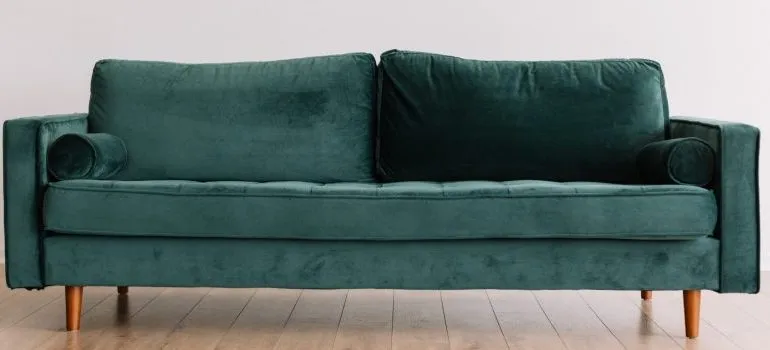 If you happen to have many boxes after all your items are prepared, you will want to create a system for them. Labeling your moving boxes is a fast and efficient way of tracking which items went where. That way, you will be able to easily find exactly what you need.
Before storing, wrap it up
Here comes the most important tip. Never, ever, leave your outdoor furniture unprotected, even if you are utilizing a professional storage unit. While some storage facilities offer to protect the items for you, it is usually better if you do it on your own, provided that you have the time. Shrinkwrapping outdoor furniture is not really all that complicated, truth be told. And it will provide great protection for your belongings. Also, you may want to procure a wood plank, let's say 2 by 4, and use it to elevate your furniture off the ground when storing outdoor furniture in Boise.

Everyone from the packers to the movers were awesome! They were all very professional and showed up when they were supposed to. would definitely use them again.
Let our team put together a comprehensive moving plan for you. Complete our simple free quote form or contact us at 1-208-375-0961.