Tips for packing a queen size bed
Sleeping in a familiar bed is among the best things to counter the stress of moving. The warmth and coziness you're used to making the new place feel like home right away. And if that bed is a queen size one, then you're really in for a revitalizing night. Those things are insanely comfortable! However, they're also a pain to move. Queen size beds are bulky and heavy. As such, carrying and maneuvering pose quite the challenge. But, if you prepare well, even this daunting task won't be a problem. To help you with that, we're bringing you a few tips, used by some of the best moving companies Boise has. Use them, and you'll turn moving and packing a queen-size bed into a walk in the park.
Planning ahead is a recipe for success
Every successful undertaking starts with a good plan. In this regard, packing a queen size bed isn't any different. In fact, the more difficult a piece of furniture, the better plan you'll need. With this in mind, the best course of action is to break down this grand task into smaller pieces. It will make tackling each easier, safer, and much faster. An example of a good approach is:
Acquisition phase: getting tools, materials, and help;
Preparation phase: setting up the premises and devising a strategy;
Packing phase: packing a queen size bed for moving.
Of course, your list doesn't have to look like this. The important thing is to have a clear course of action in your head. So, find a method that suits you the most and use that.
Packing a queen size bed is easier and safer with some help
Packing a queen size bed is hard work, and having even one person can helping you makes it easier. But, more importantly, safer. The bed consists of many heavy and bulky pieces. Handling some of them is almost impossible for a single person. Therefore, it's best not to risk it. Instead, get two or three able-bodied friends to help you and make your life easier.
The best way to pack a queen size bed: letting professionals do it
The chaos of moving makes handling even the most mundane tasks difficult. The process is time-consuming and logistics are challenging. Of course, this isn't such an issue if you're moving locally. But, if you're, for example, moving to Idaho from, say, Georgia – it's a whole other story. Then, even the simplest task becomes nerve-wracking. And dismantling and preparing a queen size bed is anything but simple. But, you can make it simple if you hire movers. Trained professionals with the right tools and years of experience can simplify the process and make it stress-free.
Packing a queen size bed – step by step
With careful preparation, you set an excellent base to tackle this daunting task. Now, all that's left is some physical work. So, let's get started.
#1 – Prepare the space
Queen size beds are quite large and, thus, manipulating them poses a risk. Therefore, the first order of business is minimizing them:
Ensure you have ample space for maneuvering and setting aside bed components. So, empty the room the bed is in and clear the pathways;
Place tools and materials within reach. This will save you a lot of time, as you won't have to run around grabbing what you need;
Protect the property. Missteps often accompany handling large and bulky objects. Take some time to protect floors, walls, and doorframes to avoid property damage.
Now you've set yourself up for success! Moving on to packing a queen size bed itself.
#2 – Prepare the bed
With premises prepped and ready, it's time to do the same with your bed. This is the easiest part. All you need to do is remove the bedding. Having it tangling your feet is a true health hazard. The best thing you can do is wash everything, pack it, and move the boxes out of the way. Preferably, out of the house. To this end, portable storage Boise companies provide can be godsent. It gives you a safe place to put away your belongings, without adding to the clutter.
#3 – Ready the mattress
The queen size bed mattress is huge and heavy. Therefore, it's advisable to have at least one or two able-bodied friends helping you on this one.
Remove the mattress from the frame. Some mattresses have handles on the sides that make this part easy. But, if yours doesn't, you can use moving straps to lift it safely;
Place the mattress into a corresponding bag and secure the bag with packing tape. Of course, if the bag has a zipper, there's no need for taping it;
Move the mattress out of the way. Use moving straps and dollies, as they will make your life so much easier.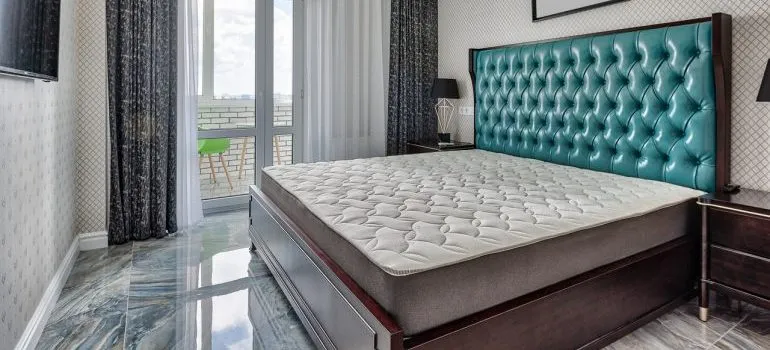 #4 – Prep the bed frame
Now we come to the delicate part – disassembling the bed frame. Although not tricky, per se, it does take some finesse. If you have an assembly manual for your bed, now is an excellent time to break it out.
Remove the drawers. Many a queen size bed has convenient drawers at its base. However, when moving the frame, they can become a liability. So, remove, empty them, and pack each one separately;
Use adequate tools to dismantle the bed frame. It's great to have at least one helper for this, to hold the frame firmly in place;
Wrap each component in a moving blanket and move them out of the way. Bubble wrap and shrink wrap are excellent options, too;
Make sure corners are extra-protected. They are the parts most susceptible to damage.
It's an excellent idea to have a ziplock bag handy during this part of the process. Place all small parts (nuts, bolts, screws, etc.) inside it and place it into the box with bedding. That way, you'll always know where it is. As an alternative, you can tape it to one of the frame components. Just make sure none of the tape touches the wood, as it can damage it.
Ready! Set! Sleep!
As you can see, packing a queen size bed isn't too complicated. However, it still requires dedication and some finesse. So, if you hit a snag at any point, don't hesitate to turn to the professionals for help. After all, peaceful sleep is one of the most important things in the world.

Everyone from the packers to the movers were awesome! They were all very professional and showed up when they were supposed to. would definitely use them again.
Let our team put together a comprehensive moving plan for you. Complete our simple free quote form or contact us at 1-208-375-0961.