Tips for dealing with post-moving anxiety
Moving is one of the most stressful events in a person's life. It is right up there with organizing a wedding and childbirth. And it is no wonder because you are leaving behind everything that you are familiar with. Relocating to a new neighborhood where you don't know anybody, not to mention a new job and colleagues, is stressful even to the most experienced. Peasley Moving & Storage ID would like to share with you a few tips on the best ways of dealing with post-moving anxiety. They will help you quickly adjust to the big change and fully enjoy all the benefits of a new home.
Recognition is the first step in dealing with post-moving anxiety
The symptoms of anxiety are not so easy to recognize. One of the reasons for this is that people don't talk about them. Thus, you might often have them and not know about them. Most people will advise that prevention is the best cure. So it is prudent that you lower the overall stress during the move by taking advantage of door-to-door international shipping. That way, you can relax because you know that everything is in the hands of professionals. But once everything is done and you are in your new home, dealing with post-moving anxiety can be tough. Therefore, you should always try to recognize symptoms before doing anything about them:
Lack of sleep or sleeping too much
Extreme weight changes
Loss of will and motivation
Not wishing to leave the bed
Not meeting new people
Lethargy
Keeping a journal about your post-moving anxiety will help you deal
Identifying what is triggering your anxiety is the most important part of dealing with it. Once you know what is causing it, you will be able to look at it logically. You can even start doing it before the Idaho international movers arrive to pack you home. However, do not be afraid to write down even the most ridiculous fears you might have. Because nothing is simple when dealing with emotions. Once you have a complete list, you are one step closer to getting rid of the stress. So start going through everything you wrote down and try to imagine the worst-case scenarios. Ask yourself is it possible for that to happen. You will soon realize that most of your fears are unfounded.
Breathing will help you manage your post-relocation anxiety
For a while now, psychologists have been studying the connection between breathing and stress. When we have a panic attack, we take short breaths and feel like there is not enough air. So, there's a feeling like we are about to die. Unfortunately, these attacks only add to overall stress. Things that trigger them are some big changes happening around us.
For example, when moving overseas and need to make the entire plan for freight shipping Boise. It might sound like it is too complicated and like you will make a mistake and lose all the belongings. But do not worry, there are simple solutions that will help you deal with it:
Exhale and then close your eyes.
Try to take a deep breath through your nose and relax your shoulders.
Lastly, exhale through your mouth.
Repeat this a few times until you feel calm.
Maintain well-established routines and you will be able to handle post-move exhaustion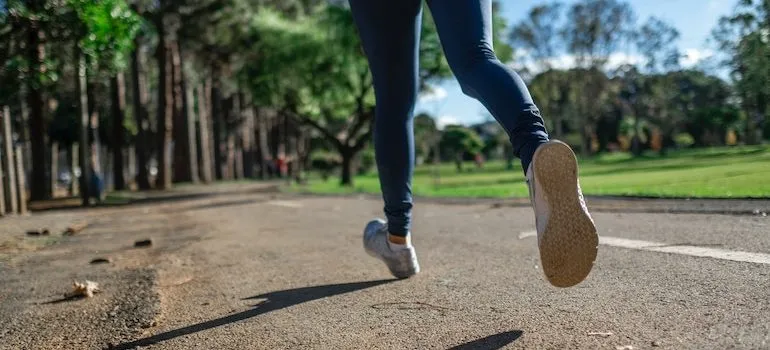 There is nothing worse than boredom and an idle brain when you have to deal with post-relocation anxiety. Thus it is important that you immediately establish daily routines that will keep you busy and occupied. However, in most cases, people will try to keep to the old ones. But this is a bad idea because it will just provoke you into feeling the stress.
Unfortunately, you are now in a completely new environment, and there is nothing familiar about it. So do not try to do the same things as before because they will just remind you of the past. Additionally, having a routine will help you to be physically active. So if you were regularly going to the gym trying to find a new one close to your home. Also, locate nearby parks that are perfect for daily strolls and spending some time with kids or pets.
Stay in touch with people
Having healthy relationships with people will vastly help you cope with post moving anxiety. So make all the necessary arrangements to stay in touch with loved ones once you relocate. You can agree on having a chat once a week or group meet-ups over the internet. Likewise, it is of the essence that you start to form new connections in your new neighborhood. If you are working all day, start with your coworkers. Invite them for a drink after work or on the weekends. Also, try to meet your neighbors and new and interesting people in the area. You will notice that this will quickly lower the stress and anxiety that you are feeling.
Dealing with post-moving anxiety on time is important
Your relocation is done, and instead of enjoying your new home, you are dealing with post-moving anxiety. But that is ok because you went through a big change in your life. However, do not wait too long to deal with it. Unfortunately, the more time passes, the harder it will be for you to get out of it. So make sure you have professional help from one of the moving companies in the State of Idaho. They will take a big weight off your shoulders during the relocation. Next, identify the reasons, stay active and keep to the routines. But most importantly, stay in touch with people.

Everyone from the packers to the movers were awesome! They were all very professional and showed up when they were supposed to. would definitely use them again.
Let our team put together a comprehensive moving plan for you. Complete our simple free quote form or contact us at 1-208-375-0961.