The Most Important Idaho Freight Hubs and Commercial Ports
In today's globalized world, freight infrastructure acts as the backbone of economic progress. With its vast landscapes and strategic location, Idaho emerges as a crucial player. Many Idaho moving companies, including ours, have witnessed firsthand how robust Idaho freight hubs and commercial ports contribute to the state's burgeoning trade dynamics. Interested in Idaho's strategic role in the freight landscape? Let us provide you with a detailed perspective on its significance to the moving industry.
The Idaho Advantage: Geographical Brilliance for Trade
Interestingly, Idaho's position isn't just about its beautiful vistas and scenic landscapes. Strategically nestled between key markets and influential neighboring states, it is a linchpin in U.S. trade. Consequently, this state enjoys a unique advantage. For instance, its proximity to the Canadian border facilitates trade with our northern neighbors, making business operations seamless for Idaho international movers as well as its storage providers.
Furthermore, its central location has paved the way for enhanced trade relationships with states like Montana, Washington, and Oregon. This connectivity has not only fostered economic growth but has also opened avenues for diversified trade partnerships. As such, the flow of goods across its borders is consistent and vital.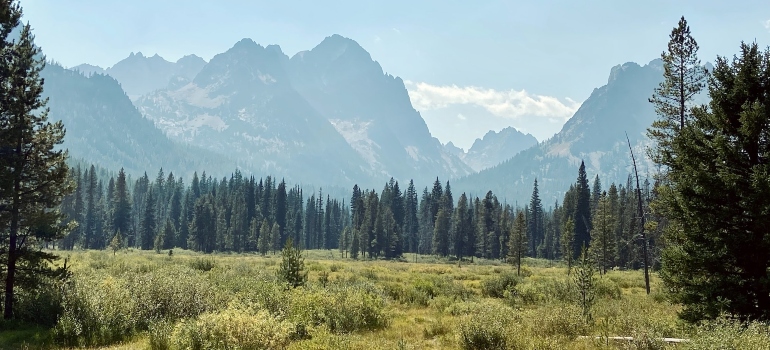 Port of Lewiston: Idaho's Unexpected Marine Lifeline
Now, onto one of the most intriguing aspects of Idaho's freight landscape – the Port of Lewiston. Many might raise an eyebrow at the idea of an inland state boasting a seaport. However, the Port of Lewiston, perched along the winding Snake River, provides a waterway passage connecting to the expansive Pacific Ocean through the Columbia River.
Initially, the port's creation seemed ambitious. Yet, with careful planning and strategic infrastructure investments, it has grown exponentially. Today, it handles a significant volume of the state's imports and exports. For a state mostly known for its mountainous terrains, this port reinforces the importance of diversification in transportation modes.
Moreover, the port's existence strengthens the state's position in international trade. As a result, it plays an instrumental role in boosting local businesses and creating a plethora of job opportunities. One of the key Idaho freight hubs, the Port of Lewiston, stands as a testament to the state's vision for a prosperous future.
Railways as Important Idaho Freight Hubs
Historically, railroads have been instrumental in shaping the economic landscapes of many U.S. states, and Idaho is no exception. In recent years, there's been an upward surge in freight rail usage, with statistics indicating that railways in Idaho transport goods worth over $20 billion annually.
Pocatello, commonly referred to as the "Gateway to the Northwest," plays a pivotal role in the region's rail logistics. Serving as a key junction, it facilitates trade flow from the southern regions to the north. Consequently, this connectivity enhances transportation efficiency, bolstering Idaho's economic growth.
Furthermore, Boise, the state capital, isn't just a political hub. It's a central spot for rail logistics, too. Impressively, data from recent years highlights that Boise has seen an average annual growth of 3% in rail freight volume.
Idaho's Key Roadways
Idaho's highways are critical pillars in the state's freight story, streamlining the swift movement of goods and underpinning its economic drive. For context, in 2019, trucks transported goods worth over $700 billion across Idaho, a staggering portion of the state's trade.
The I-84 corridor, slicing through the state's southern region, stands out. This key conduit connects the Pacific Northwest to the Intermountain West, fortifying Idaho's trade relations with nearby and far-off markets alike. In the heart of Idaho's capital, this robust infrastructure proves indispensable. With the I-184 freeway as its linchpin, Boise sees unhindered intra-state commerce. Also, for long distance movers Boise provides, this makes transportation of household goods and commercial items smoother, ensuring clients' valuables reach their destinations intact and on time.
As businesses and residents benefit from this connectivity, the surging demand for services is palpable. Idaho's freight strategy, combining rail, air, and road transport, showcases its holistic vision for trade logistics. Through this multi-modal integration, Idaho reinforces its position as an essential player in U.S. trade dynamics.
Airports as Vital Idaho Freight Hubs and Commercial Ports
Boise Airport stands as a key node in air cargo logistics. With a substantial cargo throughput of over 75,000 tons in 2020, it underscores its pivotal role in Idaho's freight system. This facility not only connects Idaho to international markets but also optimizes trade operations.
While Boise Airport stands prominently as a significant node in air cargo logistics, it's not solely dedicated to freight. Those relocating with interstate movers in Boise also capitalize on the airport's infrastructure, underscoring its dual functionality and importance to both commerce and residents on the move.
The Coeur d'Alene & Spokane Axis
the connection between Coeur d'Alene and Spokane emerges as a premier example of integrated transportation. Positioned near Idaho's panhandle, Coeur d'Alene collaborates seamlessly with Spokane in Washington, offering a broad spectrum of transport services. Together, they handle a substantial segment of Idaho's freight logistics.
Coeur d'Alene has adeptly utilized its geographical advantages. Given its adjacency to significant lakes and rivers, the city has developed an efficient inland waterway transport system. Current data reveals that annually, more than 5 million tons of goods navigate through this area, underscoring its role in Idaho's commerce.
In parallel, Spokane boosts this integrated transportation model with its expansive rail and road infrastructure. Collaborating with Coeur d'Alene it ensures fluidity in cargo movements. For freight companies Idaho is home to, this synergistic approach translates to quicker deliveries and optimized operations.
The Trade Impacts of Key Idaho Freight Hubs
In 2020, Idaho's freight hubs processed goods worth an impressive $50 billion. This statistic highlights the state's burgeoning position in the trade sector. These hubs, beyond bolstering trade, play a pivotal role in job creation, industrial expansion, and regional development. A notable example is the growing demand for overseas shipping container services. As Idaho's international trade influence grows, businesses are strategically positioning themselves to capture this expanding global market.
Challenges & Evolving Solutions for Idaho's Freight
Idaho's freight infrastructure, while pivotal to the state's trade dynamics, isn't without its challenges.
Rapid growth often leads to capacity constraints, particularly during peak seasons.
Environmental implications cannot be ignored in an era emphasizing sustainable solutions.
Congestion is one of the most pressing concerns. As goods traverse the state in increasing numbers, certain freight corridors, especially around holidays, experience significant delays, impacting trade efficacy.
Yet, Idaho is taking decisive action. Through planned infrastructural developments and the integration of advanced logistics technologies, the state is gearing up to address these challenges. By partnering with local stakeholders, state authorities are ensuring that Idaho remains at the forefront of efficient and responsive freight management
Infrastructure Development
Another significant facet of Idaho's freight domain is its continuous focus on infrastructure development. Recognizing the evolving needs of trade, the state has already earmarked substantial funds for the expansion and modernization of its freight hubs over the next five years.
Anticipating increased freight volumes when shipping containers overseas, expansion projects are underway at major terminals to augment their capacity. The state is diligently working on enhancing road quality and connectivity, ensuring smoother transitions for both intra-state and inter-state shipments. These enhancements are pivotal, considering the influx of businesses to Idaho, drawn by its strategic location and robust infrastructure.
Moreover, the state is collaborating with academic institutions and industry experts to derive data-driven insights. These insights aim to streamline further operations, pinpointing areas that require upgrades or modifications. By proactively addressing potential bottlenecks, Idaho seeks to foster a seamless flow of goods, ensuring that businesses can operate at peak efficiency.
This unyielding commitment to infrastructure development reiterates Idaho's dedication to remaining at the forefront of the nation's logistics framework. Through consistent upgrades and adaptive strategies, the Gem State is setting itself up to meet the challenges of tomorrow while providing an environment today where businesses can thrive and flourish.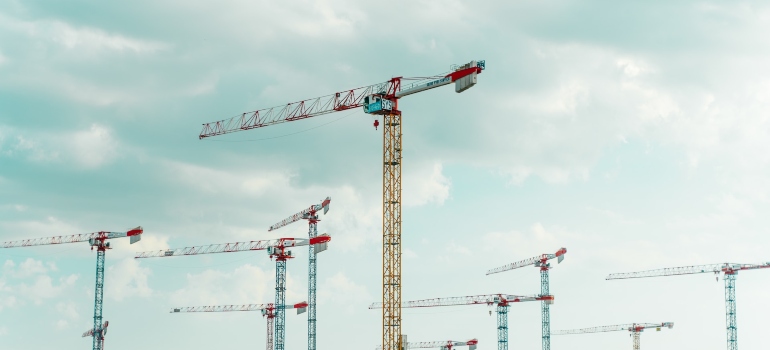 Sustainable & Green Practices at Idaho Freight Hubs
Steering towards a sustainable future, Idaho is not only focused on economic prosperity but also environmental responsibility. As global demands shift towards greener practices, the Gem State's commitment to sustainable freight management shines through.
Recent investments in clean energy infrastructure at major freight terminals are noteworthy. Over the last decade, a whopping $200 million has been channeled into eco-friendly initiatives across Idaho freight hubs. These efforts have reduced carbon footprints, leading to an impressive 25% drop in emissions from freight activities.
The push for sustainable transportation goes hand in hand with the rise of electric vehicles (EVs). Recent reports indicate that over 10% of the trucks operating within Idaho's freight corridors are now EVs. This trend is particularly evident among container shipping companies near me, who are capitalizing on EVs to offer cleaner and quieter delivery services.
Therefore, recent developments highlight Idaho's proactive stance in integrating sustainability within its freight operations. The investment in clean energy and the growing prevalence of EVs underscore the state's dedication to environmental responsibility. Such advancements reinforce Idaho's position at the forefront of modern, sustainable freight management, setting benchmarks for industry-wide best practices.
The Digital Evolution of Idaho's Freight Infrastructure
The sustainability efforts of Idaho's freight hubs, as noteworthy as they are, represent just one facet of the broader picture. Another significant piece is the state's adaptation to the digital age and its modernization of logistics operations.
Idaho's freight infrastructure is now leveraging breakthroughs such as Artificial Intelligence (AI) and the Internet of Things (IoT) to optimize its processes. With AI, predictive analytics come into play, offering freight companies an opportunity to anticipate potential shipment delays. This proactive approach minimizes disruptions and conserves resources, dovetailing seamlessly with Idaho's green initiatives.
IoT technology, on the other hand, has redefined shipment monitoring. Real-time tracking systems installed in freight vehicles provide both businesses and end-users with up-to-the-minute updates on their shipments, enhancing accountability within Idaho's freight sector.
Moreover, these advanced IoT systems also assess vehicle performance and health. By indicating when maintenance is required and optimizing fuel consumption, they enhance operational life spans and contribute to reduced emissions. All in all, these technological initiatives solidify Idaho's dedication to maintaining a freight system that's both innovative and environmentally responsible.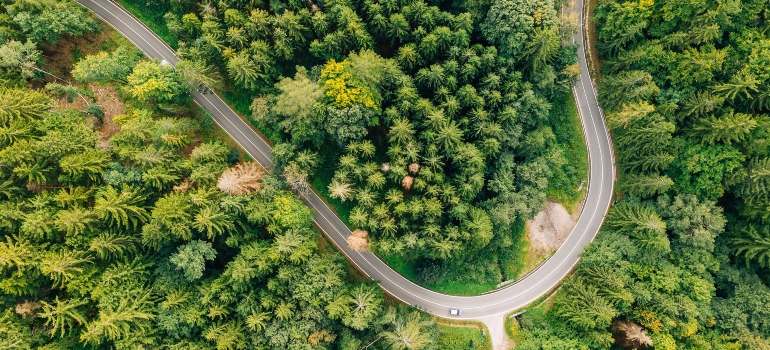 Idaho's Vision for a Greener Transport Ecosystem
Beyond the present-day accomplishments, Idaho is fervently planning for a more sustainable future. Statewide initiatives are aiming to reduce emissions further, improve energy efficiency, and integrate cutting-edge technology into the logistics sector.
First and foremost, biofuels have emerged as a significant focus area. These renewable energy sources, derived from organic materials, are being widely adopted, particularly in heavy freight vehicles. By 2030, Idaho aims to power 20% of its freight fleet using biofuels, a testament to its commitment to green energy.
Similarly, innovations like automated logistics management systems are on the rise. These systems optimize routes, reduce idle times, and consequently decrease fuel consumption. Such advancements boost operational efficiency and foster an eco-friendly transport environment.
Idaho's Central Pillar in U.S. Trade & Logistics
While it might be easy to overlook Idaho in the great system of U.S. trade, the state's prowess in logistics is undeniably impressive. Being home to some of the nation's most efficient and sustainable commercial ports, Idaho freight hubs stand tall as a beacon of progress. Additionally, the collaboration between private enterprises, state authorities, and local communities has created a cohesive ecosystem. This synergy ensures that trade flows smoothly, businesses thrive, and the environment remains protected. Given the leaps and bounds Idaho has made in recent years, its future in the logistics domain looks promisingly bright.

Everyone from the packers to the movers were awesome! They were all very professional and showed up when they were supposed to. would definitely use them again.
Let our team put together a comprehensive moving plan for you. Complete our simple free quote form or contact us at 1-208-375-0961.