The First Week in Your New Kuna Residence: A Comprehensive Checklist
Moving to a new home is marked by the excitement of starting fresh and the overwhelming task of settling in. When it comes to relocating to a new Kuna home, careful planning and organization during the initial week can set the tone for a smooth transition. From unpacking and arranging furniture to setting up utilities and exploring the local neighborhood, each step contributes to the process of acclimating to your new surroundings. With Peasley Moving & Storage Idaho by your side, our comprehensive checklist aims to guide you through the first week in your new Kuna residence. This will enable you to embrace the possibilities of your new Kuna residence with confidence.
Pre-Move Preparation
Pre-move preparation is a vital step in ensuring a seamless transition to your new residence. One crucial aspect is forwarding your mail to the new address. By notifying the post office and updating your address with relevant institutions and service providers, you can ensure that important correspondence reaches you without interruption.
Additionally, setting up utilities and internet services beforehand is essential for a comfortable and functional living space. Contacting utility companies to schedule installations or transfers ensures that your new home is ready for immediate use upon arrival.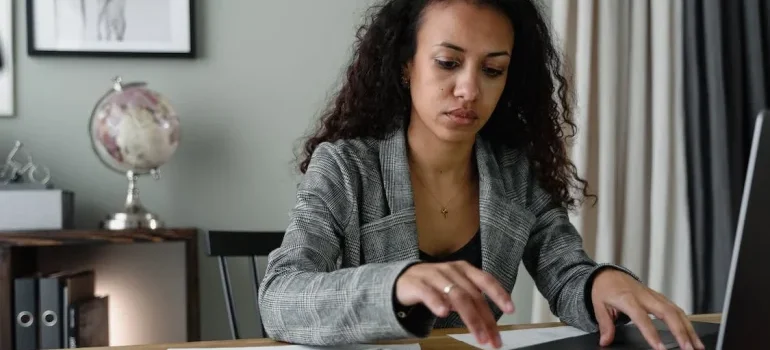 Lastly, creating a "first-week" moving box with essentials is a smart move. Packed with everyday necessities like toiletries, bedding, and kitchen essentials, this box will save you from rummaging through countless boxes during the initial days.
All summed up, important aspects of pre-move preparation include:
Initial Setup: Ensure essential utilities, such as electricity, water, and internet, are arranged before your move.
Unpacking: Organize your belongings strategically. Label boxes and set up key areas of your home.
Addressing Utilities and Services: Contact service providers to transfer or set up subscriptions for services. These may include cable or garbage collection.
Shopping: Making a list of necessary supplies and groceries to stock up your new home with the essentials for daily living.
Exploring: Familiarize yourself with the local area, nearby facilities, and points of interest.
Personalizing: Add personal touches to your new space, such as decorating, arranging furniture, and hanging pictures.
Relaxing in Your New Home: Take the time to unwind and enjoy your new surroundings.
Ensuring that all essential tasks are accomplished efficiently is crucial in making your new Kuna ID house feel like a home!
Day 1: Arrival and Initial Setup Mark the First Week in your New Kuna Residence
Day 1 of moving to Idaho marks the exciting moment of arrival at your new home, where you begin the journey of transforming it into a cozy and functional space. Start by unpacking your carefully prepared "first-week" moving box, filled with essential items that will make your initial days comfortable. As you unpack, take the time to assess and document the condition of your old house, noting any pre-existing damages to ensure a smooth transition during move-out.
Next, focus on setting up basic furniture, such as the bed and table. Prioritizing these key pieces helps you create functional spaces to rest and dine amidst the ongoing unpacking process. Remember to maintain a positive attitude and take breaks when needed. Day 1 sets the tone for the days to come as you begin to make your new Kuna residence feel like home.
Day 2: Major Unpacking
On Day 2 of your move to Boise, Idaho, the focus shifts to major unpacking and creating a sense of order in your new residence. Start by organizing your unpacking strategy by room, which helps streamline the process and minimizes chaos. Prioritize setting up essential rooms like the kitchen, bathroom, and bedroom.
Unpack and organize kitchen essentials, ensuring easy access to cookware and utensils. In the bathroom, arrange toiletries and towels for convenience. Set up your bedroom by unpacking and making your bed, creating a comfortable retreat after a long day of unpacking.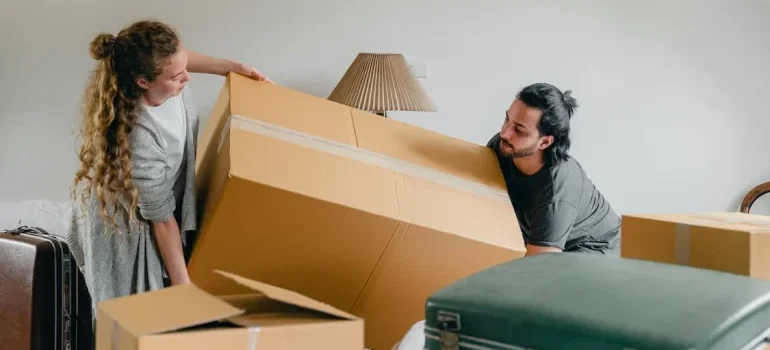 Additionally, tackle the task of assembling and arranging furniture, transforming empty spaces into functional and inviting areas. Seek assistance from professional moving services Boise ID recommends, if needed, to ensure efficient handling of heavy or complex furniture pieces.
Day 3: Addressing Utilities and Services
Now it's time to address the crucial aspect of utilities and services in your new home in Boise. This usually happens on the 3rd day of the moving process. Begin by ensuring that all utilities are functioning properly, including electricity, water, and gas. Contact the respective service providers to confirm the activation and troubleshoot any potential issues.
Additionally, if you have a home security system, set it up and test its functionality to ensure the safety of your new residence. This is also an opportune time to arrange for any necessary repairs or installations, such as fixing leaky faucets or installing new light fixtures. If you require assistance with moving furniture during these tasks, don't hesitate to reach out to local movers Boise services, who can provide professional support.
Day 4: Shopping for Home Essentials
We have come to the fun part of the moving process. On Day 4 of settling into your new home in Idaho, it's time to embark on a shopping expedition to acquire essential household items. Begin by creating a shopping list for items you need to make your house fully functional and comfortable. Consider items such as cleaning supplies, kitchen utensils, bathroom essentials, and bedding. For a convenient shopping experience, explore local Kuna stores that offer a wide range of home goods.
Kuna boasts several local stores that cater to these needs. Some recommended options include "Kuna Mercantile," a well-known general store offering a variety of home goods. There is also "Home Essentials," a specialty store with a wide selection of kitchenware and home decor. Local movers Kuna ID offers can deal with the moving tasks, so you don't have to transport heavy furniture on your own during the first week in your new Kuna residence.
Pro tip: when stocking your pantry and refrigerator, prioritize staple food items, such as non-perishables, spices, and basic ingredients, ensuring you have the essentials to prepare meals. Consider purchasing staple food items from local grocery stores such as "Kuna Farmers Market" or "Kuna Food & Market."
Day 5: Exploring Your Neighborhood
On Day 5 of settling into your new home, take the time to explore and familiarize yourself with your neighborhood and its immediate surroundings. Start by taking a leisurely walk or drive around the area, getting to know the streets and landmarks. Locate nearby amenities such as grocery stores, pharmacies, and other essential services, making note of their proximity for future convenience.
Additionally, consider introducing yourself to your neighbors, as they can provide valuable insights and a sense of community. Engage in friendly conversations, exchange contact information, and perhaps even organize a neighborhood gathering. As you immerse yourself in your new neighborhood, you may also come across furniture installation services or recommendations from your neighbors, assisting you in any furniture-related needs. Some of the best neighborhoods to explore and enjoy in Kuna are:
Crimson Point: A residential neighborhood with a mix of single-family homes and townhouses, offering a family-friendly environment.
Sutters Mill: A well-established neighborhood known for its spacious homes and a tranquil atmosphere, perfect for those seeking a suburban setting.
Patagonia: A newer neighborhood featuring modern homes and a close-knit community feel. It offers easy access to amenities and recreational activities.
Arbor Ridge: A popular neighborhood with a variety of housing options, including larger homes and smaller townhomes, known for its scenic views and well-maintained parks.
Silver Trail: A growing community with a range of housing styles, including single-family homes and townhouses, offering a mix of affordability and convenience.
Day 6: Personalizing Your Space
It's time to infuse your personal touch into your new home in Kuna. Start by brainstorming ideas for home decoration to reflect your style and create a warm and inviting atmosphere. Consider hanging artwork, arranging indoor plants, or adding decorative accents that resonate with your aesthetic.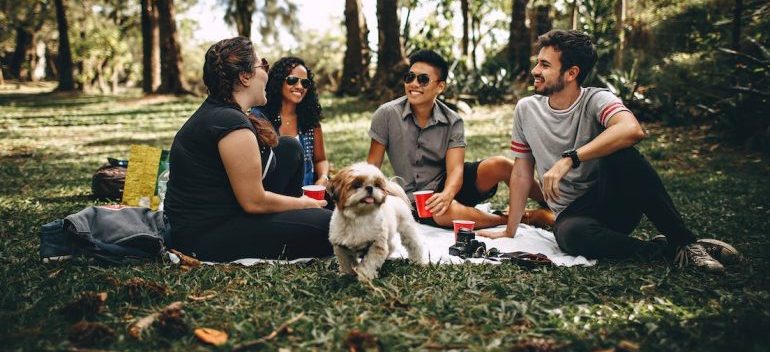 Another important task is setting up your personal workspace or home office. Choose a designated area where you can be productive and organized. Invest in a comfortable desk, ergonomic chair, and adequate lighting to enhance your productivity. When it comes to organizing your living space, consider utilizing portable storage Boise offers for convenient and accessible temporary storage solutions.
Day 7: Relax and Reflect on Your New Home!
On Day 7, it's time to pause, relax, and fully immerse yourself in the comfort of your new home. Take this day to unwind and enjoy the fruits of your labor, appreciating the space you have created. Reflect on the journey of the move and the first week, acknowledging the challenges you overcame and the accomplishments you achieved. Take note of any lessons learned or adjustments needed for future moves.
As you relax and reflect, also begin planning for the weeks ahead. Consider creating a schedule or checklist for upcoming tasks and goals to ensure a smooth transition into your new routine. Examples of planning for the weeks ahead may include scheduling visits from local service providers for maintenance or exploring nearby attractions to acquaint yourself with the area. Dedicate day 7 to relaxation and thoughtful planning, and set the stage for continued enjoyment and success in your new home.
Why do People Choose to Settle in Kuna?
There are several reasons why people choose to settle in Kuna, Idaho. Firstly, the city of Kuna offers a small-town atmosphere with a close-knit community. It is an attractive destination for those seeking a sense of belonging and neighborly connections.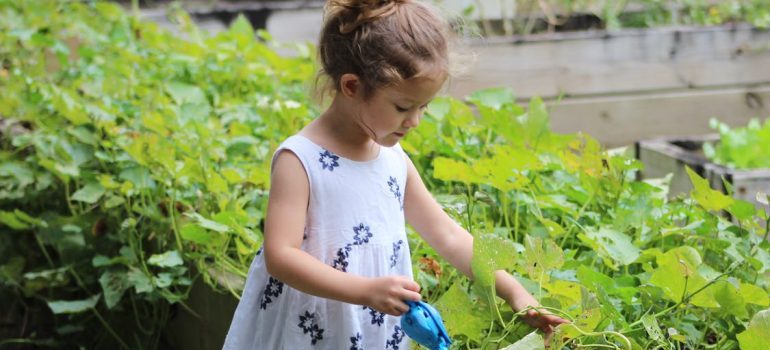 Additionally, Kuna's proximity to Boise, the capital city of Idaho, provides residents with easy access to urban amenities. Still, they can enjoy the benefits of a smaller community. Some of the most popular attractions include:
Celebration Park: offers visitors a chance to explore ancient petroglyphs, enjoy hiking trails, go fishing, and experience the rich history and natural beauty.
Kuna Caves: A popular destination for adventurous hikers, the Kuna Caves offer an opportunity to explore unique lava tube formations.
Falcon Crest Golf Club: Golf enthusiasts can enjoy a round of golf at this scenic 18-hole championship golf course
Indian Creek Winery: Wine lovers can indulge in wine tastings, vineyard tours, and events that celebrate the region's winemaking heritage.
Kuna Farmers Market: Held during the summer months, the Kuna Farmers Market is a vibrant community gathering featuring local produce, handmade crafts, live music, and delicious food.
The town also boasts scenic views, open spaces, and outdoor recreational opportunities, making it appealing to nature enthusiasts and those seeking an active lifestyle. Furthermore, Kuna's relatively affordable housing options compared to nearby cities make it an attractive choice for homebuyers and renters looking for more budget-friendly options.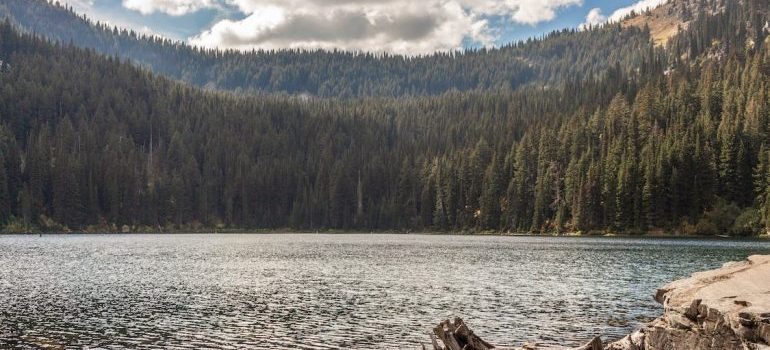 Embracing a Smooth Start: Concluding Your First Week in Your New Kuna Residence
As usual, the first week in your new place sets the foundation for a successful and smooth transition. Simply by following a comprehensive checklist and planning ahead, you can tackle essential tasks and make your new house feel like a home. From unpacking and organizing to addressing utilities and exploring the neighborhood, each step contributes to creating a comfortable and functional living space.
However, it's important to remember that everyone's moving experience is unique, and you should adapt the checklist to your specific needs and preferences. Embrace the possibilities of your new environment, take your time to settle in the first week in your new Kuna residence, and make it a place that truly reflects your personality and lifestyle. With careful planning and a positive mindset, you'll soon find yourself thriving in your new home.

Everyone from the packers to the movers were awesome! They were all very professional and showed up when they were supposed to. would definitely use them again.
Let our team put together a comprehensive moving plan for you. Complete our simple free quote form or contact us at 1-208-375-0961.