The importance of organizing your new home before unpacking
Many people underestimate post-moving tasks. Although packing and moving everything to another place is easier than unpacking, we also need to take unpacking seriously. Don't plan this part of your relocation and you will end up in a messy home. But, before you start to unpack moving boxes Boise, there is just one more thing you'd want to do first – organize your home. This guide is here to tell you all about the importance of organizing your new home before unpacking and how to do it like a pro. So, if this sounds like something you want to learn about, make sure to keep reading.
Moving while keeping things organized – Is it really that hard?
If you have been reading our blog carefully, then you already know how important it is to do your best to keep things organized during relocations. But sometimes, this might seem like an impossible mission. We won't lie to you – organizing the move and making sure that you are sticking to the moving schedule is not an easy task. Even if you opt to relocate with some of the best movers Boise area, you will still need to work on your organizational and time-management skills.
What we need to point out is that keeping things organized while moving can be made easier. You need to start planning everything well ahead of time. This way, you will have enough time to plan every step and make some changes if necessary. Write things down and you can be sure that you won't forget a single thing before and after the move. In short, you should focus on making the best moving plan and you shouldn't rush with it.
Why is it important to organize your new home before unpacking?
We have noticed that many people start to unpack as soon as they move to a new place. They do it with no order or plan. Because of this, we wanted to explain to all of you the importance of organizing your new home before unpacking. By reading the text below, you will learn why you should keep your things in boxes after moving to Idaho and how you can benefit from doing this.
You can plan out your new place with no distractions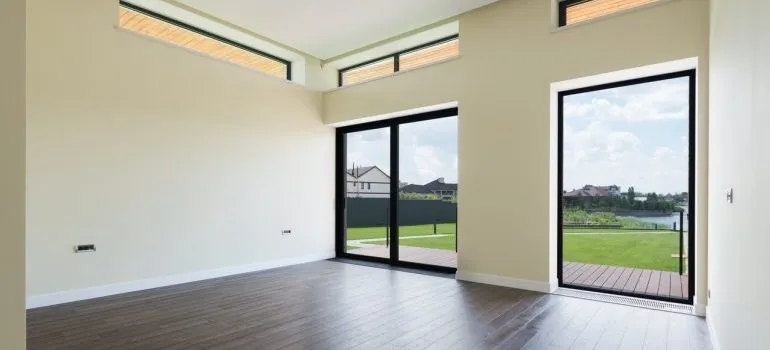 When moving to another home, you will need to spend some time planning out the new space. Where will your TV go? How will your reading nook look like? Where will you set up your home office? These are only some of the questions you will need to answer when planning the interior of your home. Sure, you can avoid this step and just unpack with no plan but we don't advise it. By planning out the space early on, you will get to design your dream home.
It is much easier to plan the design of an empty place. There will be no distractions since all of your boxes will be unpacked. Let the space inspire you and simply write your ideas down. If you are not creative or simply don't have the time, you can find experts in this field and let them come up with the perfect design for your new home. You can also check out some free interior design apps for inspiration.
Remodeling and handling small home repairs will be much easier
If you plan to remodel your new home or you need to take care of some small repairs, it would be best to take care of these tasks while your things are still inside moving boxes. Trust us, your items can get damaged very easily during home renovations! You have already managed to avoid property damage while moving, it would be such a shame to ruin your possessions while remodeling.
So, if you need to remodel or repair your home, do it before unpacking. Your items will be protected in moving boxes and you will be able to move around your home more freely. You won't have to worry about ruining your possessions and you will be able to focus better on your project. Basically, you will create a safer environment both for you and your belongings.
You will manage to keep clutter away from your home
Being a part of the moving industry this long has taught us that organization is crucial for a successful move. There is nothing worse than moving without a plan or rushing things. Take your time, plan everything, and you will manage to keep the chaos away. If you choose to organize your new home before unpacking, your home will be much cleaner and it will be easier for you to move around.
This is a very important thing since many people who were dealing with post-moving anxiety said that they felt much better after getting rid of clutter and organizing their new place the way they always wanted to. Starting a new chapter in a clean and organized place will improve your mood and keep the stress away.
Simple tips and tricks for organizing your new home before unpacking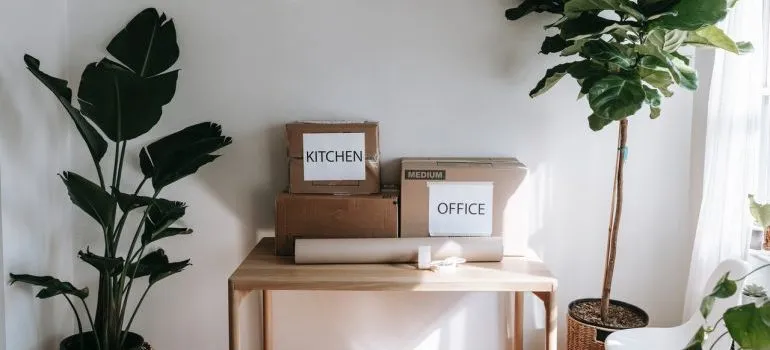 Now that we have informed you about the importance of organizing your new home before unpacking, let's see how you can do this with ease. We have listed a couple of tips that will most definitely be of use to you.
Write things down. We already explained why having a moving plan helps. When you have every step of the move planned out, you can be sure that there will be no problems.
Stick to the plan. There's really no point in making a plan if you don't plan to stick to it. Beware sticking to the plan is not as simple as it sounds but you shouldn't let this discourage you.
Get a storage unit. If you want to keep your home organized after the move, think about storing some of your items. Just make sure to find a quality self-storage facility and you won't have to worry about the safety of your belongings.
Take your time. Moving is a process that shouldn't be rushed. Instead of unpacking as soon as your movers leave, slow down a sec. Charge up your batteries, create a plan, and start working. Do things at your own pace and you will see how easy everything will be.

Everyone from the packers to the movers were awesome! They were all very professional and showed up when they were supposed to. would definitely use them again.
Let our team put together a comprehensive moving plan for you. Complete our simple free quote form or contact us at 1-208-375-0961.