How to prepare artwork for transportation
Shipping regular items will be a big challenge for people who have never shipped items before. But shipping precious artwork pieces is an incredibly big endeavor that might make you feel overwhelmed. So let's say you did your job right, as you have already hired one of the best freight companies Boise has to offer, and now you are ready to get your items on the road. But how do you prepare artwork for transportation in such a way that it guarantees their safety? That's precisely what we are here to find out.
The risks that will urge you to prepare artwork for transportation
You probably don't need us to tell you how fragile and expensive your artwork pieces are. That's why you also don't need us to tell you that you should go above and beyond to prepare your items for the upcoming journey. The truth is that, whether your items are going to be handled by you or by reliable movers Caldwell ID, you still have to take measures of prevention. The risks that accompany artwork transportation are numerous, and they include:
Breakages, tears, loose parts, smudges are all common problems people face when transporting art.
Cigarettes, fingerprints, domestic chemicals, makeup can all damage your delicate pieces.
Even something as simple and mundane as strong light can be a hazard for your items.
Thus, you ought to be cautious and make the right choices every step of the way. From finding the right temperature-controlled storage Boise unit to using the right materials for packing art, you will have a lot of work on your hands in the days to come.
How to prepare paintings for transportation?
The most common artwork people own are, without a doubt, paintings. Paintings can range in all sizes and values. Naturally, the more valuable a painting is, the more caution it will require. It goes without saying that shipping and transport of valuable art pieces will be much safer once you do it with a reliable professional by your side. However, if you insist to pack your paintings by yourself, the first thing you need to consider is whether the paintings are framed or not.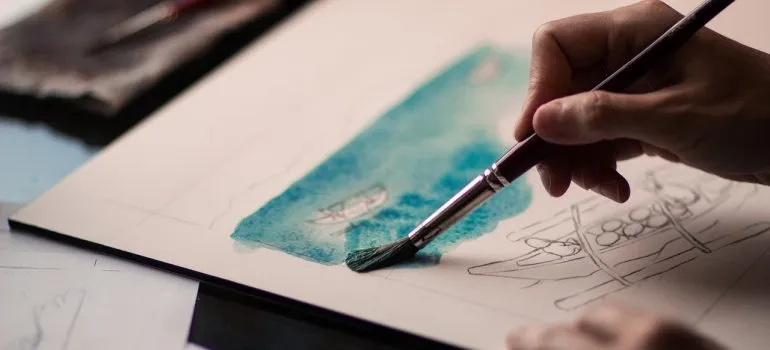 In case you are preparing unframed pieces, there's one thing you will want to pay special attention to – the material that comes in direct contact with your items. Thus, wrapping your paintings in acid-free tissue paper is the only way to go. But you will not want to stop there, as you'll need to protect your pieces against moisture, as well.
For starters, wrap your painting in plastic, and then place a few layers of cardboard on every side of the painting. Once you have a newly secured piece, it's time to apply outside protection, as well. Place your piece in between two corrugated pieces of cardboard and tape the sides. Don't forget to label the box with the word FRAGILE – you'd be surprised how many people we have seen forget.
On the other hand, if you are preparing framed paintings for transportation, you'll be playing by a completely different set of rules. We here at Peasley Moving & Storage can't judge whether it's more difficult to pack framed or unframed paintings, as both of these options come with certain challenges. When moving a framed painting, the first thing you will need is a custom crate. Your piece needs to fit in comfortably inside the box, with three inches of space available on all sides of the frame. Just like unframed paintings, framed paintings also require you to wrap them in layers of protective packing materials.
The difference here is that you should focus on the corners of the frame, as they are most prone to damage. Next, place a layer or two of foam on the bottom of the crate in order to create a comfortable home for your painting. Mark it as fragile and successfully prepare your artwork for transportation.
How to prepare sculptures for transportation?
If you thought that preparing painting for transportation is difficult, then you are in for quite a surprise. Preparing sculptures for shipping is even more difficult than dealing with paintings. But don't worry – you'll be admiring your artwork in the new home soon enough. To ensure that your sculptures arrive in pristine condition, there are three things that you need. A custom crate, bubble pack, and lots of shredded paper. Start by wrapping every part of your sculpture in two layers of a bubble pack. Tape the protective packing material around the sculpture and leave no corner unprotected.
Secondly, fill one-third of the custom crate with shredded paper. Place the sculpture in the middle of the crate and then fill the remainder of the box with shredded paper. The goal here is to secure the sculpture with shredded paper so that it can't move during transportation. Once there is no wiggle room for your piece, you can seal the crate shut. Once again, don't forget about the keyword here – FRAGILE.
Prepare your art pieces for transportation and marvel in their beauty
Nothing can make a room more special than a beautiful painting or a unique sculpture. Whether you have paid a lot of money for your piece of art or have made it by yourself, you ought to keep good care of it. Thus, if you are going through relocation, some caution is advised. You'll need to prepare artwork for transportation in such a way that provides perfect safety. After all, you don't want to gamble with a piece you absolutely love, right? With our tips, you won't have to.

Everyone from the packers to the movers were awesome! They were all very professional and showed up when they were supposed to. would definitely use them again.
Let our team put together a comprehensive moving plan for you. Complete our simple free quote form or contact us at 1-208-375-0961.