How to move in bad weather safely
When it comes to moving, you can control a lot of things. But when it comes to the weather – there is nothing that you can do. You planned your relocation for months, and when the day finally came – the rain was also there. Instead of being depressed and desperate, learn how to move in bad weather safely. With some tips and tricks, you can move in bad weather without any hassle. And most importantly – you and your belongings will be safe!
Preparing and planning are the most important tasks when you want to learn how to move in bad weather
Although you can not control the weather, you can plan your relocation carefully. Not only do you need to choose reliable Idaho movers, but you also should carefully choose the time when do you plan to move. Moving in November or February means that there is a high chance for either snow or rain. But moving in May or September means that there is a good chance you will have great weather on your moving day. If you have to move during the bad weather you should prepare in advance. Sunscreen, rain boots, a thick jacket, or an umbrella can make all the difference!
Can you wait?
When the rain or snow starts, a lot of moving companies prefer to wait until it clears out a little bit. Ask your moving company can they do that. Is there enough time to wait for the bad weather to pass? Although your goal should be a fast and silent move – sometimes that is just not the priority. Being safe while moving in bad weather is always your primary concern.
First things first – protect your belongings
If you are moving during the rain or snow season, you should protect your belongings very carefully. Even if you are renting storage pods Boise – you need to be extra careful about how you will pack your belongings. Especially if you are packing electronic devices. You should put them into small plastic zip bags so you can ensure their safety in bad weather. And when it comes to big electronics – you can ask your movers to wrap them with plastic. Besides ensuring your safety, you need to make sure that your belongings are safe as well.
Protecting bulky items is an essential tip on how to move in bad weather
When it comes to relocating bulky items in bad weather, it can be tricky to completely protect them. You can always ask your movers to help you protect them, but the best thing that you can do is to get blankets, towels, or waterproof canvas. This is especially important when it comes to mattresses, sofas, and closets. Talk with your movers Caldwell ID about your options in case of bad weather. They might be even able to provide you with additional protection for your items on a moving day.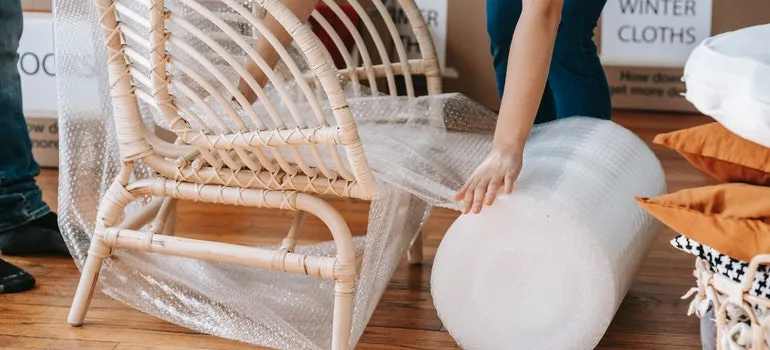 One of the important tricks when it comes to moving in bad weather is laying towels on doorways
If you are moving during bad weather – especially if it is snowing and raining  – you will have to deal with a lot of mud and dirt. And you surely don't want to spend your first night in your new home cleaning, or potentially damaging your old home. The best way to avoid these types of issues is to cover your floors and doorways with old towels. They will prevent any potential damage. Also, you should designate an area where you and your movers can wipe your shoes clean. That will prevent a lot of potential falls and injuries.
The additional trick on how to move in bad weather – clear driveways
When you are moving during the snow or rain, you need to make sure that your driveway is clean and ready for your movers. If there is too much ice or snow, they won't be able to access your home for loading all of your belongings. Use salt or sand to clear your driveway, and have shovels nearby. That way, you will ensure the safety of your movers, you, and your belongings. Falling down on your moving day will make everything much harder.
Are there any slippery surfaces?
Are there any slippery surfaces in and around your home that only get worse when they are wet or covered in snow? If the answer is yes, you should make sure to notify your movers about them. Lay down towels and blankets to make them safer.
The most important tip on how to move in bad weather – dress properly
One of the most important things that will ensure your safety on a moving day in bad weather is your clothes and shoes. Dressing properly when relocating in bad weather is essential and will make all the difference. If it is raining, make sure that you have a rain jacket and rain boots. Ensuring that you stay dry is important. Especially if you are moving while sick on top of the bad weather. If it is snowing outside, you need to have warm clothes and shoes that will prevent slipping. Also, having gloves and a winter hat will ensure you are safe. And although it might seem ideal to move during the warm weather – wearing sun protection cream, hats and lightweight clothes will make all the difference.
Sometimes postponing your relocation is the best solution
Although it is not ideal, sometimes the best solution is to postpone your relocation if the weather is really bad. If it is raining or snowing really hard, it might be wiser to postpone your move than to risk your health and your belongings. Thinking about how to move in bad weather is challenging enough. It might be hard to make such a decision – so consult with your movers. You can even ask them in advance when looking for a free moving quote – what happens if you need to postpone your relocation? You can even try to negotiate better terms. That way –  even if it is raining or snowing outside on your moving day you will have a solution ready!

Everyone from the packers to the movers were awesome! They were all very professional and showed up when they were supposed to. would definitely use them again.
Let our team put together a comprehensive moving plan for you. Complete our simple free quote form or contact us at 1-208-375-0961.