Guidelines for preparing vehicles for transport
Your car is one of the most valuable things you own aside from your house. So when you're moving, you'll probably want to bring it with you. One option is to drive your car (or any other vehicle) to your new home or even to use your car to relocate. But sometimes that just isn't possible. You might have too many things to move using only a car. Or you may be moving very far away and therefore need the help of Idaho moving companies to do so successfully. In such cases, you'll need to ship your car instead. In order to do that without issues, you'll need to learn more about preparing vehicles for transport because preparation is key for moving your car safely.
Consider whether the vehicle is worth having transported
Depending on how far you're moving and what type of vehicle you're bringing with you, the cost of transporting your vehicle when relocating can easily exceed the value of the vehicle itself. This is especially true for cars because while heavy equipment movers can be pricey, the equipment and vehicles they move are usually even more expensive.
A car, especially an older model or a second-hand vehicle, might simply not be worth the price of shipping. And if you're moving internationally, you can also count on additional costs for customs and registration. When it all adds up, you may find that buying a new car at your destination is just more cost-effective. So before you start preparing your car for shipping, do the math and decide if that's really the best thing to do.
Guide to preparing vehicles for transport
If you decide to ship your vehicle, you'll have to contact professionals. Vehicles are too large to ship without special containers and trucks that only moving and shipping companies that provide auto handling have access to. But even if you get the absolute best international door to door shipping services, you'll still need to prepare your vehicle for transport first. This part is on you so make sure you get it done before the movers arrive to pick up your car!
Start by washing your vehicle and cleaning the interior
The first step should be pretty obvious: you should always ship vehicles clean inside and out. Although it's unlikely to happen, dirt and debris can cause damage to your vehicle during transport. More importantly, however, having a clean vehicle will greatly help you assess its condition. Once your car is washed, you'll be able to see any scratches, dents, and other damages to it. And when it's delivered, it'll be easier to notice new damage if the vehicle is clean. There's also always the added bonus of not having to deal with washing your car after the relocation.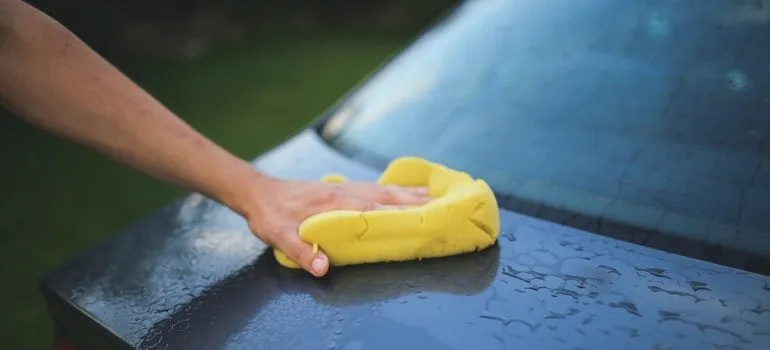 Take photos to document the condition of the vehicle
Another thing that will help you assess the vehicle's condition is taking photos of it. Make sure to get photos of both the exterior and the interior of the car as well as close-ups of any damage already present. When your vehicle is delivered, compare its condition to the photos you took prior to transport. That way, you'll easily be able to see if something went wrong during the shipping process. And if it did, you can use your photos as proof.
Remove accessories and other loose items
Vehicles don't stay completely still during transportation; they move around and so do the things inside them. So if you have any accessories in or on your vehicle – such as cargo holds, electronics, and even decorations, either remove them or fasten them properly. This ensures that they don't move around during transport and end up damaged or damaging the car. In the case of large things like cargo holds, this will also help lower the weight of the vehicle and therefore the cost of shipping it.
Check the vehicle's mechanical condition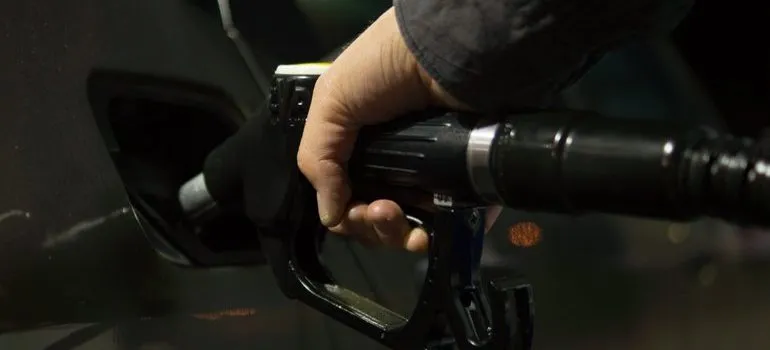 Any time you're moving a vehicle or even just putting it in a storage unit, you need to make sure that it's in good condition. Most mechanical problems will get worse over time. So it's best to resolve them before you move or store your vehicle. Additionally, moving and shipping companies will sometimes refuse service because of poor mechanical conditions as it can be dangerous to move cars with gas leaks for example. So inspect your vehicle for the following:
make sure there are no leaks
check that the brakes work
charge your battery if it's low
check the oil and gas levels
make sure your tires are inflated properly
Pay special attention to the gas tank and tire pressure
The two most important things to check are the gas level and the tire pressures. You don't want to ship a car with a full tank – that's dangerous and adds weight to the vehicle which increases the cost of transportation. However, you also don't want to send a vehicle with a completely empty tank. You should leave about 7/8-1/4 of a tank of gas. Similarly, tires shouldn't be under or over-inflated. Under-inflated tires won't absorb shock as well while over-inflated tires might explode under pressure. Tire damage will make it difficult to get the car on or off the transportation vehicle. So it's very important to make sure tires are inflated properly.
Additional tips for transporting vehicles
Once you've done all the major steps, you can turn to the finishing touches:
disable the alarms
deactivate toll tags so they don't automatically pick up unnecessary costs
lock the car
consider making an extra set of keys for the movers
get third-party valuation coverage for your vehicle if you're worried about something happening to it
check whether you need to re-register your car if you're crossing state lines
Properly preparing vehicles for transport is the key to safe and successful vehicle transportation. It's what is best for you, the company you hire, and your vehicle. So take this preparation seriously to ensure the best possible relocation experience!

Everyone from the packers to the movers were awesome! They were all very professional and showed up when they were supposed to. would definitely use them again.
Let our team put together a comprehensive moving plan for you. Complete our simple free quote form or contact us at 1-208-375-0961.