Guide to cutting costs while moving from Idaho
Relocation is one of the most stressful events in our lives. Whether you are moving locally or long-distance, you need to organize everything in the same way. You are decluttering, packing, unpacking, and finding reliable moving companies. It all adds up and makes relocation pretty expensive. So it is only natural to think about saving and cutting costs while moving from Idaho. There are many ways to save money and make your relocation much more affordable. Even the most minor things count, so don't disregard anything!
Decluttering is one of the ways to go when cutting costs while moving from Idaho
One of the easiest ways to cut costs while moving from Idaho is to declutter your home. Decluttering will help you free space in your home and make packing much more straightforward. And it will affect the price of your relocation. The fewer things you move – the price will be lower. If you are unsure where or how to start decluttering your home, start going room by room. Go through everything in your home, item by item, and decide if you will keep it. General advice is to keep things that you used in the last 12 months or that have sentimental value.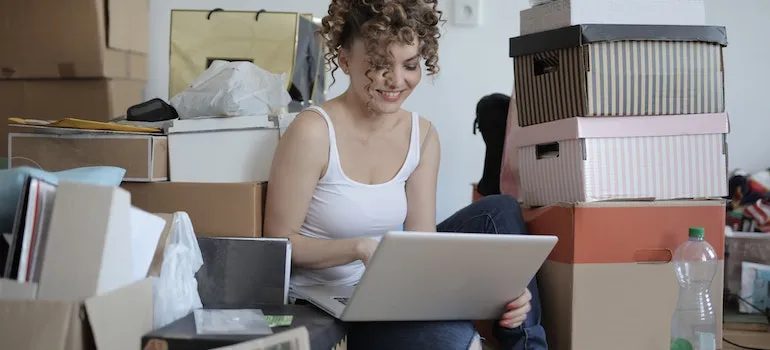 If you have broken items, or you always planned to use them in the future but that day never came – throw them away. Cutting your costs while moving from Idaho starts with those small decisions, which can make a big difference in the long run. If you still have many items you would like to keep, think about heated storage Boise. A storage unit can be a great option to keep some of your belongings without the need to move them around. It will lower the total moving cost and give you more space in your new home.
Think about your moving budget
Before looking for reliable movers, you need to consider your moving budget. You can always try to estimate how much the relocation will cost, and start from there. You need to know how much you can pay for professional movers and all other additional expenses. Besides professional movers, you will need moving boxes, packing supplies, and other costs. Besides, you need to have some money left on the side in case of any unexpected events. If your relocation takes longer or there are additional costs – you need to be ready! Once you know how much money you have, you need to look for reliable movers in Idaho.
One of the ways to cut costs while moving from Idaho is finding affordable movers.
Once you start looking for interstate movers Boise, you will see many different options. And all of them claim to be legit and the most affordable option. So, how can you know that they are legit and cheap? Well, first of all, you need to create a list of potential moving companies that you are thinking about hiring. One of the best ways to cut costs while moving from Idaho is to look for different moving companies and learn more about their offers. You can start by requesting free moving quotes and then comparing all the prices.
Once you start looking at and comparing their prices, don't choose the cheapest option. Usually, there are hidden costs, and you will pay much more. Instead, you should be looking at their offers and what is included in that price. If they involve packing and moving boxes into their cost – that can be even more affordable. You will have professionals handle your belongings, and your relocation will be stress-free.
Choose moving date wisely.
One of the best ways to save money while moving from Idaho is to choose your date wisely. There are periods when movers have much more relocations, and their prices go up. But during the winter, when there are fewer relocations, their prices will naturally go down. Also, booking your relocation in advance can get you a better deal. You will have much more options, and you will even be able to choose between full-service and labor-only moving. The sooner you schedule your relocation, the better you will get a better deal. There are even different websites where you can look for discounts.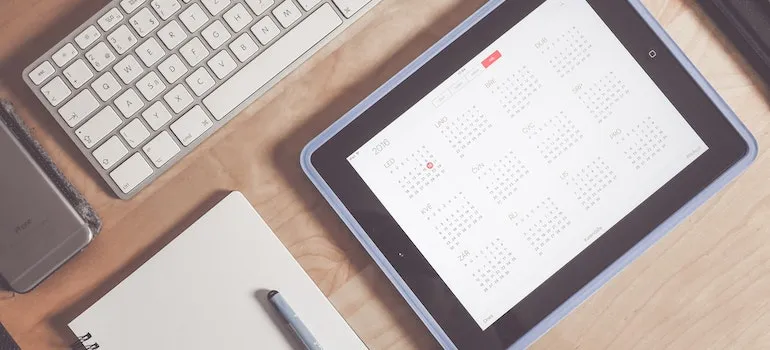 You can always negotiate a better deal
Moving rates are not set in stone, and you can always try to negotiate. Most moving companies will instead give you a better deal than see you go and hire one of their competitors. Once you get all of your free quotes and compare them, start negotiating. You don't have to get a lower price – free moving boxes, storage or furniture installation services, etc. If you are unsure how to negotiate – start by informing them that you got a better deal. Ask them if they are willing to price-match. Even if they say no, try again tomorrow. They will see you as a severe and persistent customer and might have changed their mind. You don't have anything to lose by asking moving companies for a better deal, so you should try to negotiate.
When cutting costs while moving from Idaho, you can get creative with moving supplies.
When you start thinking about all the things you need when moving, you will quickly realize that you need moving boxes and plastic wrap, tapes, padding, etc. And all of that adds up quickly. Getting everything you need for your relocation will not only take money, but it will also take a lot of time. The first step is to look for moving boxes Boise and see what the prices are. Next, you need to ensure that they can fit into your moving budget and that you can afford them. When you are trying to save money while moving from Idaho, where and how you will get your moving boxes is very important.
Before you start buying moving supplies – use what you have at home, suitcases, bags, hampers – all of that can help you save money on moving boxes while moving from Idaho. And when it comes to padding and plastic wrap, there are many ways to be creative. You can use towels as cushions to protect delicate items, for example. But it is essential to ensure that your items are safe and that DIY padding protects them.
You can search for free moving boxes.
Getting free moving boxes can reduce your moving costs while moving from Idaho. Many businesses, bookstores, and liquor stores have many moving boxes that they will end up recycling at the end of the day. The best thing you can do is stalk the store manager and ask them to leave you some of those boxes. Usually, they will be more than happy to do so – especially if that is the local store you visit often. Another way to look for free moving boxes is to ask your friends and family do they have some they do not need anymore. But be careful! One of the most common moving mistakes is just that – damaged boxes! Especially if you plan to use them for relocation and long-term storage. It would be best if you used only boxes that are intact and without any damage because otherwise, you are risking damage to your belongings.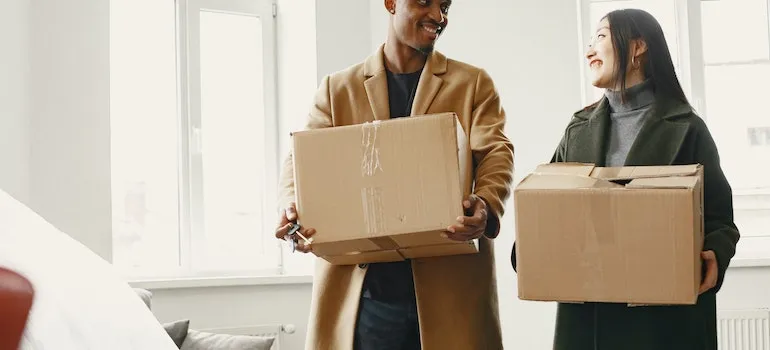 Pack by yourself
One of the best ways to cut costs while moving from Idaho is to do everything you can on your own. And one of the biggest tasks is packing. People often underestimate how much time they will need to pack everything and they end up either hiring professionals or simply shoving everything into bags and boxes. To avoid that, start packing as soon s you know your moving date. Start with the non-essential things that you don't need or use on a daily basis. You can even look for portable storage Boise to pack and declutter with ease. Packing can be a very emotional task, so don't be afraid to ask your friends and family for help.
Ship your books to cust costs for your relocation
If you have a big collection of boxes, there is a great way to cut costs while moving from Idaho. Books are heavy and they take up a lot of space, so packing your books and moving them with the rest of your belongings will take a lot of time and a lot of moving boxes. USPS has a service called Media Mall that enables you to ship your media for a much better price than standard shipping costs. This can free up a lot of space in your moving truck, and your books will be completely safe during your relocation.
Organizing a garage sale can help with your moving budget
One of the best ways to cut your costs while relocating from Idaho is a garage sale. There you can sell all of the items you do not use anymore and add money to your moving budget. When you think about cutting costs while moving from Idaho, you need to think about adding money to the budget as well. Even if you don't need the money – it can come quite handy once you relocate. It can help you to have a nice start and explore your new neighborhood. When it comes to organizing a garage sale, you should organize it on weekends and make sure to advertise it. You can put up fliers, pay for an ad or simply notify all of your friends, family, and neighbors that you will be organizing a sale and that they can come and find something they like. It is a great way to improve your moving budget!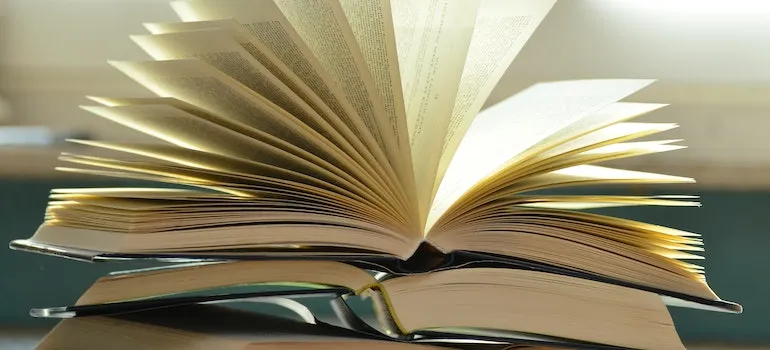 Don't be afraid to ask for help
A lot of people don't feel comfortable asking for help when moving. But, asking your friends and family for help can make your whole relocation less stressful and you can save money with their help. When you ask them for help, make sure to ask them a lot in advance so they can adjust their plans and so they can actually be able to assist you. Also, be honest. Don't downplay everything you need their help with them only for them to agree. Be open and honest and tell them what you expect from them. Make sure to offer them snacks, refreshments, and sandwiches, and be sure to return them the favor once they need it.
Plan for your utilities, internet, and cable
One of the things that can really drain your moving budget is paying for everything double. If it is possible try to schedule your relocation to align with the beginning and end dates for the accounts. Call your provider in advance and talk with them about your options. Ask them about waiving some fees for installation, especially if you are a longtime customer. Don't be afraid to ask or to call in advance, after all, you are trying to save money while relocating from Idaho and the best way to do it is to be careful and honest.
Make sure you are hiring honest movers when cutting costs while moving from Idaho
The most important part of your relocation is movers. You need to hire honest and reliable movers to handle your belongings. You might be attracted to cheaper options for relocation, but they are probably a scam and you will end up paying much more than you intended. Hiring reputable companies like Peasley Moving & Storage ensures that your belongings will get from your old home to your new home fast and securely. Make sure to do your research, check online reviews, and see if they are a properly registered moving company. Talk with their representative and ask all the questions you need.

Everyone from the packers to the movers were awesome! They were all very professional and showed up when they were supposed to. would definitely use them again.
Let our team put together a comprehensive moving plan for you. Complete our simple free quote form or contact us at 1-208-375-0961.