Guide for moving from Nampa to Idaho Falls
If you are getting ready for a relocation, then you are probably looking for all the help you can get. Moving long-distance isn't a walk in the park. It takes a lot to prepare your belongings and then move and transport everything to your new home. Moving from Nampa to Idaho Falls isn't the most difficult journey, but it's not something you can do without preparing first. If you are taking the I-84 E, it will take you around four hours. That means that you won't have to luxury of making a few round trips or going back for something that you forgot. That being said, with a good plan and quality local movers Boise by your side, you make the entire process easier. 
Research is one of the most important tasks when moving from Nampa to Idaho Falls
You've probably already visited Idaho Falls and picked out a great place to live. But, it takes more than that to plan a stress-free relocation. You need to know how to prepare, what to avoid and what to expect when you arrive. So, you need to spend time reading moving guides, exploring Idaho moving companies, and getting yourself ready. The more time you spend on research the easier your relocation will be. You'll know exactly what you need to do once you arrive.
How does Idaho Falls compare to Nampa?
While both towns are similar, there are some noticeable differences. Idaho Falls is a bit smaller community with around 64,000 residents compared to Nampa's 103,000. It's not a big difference, but smaller towns tend to have lower prices and less economic activity. That is true of Idaho Falls to some extent. Real estate prices are lower, and an average home costs around $301,000. Likewise, living expenses, such as food and utilities are also lower. But what's great about this place is that the unemployment rate is also lower (3.4%). In turn, you can expect a higher income, which is currently around $5000 higher than in Nampa.
When it comes to weather, moving from Nampa to Idaho Falls will bring you more snowy days and a bit colder climate. That's because Idaho Falls sits at a much higher elevation than Nampa. So make sure you stock up on some winter clothes, as you'll probably need them.
Make sure you do your research on moving companies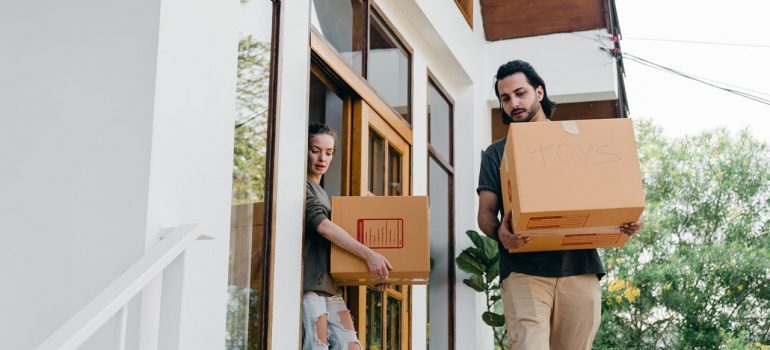 Choosing a quality moving company is one of the most important tasks in your relocation, regardless of where you are moving to. Movers can either make your relocation simple, fast and stress-free or cause you more headaches than the move itself. Choosing wisely is a must and there are a plethora of moving companies Nampa to choose from. Take your time reading the reviews, exploring the services they offer, and choosing something that works best for you and your budget.
Don't fall for unreasonably low prices
Another thing to note, when choosing moving companies, is that there are also some very dishonest movers out there. Some individuals or even companies might look to exploit your situation and profit from it. So, it's important to be able to familiarize yourself with common moving scams and how to avoid them. That way, you'll keep your budget and your belongings safe. There's nothing more stressful than movers overcharging you after you've already set a price. Or even holding your belongings hostage until you pay up.
Make a good plan for moving from Nampa to Idaho Falls
All the research that you've done now has to be translated into a solid moving plan. If you don't know what you need to do and when you might as well wing the whole thing and deal with the consequences. But, when you have a perfectly laid out plan of action, not much can go wrong. Staying organized can make a lot of difference in your relocation. So, set aside at least an hour to formulate a strategy for your upcoming relocation. If you don't know where to being, one of the best things that you can do is to create a moving checklist. That way, you'll be able to easily keep track of your progress.
Getting your belongings ready for the big trip
One of the most time-consuming tasks in any relocation is packing. It's not simple to sort and pack your entire life and then move it to a new location almost 300 miles away. It's difficult, emotional, and can drain all of your energy. But, again, with good organization, everything is possible. One of the first things that you should do is declutter your home. That's because the more items you are moving, the more expensive moving is. Start by making an inventory list and separate it into 3 categories:
Items that you no longer need. You can donate, sell, recycle or throw them away.
Items that you don't want to part with but don't need in your new home. For those items, renting portable storage Boise is the best solution. That way, you'll have them at your disposal whenever you need them, without creating a mess in your new home.
Items that you will be taking with you when moving from Nampa to Idaho Falls. 
After you know exactly what you will be relocating to a new home, you can call your moving company so they can provide you with an accurate moving estimate. You should also take that list with you when you are shopping for packing supplies, as it will help you get exactly what you need.
Last things to note when moving from Nampa to Idaho Falls
Idaho Falls is a great place to move to. It's beautiful, economically active, and has a lot to offer. While it might seem difficult, with good preparation and professionals by your side, moving can be simple. Just make sure you check the weather forecast so you'll know what to wear for your moving day. Other than that, you can relax and enjoy your move. You have a lot to look forward to since your new life in Idaho Falls awaits.

Everyone from the packers to the movers were awesome! They were all very professional and showed up when they were supposed to. would definitely use them again.
Let our team put together a comprehensive moving plan for you. Complete our simple free quote form or contact us at 1-208-375-0961.