How self-organization makes relocation easier
Self-organization is an invaluable soft skill that helps you optimize success in any sphere of life. Adopting this concept to tackle your upcoming moving project will enable you to see it through with ease. Your relocation process consists of many moving parts. Balancing moving-related tasks with daily responsibilities certainly is an overwhelming experience. But, it's well within your power to turn things around in your favor. Figure out your best Boise moving and storage options with time to spare and focus on creating your moving timeline with stress levels in check. The pros at Peasley Moving & Storage will help you cross the finish line with no obstructions on the way. Our moving experts share their knowledge on how self-organization makes relocation easier, for your benefit. So, here's how to do your part, and prevent anxiety from piercing the rooftop.
How self-organization makes relocation easier
Even if you've moved many times before, you surely know that each time the process is different. Moving isn't a walk in the park, and it takes a good deal of planning and organization. Of course, finding your ideal local movers Boise is just one part of the equation. But, although a team of professional movers is the strongest link in the chain of your moving process, your role in it is also vital. Relocating means you have to put your management and multitasking skills to the test. So, how good are you at this really? Before anything else, just make sure you don't find out on account of the safety of your property. Leave the heavy lifting part in the hands of qualified movers, and focus on what can you do to make your move easy, without the unnecessary hassle.
In brief, self-organization is finding the most efficient way to fulfill your objectives. Hence, the following are some pro tips that are sure to give you a lead on creating your moving plan of action and set up realistic expectations for your move. From here on, it'll be obvious how self-organization makes moving easier.
Goal setting
Time efficiency
Cost efficiency
Slash stress and anxiety
Enjoy a positive moving experience
Start by creating a moving checklist
To have a clear picture of what needs to be done equals paving the road for your successful move. Surely, no amount of planning can prepare you for all possible scenarios that may occur on the road, but then you can always count on expert employee relocation services for the ideal outcome. When you think of how organizing yourself simplifies your move, stir the wheel in the direction of knowing exactly what needs to be done.
As moving is a multilateral process, break it down into smaller parts, and write these down. Determine what the essential steps are, and make them a top priority. You can print a checklist, and use this as a self-organizing resource for your move. Consider what tasks can you handle yourself, and what exactly will you need pro assistance with. With the blueprint of your moving project in hand, everything else will go with fewer hindrances.
Self-organization makes relocation easier and quicker
Moving often means racing with time while trying to avoid a nervous breakdown. However, if you take the time to organize yourself and synchronize your daily schedule with your moving duties, you'll be doing yourself a great favor. Timely planning is essential for making moving easier. So, make a point to merge your moving checklist with a timeline. If you know what to do, and when to do it, you'll avoid procrastinating. And since you'll have your moving expectations figure ahead of time, you wouldn't have to waste any trying to figure out things as the process unrolls. Hence, not only personal organization makes your moving easier, but it helps you pull it through much quicker, and with no unnecessary interruptions in your schedule.
Organize yourself to benefit your moving budget
Time is money, and you should expect that most movers will charge hourly rates. Thus, self-coordination benefits your relocation on many levels. Being organized means that you'll plan your move with time to spare. This will help you do things with no rush and avoid a chain reaction of moving-related disasters. Besides, you'll be able to spot potential ways to cut moving costs.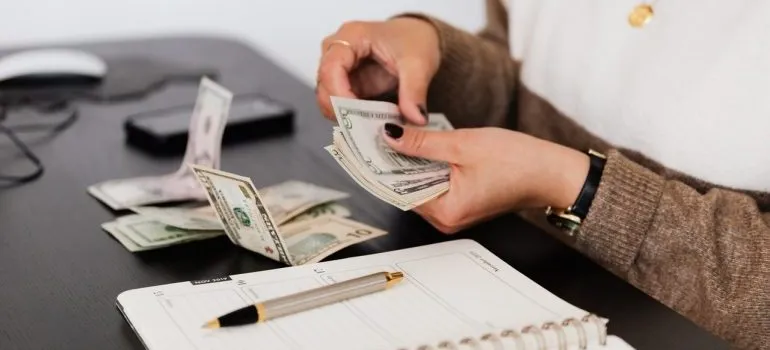 For example, it may so happen that you have enough time to handle the packing part on your own, instead of adding pro packing services to your moving package. In this case, all you need to do is order your quality moving boxes Boise and get them ready for the transfer at your own pace. There are many ways to make your moving easier, and more cost-effective, with a good self-organization concept. The main thing is to ensure you have enough time. This, so you can focus your thoughts on doing things with clarity. Otherwise, you'll be running around with pressing urgency, trying to bring order into the chaos last minute.
Know what you want to avoid stress
Being self-organized during a move is probably the only way to prevent overwhelm. Hence, come up with a moving plan that consists of the answers of what exactly do you need to make each part of your relocation easy. You'll be able to find a lot of good advice on how to get organized during a move but ultimately, the best strategy of self-organization to make your relocation uncomplicated depends on your individual moving situation.
The most common stumbling blocks of moving are time, budget, and nevertheless, stress and anxiety. Low and behold, organizing yourself is the stepping stone that will help you smooth these rough patches. So, determine your exact moving needs with mindfulness, and coordinate your project with pro movers, to slash stress and move to your new place with spring in your step.
Self-organization makes moving easier and accounts for a positive experience
Nothing beats the feeling when your move goes smoothly and as planned. Hence, make a point to plan your move around your specific needs and schedule. Hire a good moving team that will listen to your expectations. This way, you'll ensure your moving experience brings you joy and satisfaction, instead of the messy aftermath that you'll need to deal with yet.
In summary, make good use of our account on how self-organization makes relocation easier. It's sure to help you set yourself up on a smooth path while moving to your new place. Good luck!

Everyone from the packers to the movers were awesome! They were all very professional and showed up when they were supposed to. would definitely use them again.
Let our team put together a comprehensive moving plan for you. Complete our simple free quote form or contact us at 1-208-375-0961.