Digital Tools for Budget-Friendly Idaho Moves
If you're gearing up for a move to Idaho and concerned about expenses, the digital age we live in offers a host of tools designed to make relocation more manageable and cost-effective. This comprehensive guide by our Idaho movers will spotlight these resources, from online quote estimators that help you gauge moving costs to mobile apps that assist with logistical planning. Our goal here is straightforward: to equip you with knowledge and digital tools for budget-friendly Idaho moves that are also stress-free and well-organized!
Pre-Move Planning
Effective planning before the move is essential for a hassle-free and budget-friendly relocation. In today's connected age, an array of digital tools can help you prepare in a way that is both thorough and cost-effective. Let's take a closer look at how these tools can streamline your planning process.
Researching Neighborhoods
When it comes to selecting your future home, websites like Zillow offer a detailed look into property prices and rental rates, allowing you to make financial assessments long before you hire moving services Boise ID offers or pack your first box. While real estate prices are one part of the equation, understanding a neighborhood's overall quality of life is equally important. That's where platforms like NeighborhoodScout come in. They offer insights into crime rates, school quality, and demographics. Such information empowers you to choose a location in Idaho that isn't just affordable but also aligns with your lifestyle needs.
Budget Planning Tools
Financial preparation is key to a successful move, and technology offers some excellent tools to keep your finances in check. Apps like Mint provide real-time tracking of your expenses, helping you to manage your money as you go. Similarly, You Need a Budget, or YNAB, lets you allocate funds for various moving-related tasks ahead of time. By keeping tabs on your financial obligations through these apps, you reduce the chance of incurring unexpected costs that could derail your budget.
Online Blogs and Resources
The internet is rich with blogs and articles that share personal moving experiences and offer actionable tips. Websites such as Moving.com and The Spruce cover a wide spectrum of topics, from packing hacks to what to look for in a new Idaho neighborhood. These resources provide you with a treasure chest of practical advice, helping you anticipate and navigate potential hurdles during your relocation.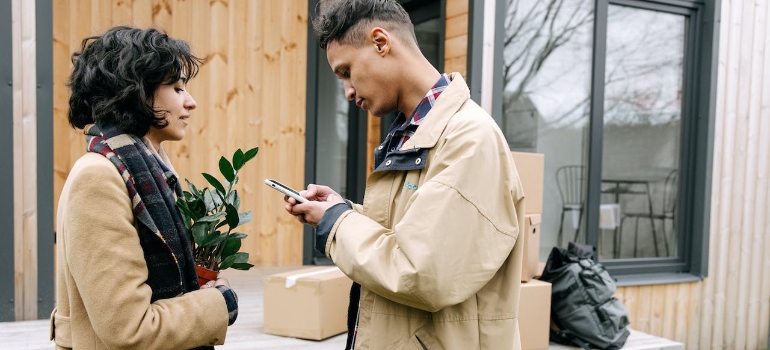 Checklist Apps
Organization can significantly impact the ease of your move. Checklist apps like Evernote or Microsoft To-Do serve as digital personal assistants. They allow you to catalog tasks that need to be done and set reminders. With your pre-moving checklist digitized and easy to update, you're less likely to overlook important tasks, which can be a life-saver during the hectic days leading up to your move.
Choosing a Moving Company
Selecting the right moving company is another crucial step in ensuring a smooth, budget-friendly move. This section aims to guide you through the process, spotlighting digital tools that can aid in your decision-making.
Free Quote Estimators
One of the initial challenges you may face when planning a move is figuring out how much it will cost. Free quote estimators, readily available on many moving company websites, offer a solution. Simply input information such as the size of your current residence, the number of items you're moving, and the destination. The calculator then generates an approximate cost for your move. A convenient way to compare prices and services, requesting a free quote helps you identify options that fit your budget.
Customer Reviews and Ratings
While cost is a significant factor, the quality of service should not be overlooked. Websites like Yelp and Angie's List provide platforms for people to share their moving experiences and rate companies. You can learn about various aspects such as punctuality, professionalism, and handling of belongings through real customer feedback. These platforms can serve as a reliable guide to sorting the trustworthy companies from the less reliable ones, aiding you in making a choice that ensures both affordability and quality.
Virtual Surveys
Technology has made it easier to get more precise quotes from moving companies without requiring an in-person visit. Virtual surveys use video calls to assess the size and scope of your move. When you show the estimator your home and belongings during the video call, they can provide a more accurate quote. It saves you time and potentially money, as it allows the moving company to better gauge the resources needed for your specific situation.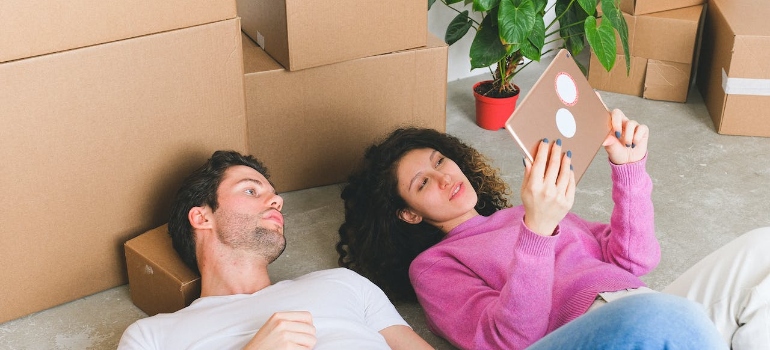 Inventory and Packing
Sorting, packing, and keeping tabs on all your belongings can be one of the most time-consuming aspects of moving. Thankfully, there are several digital tools for budget-friendly Idaho moves that can assist you in this phase, simplifying inventory management and offering useful packing tips.
Digital Inventory Tools
When it comes to keeping track of your belongings during a move, a list on paper won't always cut it. Instead, consider these free apps that can help you organize your inventory:
Magic Home Inventory: Great for categorizing items room-by-room;
Encircle: Useful for documenting items through photos and notes;
Sortly Free Version: Allows for visual tracking and tagging of items.
These apps offer a more organized and interactive way to manage your possessions, adding another layer of efficiency and cost-effectiveness to your move.
Packing Tips from Blogs
It's often the small hacks and tricks that make the biggest difference when it comes to efficient packing. Websites like Lifehacker or articles from professional moving company blogs often publish packing tips that can save you both time and supplies. For instance, you may find advice on how to pack your clothes in vacuum seal bags to save space or how to wrap fragile items properly to prevent damage. These tips can help you pack smarter, not harder, ultimately conserving both time and resources.
Free Labeling Apps
While traditional handwritten labels serve the purpose, they can sometimes be hard to read or easy to overlook. Free labeling apps offer a budget-friendly alternative that can make the process more efficient. An example is Labelbox, a free app available on both Android and iOS platforms. Though not specifically designed for moving, Labelbox allows you to create digital labels that you can then print and attach to your boxes. All you need is access to a printer for the physical labels. This makes it easier to create clear, legible labels for your move, helping to streamline the unpacking process once you reach your new home in Idaho.
Second-hand Platforms
Sometimes, it's easier to sell or give away items rather than go through the hassle of moving them. Great avenues for this are platforms like:
Facebook Marketplace;
Craigslist;
Letgo.
These apps allow you to list items you no longer need, providing an opportunity to declutter and make some extra cash before the big move.
Reusable Packing Supplies
Websites like Freecycle or local community groups on social media can also be helpful when you're looking for packing supplies. Many people give away boxes, bubble wrap, and other packing materials after they've moved, allowing you to save on these supplies. Using these digital tools and resources can make the inventory and packing stages of your move more manageable. They offer practical solutions to help you stay organized, make smart packing decisions, and even declutter your life as you prepare to relocate to Idaho.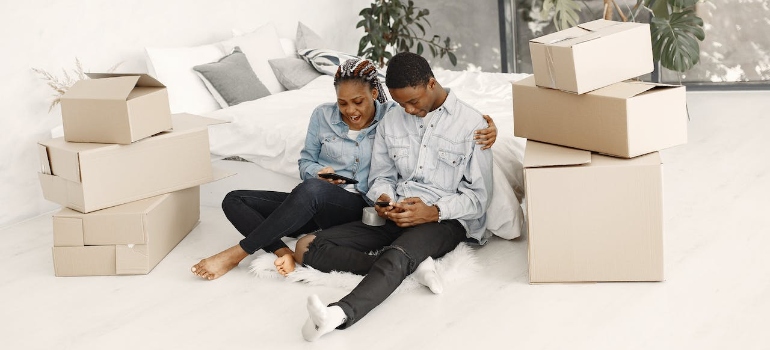 During the Move
While planning is crucial, the day of the move is when everything comes into action. Even during this stage, digital solutions can help you navigate various aspects, from choosing the best routes to tracking expenses and staying organized.
Route Planning Tools
Mapping out the best route for your move can save you both time and fuel costs. GPS and mapping software like Google Maps or Waze offers real-time traffic updates that can be incredibly useful on the day of the move. Apps like these provide alternative routes to avoid traffic jams or construction, helping to ensure a more time-efficient move. Google Maps also allows you to plan stops along the way, whether you need to refuel or take breaks, making the entire journey more manageable.
Expense Trackers
Keeping track of spending during the move is key to staying within budget. Free apps like Mint and PocketGuard can assist you in this endeavor. These apps link to your bank accounts and categorize your spending in real time, helping you monitor how much you've spent on different aspects of the move. Whether it's fuel costs, meals on the road, or last-minute supplies, real-time expense tracking can help you stay financially responsible during your move.
Day-of-Move Apps
The actual day of the move can be chaotic, and it's easy to forget or overlook tasks. Apps with specialized moving day checklists and notifications, such as Moving Day or MyMove, can help keep you organized. These free apps offer features like task lists with set reminders to alert you when it's time to complete specific jobs, like doing a final walk-through or handing over keys.
Settling In After Relocation
Once you've successfully moved, the next step is booking furniture installation services and getting comfortable in your new home. From setting up utilities to getting acquainted with your neighborhood and finding local services, various digital tools for budget-friendly Idaho moves can make this phase smoother and more convenient.
Utility Setup Online
Gone are the days of lengthy phone calls to utility companies to initiate services. Setting up utilities has become more convenient, thanks to online platforms. Many utility providers, such as Idaho Power and Intermountain Gas, offer user-friendly online portals where you can manage your services. These portals allow you to choose your start date, pay your bills online, and access localized information specific to Idaho residents. Utilizing these digital solutions not only simplifies the setup process but also keeps you informed about your local utility options.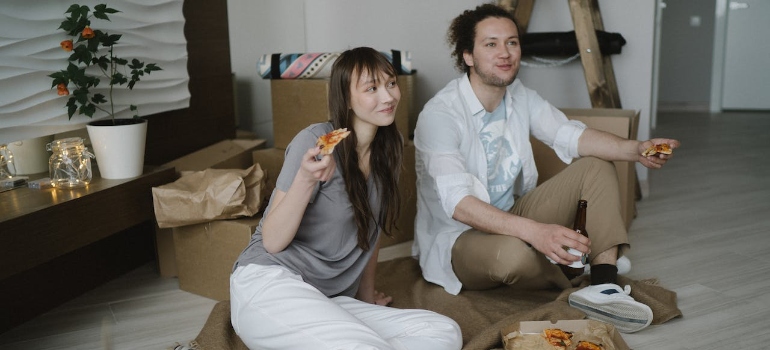 Digital Neighborhood Community Boards
Getting to know your neighbors and the community is an important part of settling in. Platforms like Nextdoor can be particularly helpful. It's a free, private social network for neighborhoods where you can meet your neighbors, ask for local recommendations, and even find out about community events.
For a more localized experience, Idaho cities often have their own dedicated community websites. For example, the City of Boise website offers a New Resident platform, providing a collection of resources and area-related news. Moreover, specific community Boards and Commissions on the same website can provide you with a more detailed understanding of your new Idaho neighborhood.
Grocery Delivery and Online Shopping
After a tiring move, the last thing you may want to do is grocery shopping. While apps like Instacart and Shipt offer convenience, don't overlook local Idaho services that can make settling in easier. Boise Milk, for instance, delivers dairy and local produce right to your doorstep, providing a convenient way to support Idaho farmers. Beyond groceries, major online retailers offer quick shipping on household essentials, helping you equip your new home without the need to run multiple errands.
Maximizing Savings with Digital Tools
Utilizing digital tools for budget-friendly Idaho moves can make a substantial difference in how smoothly and affordably you relocate. From free neighborhood research tools to expense trackers, the emphasis here is on making data-driven, cost-effective choices. Leveraging these resources allows you to plan better, choose the most economical moving companies, and even save on groceries and utilities once you've settled in. So, when it comes to moving to Idaho, don't just arrive—arrive smartly and affordably, thanks to free apps and solutions that make penny-pinching almost as easy as pie.

Everyone from the packers to the movers were awesome! They were all very professional and showed up when they were supposed to. would definitely use them again.
Let our team put together a comprehensive moving plan for you. Complete our simple free quote form or contact us at 1-208-375-0961.