A guide to moving a home-based business in Boise
Moving is often considered a difficult and tiresome process. But with some preparation and a good plan you can make even the most complex relocation much simpler. When moving a home-based business in Boise you need to plan well in advance and prepare your business for the transition, downtime, and all the changes that inevitably come with the change of surroundings. But if done correctly and with the right moving support, this transition can be made painless. Here is how to plan, prepare for and execute a flawless home-based business relocation.
The first step in moving a home-based business in Boise
Moving a business, be it home-based or an office requires careful planning. While standard residential relocation merely entails transitioning into a new home, moving a business is a bit more complex. Mainly, you need to both prepare yourself as well as your business for the move. While at the same time handling the relocation of your entire home. This process isn't simple, and will probably require the help of Boise office movers. But when done correctly you shouldn't experience any downsides of moving and the downtime that comes with it. It can even be a great productivity boost that will spell only good things for the years to come.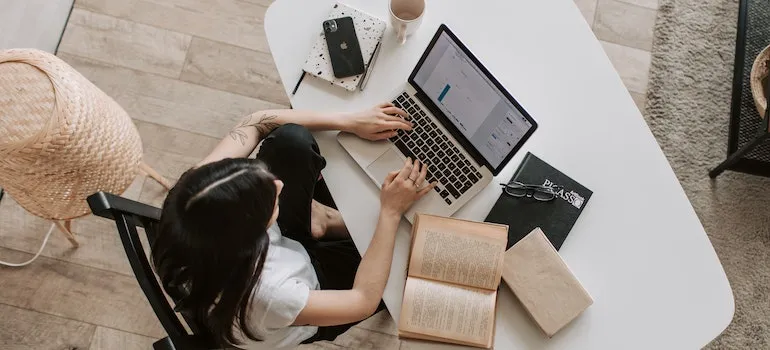 Take a stock of the current situation
You need to know what you are dealing with. There's no one simple guide that covers every possible situation. There are many types of home-based businesses in Boise. Moving each type requires a special approach and a unique plan. So take a good look at your business. Mainly, you need to know the following:
How many items need to be moved?
Do you have inventory that needs to be moved? And does it require any special type of storage?
How far away you are moving and how long is the relocation expected to last?
Can your business take the downtime? If not, can you arrange a temporary location from which you can work?
Is your new workspace ready for your arrival?
Do you have more or less space in your new work environment?
Answering these questions will allow you to better plan your relocation. For example, if you have large equipment that you need to transport? If yes, you might need to start searching for terms like container shipping companies near me. If not, you need to focus more on keeping up with the workflow than handling your move.
Prepare your home-based business for the transition
Your business needs to be able to withstand everything that comes with relocation. As you already know, moving can take as little as a single day or as much as a week. Especially when moving long-distance. So you need to start preparing your business for the inevitable downtime and loss in productivity. Even with the best long distance movers Boise has to offer, your items still need time to arrive at the new location. You'll also need some extra time to settle in and begin working again.
So start with the preparations as early as possible. The best way to go about this is to choose a moving day at least a month in advance. That way you can plan your obligations, meeting, and deadline accordingly.
Call a moving company of your choice and schedule a date for moving a home-based business in Boise
Schedule your work so you'll have at least a couple of days off just before and after your moving date
Inform your clients and partners that you won't be able to have meetings in that period
Organize any deliveries and shipments to reflect your availability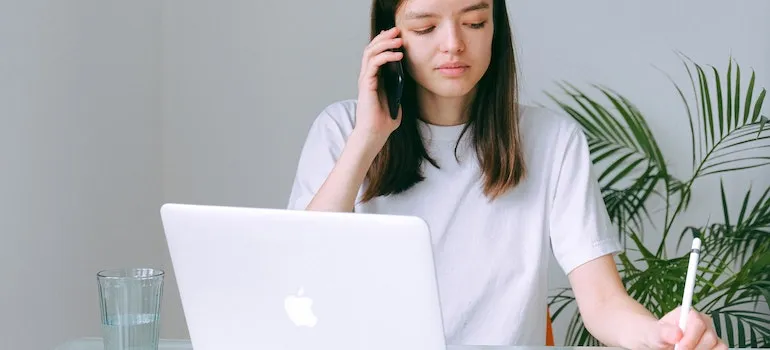 Finding the right moving company for your business relocation
Finding the right moving company in Boise for your upcoming relocation isn't always as straightforward as it might seem. There are some that only do residential moves and charge extra for home-based businesses. Some might even make the move most stressful. Likewise, there are some great moving companies Boise that will ensure that all your equipment as well as personal belongings arrive quickly, safely, and on time. So you need to choose carefully in order to avoid unnecessary stress and downtime. Ideally, a moving company of your choice should have:
Experience with handling home-based business relocations in Boise
Appropriate tools and skills to handle your equipment
Good track record for punctuality and reliability
Good reviews
Hiring movers when moving a home-based business in Boise vs moving on your own
The next order of business should be to figure out whether you need movers or if you can do it on your own. Your home-based business in Boise might consist of only your laptop and a printer. But then you need to figure out whether it's worth it to move on your own and cause even more delays.
Moving on your own is a great way to save some money on a Boise relocation when moving locally. But having local movers Boise by your side to assist you means that the entire relocation will be done quickly and more efficiently. In turn, you'll be able to get back to your clients much faster.
Set up your new workspace even before you arrive
There's nothing more frustrating than arriving at a new location and not having everything working properly. Wifi might be down, desks might not be assembled yet or the heating might be broken. So make sure that everything in your new working space is ready for your arrival. While most of your items will be brought by movers, make sure that you can be up and running as soon as they unload your belongings.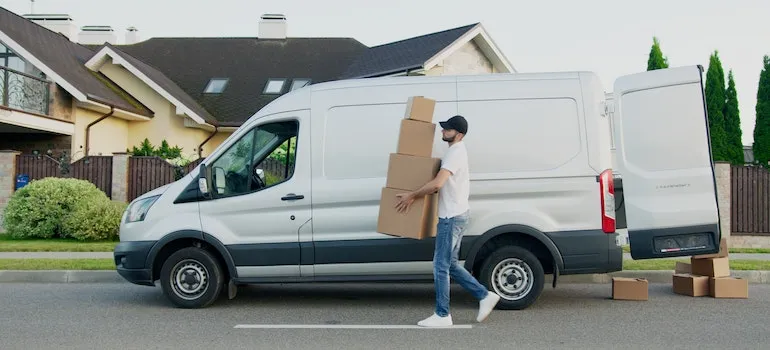 If your new workspace is smaller than the previous one, find ways to store items elsewhere. You can use another room, attic, or basement, or even rent storage pods Boise offers for your paperwork, materials, or backup equipment. That way you won't be stuck in a crowded home office for days until you figure out what to do with all those items.
Make sure you change your shipping address before moving to a home-based business in Boise
There's a lot that comes with a change of location. More often than not people forget to change their shipping address and end up causing problems for themselves and their businesses. You want your mail, bills, and supplies to arrive at your new address. So take some time to change the shipping addresses. If you have address autofill make sure you update it on time to avoid making a mistake. You can also forward your mail via the USPS website. There's a token fee that you need to pay and you won't have to worry about mail that has already been sent arriving at your old location.  Contact your suppliers by phone or email and update your info if needed.
If needed organize a temporary working space
If your business can't afford to be offline for a couple of days, it might be a good idea to set up a temporary workspace. Your new home might not be ready, and your belongings might be sitting in commercial storage until it is. But you still have to tend to your clients and obligations. In those cases, renting a coworking space for the duration of the move might be a lifesaver. It might not be the working space that you are used to, but it will get the job done until yours is ready.
Moving a home-based business in Boise like a pro
Now that everything is ready it's time to dive into the relocation itself. For everything to run smoothly and efficiently you need a good moving plan. Because with good organization everything is possible and less difficult. You need to ensure that everything is ready for transport by the time residential movers arrive. So, for starters, make an inventory list of all items that will be moved. It will help you keep track of everything and allow movers to give you a more accurate estimate.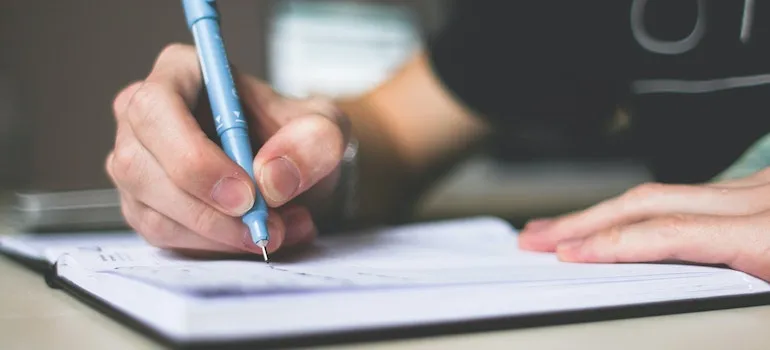 As you are moving your home-based business, you are most likely moving your household as well. So make sure not to neglect one in favor of another. Your family members can help greatly when preparing everything for a relocation. So once movers arrive, it will be just a matter of loading everything and transporting it.
Packing is one of the most time-consuming tasks when moving a home office in Boise
Many people dread packing and for a good reason. It takes a lot of time, it's tiring and you have to do it just before your move. But it's an essential part of the relocation. You need to ensure that all your belongings, personal and business alike, are well protected for the road. So, you should start packing little by little as soon as you can. Starting even weeks in advance is ok if you have a lot of items.
The first step, of course, is finding quality moving boxes Boise offers for sale. You don't want to save on this aspect of your move as one broken box can cause huge damage to your belongings. So look for sturdy boxes and use quality packing materials. You can usually find quality moving boxes in a local hardware store, but you can also order them online.
Packing organization is essential for a hassle-free relocation
It's not just about what you pack and how you pack it, but also when. It's important to have some sort of system so you don't lose track. Some people like to go room by room or area by area and pack accordingly. Others like to group similar items together. It doesn't really matter what your system is as long as you have it. Another very important aspect of packing is labeling moving boxes. It can greatly speed up the unpacking process. You can label by room or by content, if the system works for you it is a good one. That way, once you get to your new location, you can quickly unpack and get up and running again.
Pack an essentials box separately when moving home-based business in Boise and keep it with you during a relocation
An essentials box is just what the name says, a box of essentials. It should contain everything that you need to survive until your belongings arrive and you unpack them. It's one of the essential packing tips and hacks when moving. When it comes to relocating a business in Boise, you need to have your laptop handy. But also don't forget chargers and other equipment that you might need at a moment's notice. So even if there is a delay with your delivery or something goes wrong, you'll have the most basic tools to communicate with clients and partners.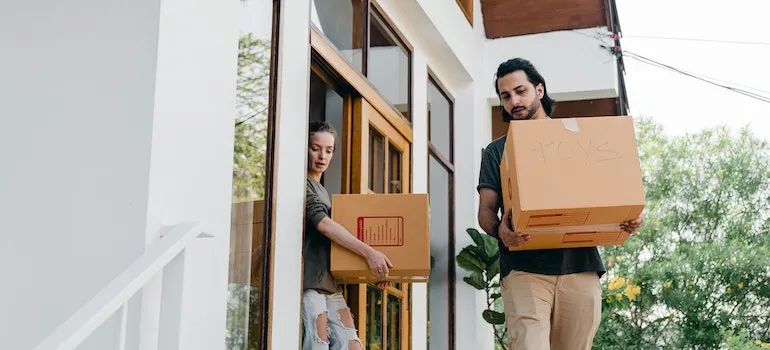 The unpacking process is as equally as important when moving a business in Boise
You are done packing. Hooray! Now it's all about waiting for Boise movers to arrive and getting your new home ready. Your belongings will be at the new location in no time, so you should start thinking about unpacking. A lot of people make the mistake of unpacking right away and all at once. It just creates chaos and confusion. You need to get your new home ready first before unpacking. Clean it, organize it, and then slowly start unboxing your items. You want to be methodical to avoid the aforementioned chaos and confusion. Take care of the furniture first and only then start slowly unboxing your items.
Moving a home-based business in Boise isn't difficult if you are prepared
Moving an entire business while moving your home might seem difficult and complex. But if you break it down into smaller chunks it can be much simpler. Good preparation is the key, and having quality movers by your side certainly helps a lot. So take your time, plan well and you'll enjoy a painless relocation. Moving a home-based business in Boise will be just another adventure and another experience that will allow you to grow and develop.

Everyone from the packers to the movers were awesome! They were all very professional and showed up when they were supposed to. would definitely use them again.
Let our team put together a comprehensive moving plan for you. Complete our simple free quote form or contact us at 1-208-375-0961.