Why hire movers to relocate your medical practice
Finding the perfect space for your medical practice is never easy. You need something functional but welcoming, in a good location yet affordable enough for your budget. But what if you find exactly the right space after you've already opened up a practice? Is moving your practice a good idea? And how would you even go about it? The obvious answer is to hire movers to relocate your medical practice. Many reputable moving companies like Peasley Moving & Storage offer the type of commercial relocation suited to medical practices. And even though that may seem like an extra expense on your business, professional movers really are the best idea in this case.
When is it a good idea to move your medical practice?
Moving a business is never an easy decision. Like every relocation, a commercial move is quite demanding. But it comes with an added layer of difficulty: it's not just your life and your home that are affected, it's also your livelihood and all your employees and business partners. That's a lot of responsibility that you need to take on by making this decision. And that's without even mentioning the risks of moving a business.
Your productivity will almost certainly suffer during the process which has direct financial consequences on your business. Even when you're relying on medical equipment shipping services, moving is also the prime opportunity for your equipment to be damaged. Finally, a relocation could help you find new patients but could also cost you some of the old ones.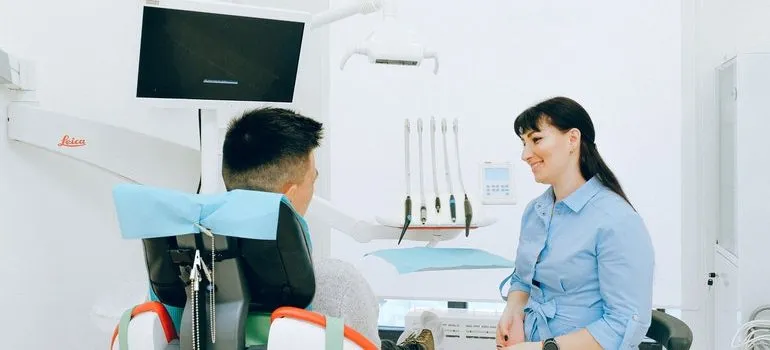 This is not to say that you should never move your medical practice. You simply must keep in mind the downsides of that decision. But when the potential benefits outweigh the potential disadvantages, moving your practice can be in everyone's best interest. This usually happens when:
you're not simply moving but rather expanding
you've found a better space to rent
you're moving your home and must, therefore, move your business as well
you're moving to a different state or country where the conditions are more favorable for your business to grow
your practice is not doing well and moving could help it get back on its feet
The benefits of hiring professionals when moving your medical practice
When you decide to move your practice, you have two options. You can either try to conduct a relocation on your own or hire professionals. DIY moving is usually reserved for home relocation; when you're moving a business, it is highly recommended that you get help from a moving company. If you have a very small practice and are on a tight budget, however, you can give DIY a shot. But if you're moving a larger practice with lots of equipment, then you'll definitely want to hire commercial equipment movers. There is a number of major benefits to relying on professionals.
It helps you save time
The longer your practice is shut down for moving, the more appointments (and potentially even patients) you lose. This can ultimately cost you quite a bit of money. So in order to minimize your downtime and the negative effects it can have, you want to relocate swiftly and efficiently. This will be significantly easier when you're working with professionals.
Commercial movers know all the tricks in the book to make your move quick. Unlike them, you'd have to do a lot of research and planning. It would take you much longer to prepare for the relocation and execute it. And even after you invest all that time, you are still more likely to face problems you don't know how to deal with. But when you hire movers, you're paying them for their speed and expertise.
It protects expensive medical equipment
One of the biggest issues when moving a medical practice is moving expensive medical equipment safely. Depending on the type of practice you're running and the equipment you use, there could be tens of thousands of dollars at stake. Valuable medical equipment tends to be both heavy (and therefore difficult to move) and expensive (and therefore difficult to replace). It's best if someone who knows what they're doing handles the packing and crating as well as transportation of such items. Professional movers have teams of trained experts on hand who can move your supplies without damaging them. Ultimately, that will be far less expensive than replacing all your machinery.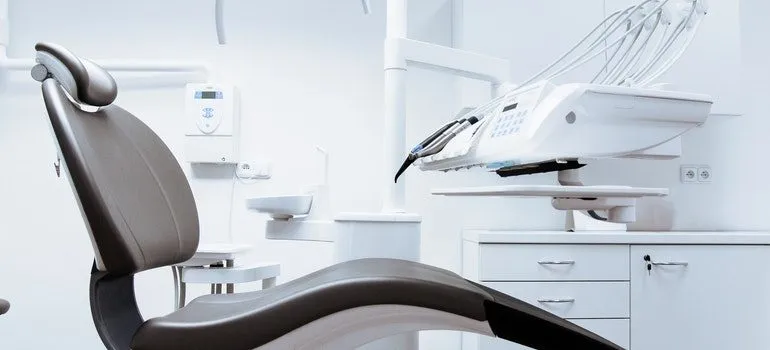 It offers peace of mind
Some stress is unavoidable when you're moving. When you're moving a business, things get even worse. But it'll be easier to handle if you have professionals you can trust to rely on. With the right moving company, you can relax knowing that your practice is in the safe hands of experts.
This will be less stressful than trying to figure out how to move a medical practice by yourself. Besides, there are other things you need to worry about. You'll need to inform your patients and business partners about the move. While you're at it, you may want to recommend other medical centers in the area where your patients can turn to in case of emergency. You'll also need to think about how to set up your new practice and how to get the word out about it. So let the professionals handle the relocation while you focus on that.
Are there any downsides?
Everything has its pros and cons. So there will, of course, be downsides to professional help. One of them is the risk of falling for a moving scam. This can set you back thousands of dollars and cause you even more stress than doing things by yourself. But it's easily avoidable – all you need to do is research your moving company thoroughly. The other potential downside is the cost of commercial moving services.
You can't really avoid paying your movers, but you should ask yourself if they're worth it. When you hire movers to relocate your medical practice, you're paying for their expertise, knowledge, speed, and the security of having someone capable of moving your business. That's well worth the price!

Everyone from the packers to the movers were awesome! They were all very professional and showed up when they were supposed to. would definitely use them again.
Let our team put together a comprehensive moving plan for you. Complete our simple free quote form or contact us at 1-208-375-0961.