When is the best time to search for moving companies
When it comes to organizing your move, figuring out the exact schedule should be your top priority. Because, realistically, you can't make any progress in terms of the organization without a proper timeline. So before you do anything, you need to set up a moving date that fits your personal schedule. Only then can you give reliable Idaho movers a call and make further plans. However, there's one thing that's always important to remember. Movers are always in high demand, which means you need to hire them early on. If you fail to secure yourself with a good team, you'll have to rely on the help of your friends. Alternatively, you'll have to pick movers in a rush, which isn't advisable at all. So, let's see what the best time to search for moving companies is, and how far in advance you need to plan for everything.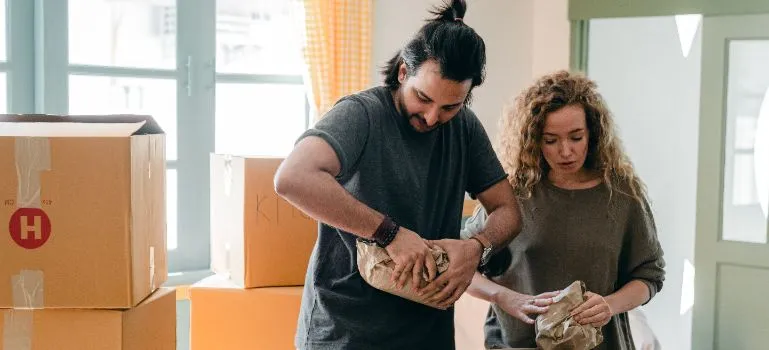 The best time to search for moving companies depends on many factors
The simplest answer to the question of how soon you should look for movers is: as soon as possible. This isn't a very surprising answer, and it is a simplified one at that. In both theory and practice, moving is proven to be a complex and layered process. With that in mind, you need plenty of time in order for everything to line up flawlessly. If you do this right, you'll have ample time to take care of other move-related tasks, such as finding excellent freight companies Idaho. Combine all of this, and you'll have a moving setup that guarantees success no matter how far away your new home is. So, all things considered, the short answer is that you need to start your search as soon as possible. But, we're here to create a detailed timeline breakdown. We'll do this by breaking down your move into important components.
Your moving date is the most important factor
Before you start searching for movers, you need to set up a fixed point in time on which you can base your measurements. This is, of course, the moving day, and there are a few things to consider, based on when you choose to move. If you decide to move during peak periods, you need to start your search for movers well in advance. Peak periods are moments in time when movers are in the highest demand. All moving and commercial storage companies are fully booked during late spring, summer, national holidays, and weekends. So if your moving date coincides with any of the aforementioned, you need to hire movers at least 2 months in advance. If you're moving in a less busy time, you don't have to start your search that early. In order to find the best movers possible, four weeks before the move should be early enough.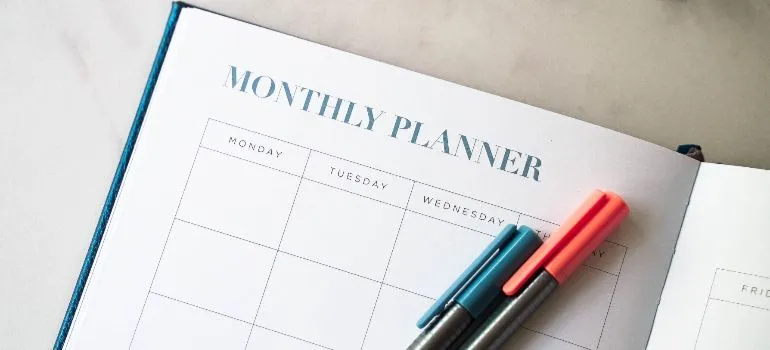 Don't forget the travel distance when deciding
The best time to search for moving companies is directly proportional to the distance you have to cover on a moving day. The further away you need to relocate, the more time you need to prepare. This means that:
If you're preparing for a local move within the city, you can start searching for movers 2 weeks before the big day. The whole process won't take longer than a few hours, meaning that your movers can easily fit you into their schedule.
Moving within the state limits requires 4 weeks of prior notice. This gives your movers enough time to figure out the logistics of your move and allows everyone to plan the process to perfection.
For a long-distance move, you should search for moving companies roughly 8 weeks in advance. Interstate movers Boise need that extra time to coordinate moving between states and collect the required paperwork. There's also the matter of planning the best route so your move can be as fast and safe as possible.
Lastly, if you're moving abroad, your search should start at least 3 to 4 months in advance. Moving to a different country is an extremely complex process, which requires meticulous planning and organization.
The size of your move is another determining factor
What you also need to take into account when choosing the best time to look for movers is the overall size of your move and the number of items you have. Moving a small apartment won't take long because you'll have only a few items to pack and relocate. A family home, on the other hand, may take significantly longer, again due to the sheer size of the items you need to haul. Besides just packing all of your items, you'll need to find a moving company that meets your demands. Besides regular movers, you might want to find professional Idaho packers as well. With that in mind, leave yourself a bit more time to pinpoint the perfect company.
In conclusion, the best time to search for moving companies is…
On average, you should start searching for movers roughly 4 to 8 weeks before the moving day. This gives both you, and your preferred movers enough time to figure out the logistics, and secure the absolute success of your relocation. In addition, you need to provide early notification if you're moving during peak season, if you're leaving the state, or if you have any especially delicate items that need handling. It is also very beneficial if you can be flexible with your moving date. Flexibility allows you to find a moving company with less effort, and not have to worry about booking in advance. Plan everything thoroughly, allow yourself enough time to take everything a step at a time, and your relocation will be nothing but smooth sailing.

Everyone from the packers to the movers were awesome! They were all very professional and showed up when they were supposed to. would definitely use them again.
Let our team put together a comprehensive moving plan for you. Complete our simple free quote form or contact us at 1-208-375-0961.