U.S. Cities with the Best Public Transportation Systems
The United States boasts some of the world's most efficient and comprehensive public transportation systems in an era where urban mobility is a cornerstone of city living. These systems are not just about moving people from point A to point B; they represent the lifeblood of the cities, contributing significantly to their economic vitality, social connectivity, and environmental sustainability. Hence, in this article, our Idaho movers explore the U.S. cities with the best public transportation, offering residents and visitors convenience, accessibility, and reliability. From the historic streets of Boston to the bustling avenues of New York City, each city provides a unique public transit experience deeply intertwined with its urban lifestyle.
The Importance of Efficient Public Transportation for New City Residents
Understanding and utilizing the local public transportation system can be a game-changer for individuals and families relocating to a new city. Efficient public transit offers many benefits that can significantly enhance the quality of life in urban environments. So, here are some key advantages.
Cost-Effective Travel
One of the most immediate benefits of public transportation is the potential for cost savings. Owning and maintaining a personal vehicle is expensive, considering the costs of fuel, insurance, maintenance, and parking. Public transit offers you a more affordable alternative, especially with fare options like monthly passes or discounted rates for certain groups.
Reduced Traffic Congestion
Traffic congestion is a common challenge in densely populated cities, as interstate movers can testify. Consequently, public transportation can alleviate this issue by reducing the number of vehicles on the road. This speeds up travel times and contributes to a more pleasant urban environment.
Environmental Benefits
Public transit is a greener alternative to private vehicles. Hence, you can contribute to lower greenhouse gas emissions and reduce air pollution by opting for buses, trains, or subways. This is increasingly important in urban areas where air quality is a concern.
Improved Safety
Statistically, traveling by public transportation is safer than driving a personal vehicle. Reduced exposure to traffic accidents is a significant benefit, especially in cities where driving can be challenging.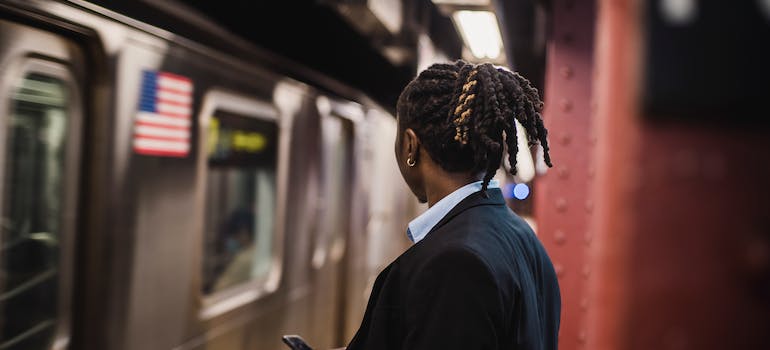 Promotes Healthier Lifestyles
Using public transportation often involves a certain amount of walking or cycling to and from transit stops, which can contribute to a healthier lifestyle. Thus, this incidental exercise can be beneficial, especially for those who spend most of their day in sedentary occupations.
Enhanced Accessibility
A well-designed public transportation system makes the city more accessible, especially for those who do not own a car or need to transport a vehicle cross country first. It connects various parts of the city, making accessing workplaces, schools, healthcare facilities, and recreational areas easier.
Social Inclusion
Public transit plays a crucial role in social inclusion. It provides mobility for all population segments, including those who cannot drive due to age, disability, or financial constraints, ensuring everyone has access to essential services and opportunities.
Reduced Stress
Navigating traffic can be stressful, particularly during peak hours. Public transportation can offer a more relaxed alternative, where one can read, work, or simply unwind during the commute.
Economic Benefits
Efficient public transit can boost the local economy. It provides job opportunities, increases property values in well-connected areas, and supports local businesses by improving access.
Urban Development
Good public transportation encourages more sustainable urban development. It supports higher-density, mixed-use development, which can lead to more vibrant, walkable communities. For new residents arriving with long-distance movers, embracing the public transportation system can ease the transition into city life and contribute to a more sustainable, connected, and enjoyable urban experience.
New York City, New York: The Epicenter of Urban Transit
New York City rightly leads U.S. cities with the best public transportation systems. Its public transportation, managed by the Metropolitan Transportation Authority (MTA), is a vast network that serves as a lifeline for its bustling population. The subway system, with over 472 stations and a total annual ridership of over 1 billion, is the largest in the United States and worldwide. Furthermore, it operates 24/7, covering all boroughs, a unique feature among major cities.
The bus system, with a fleet of over 5,800 buses, the largest in North America, complements the subway, serving areas outside the subway's reach. Moreover, recent initiatives include the Second Avenue Subway expansion and the OMNY contactless fare payment system to modernize the transit experience. The MTA's 2020-2024 Capital Program, with a budget of $51.5 billion, focuses on signal modernization, new train cars, and station improvements, indicating a strong commitment to enhancing the city's transit infrastructure.
San Francisco, California: A Network of Iconic and Efficient Transit
San Francisco's transit system, overseen by the San Francisco Municipal Transportation Agency (SFMTA), is a diverse network that includes historic cable cars, buses, light rail, and the Bay Area Rapid Transit (BART) system. Seeing over 400,000 commuters on a regular weekday, BART connects San Francisco with the broader Bay Area, making it a vital component of the region's transit infrastructure.
The SFMTA's Muni Metro light rail system, accommodating upwards of 173,000 passengers on a typical weekday, is one of the U.S.'s most heavily used light rail systems. However, the city's commitment to sustainable transit is evident in its ongoing investments. These are the expansion of the Central Subway project, which has been in full service since January 7, 2023, and the introduction of new, environmentally friendly electric buses.
Washington, D.C.: A Model of Regional Connectivity
The Washington Metropolitan Area Transit Authority (WMATA) operates the Metro and an extensive bus network in the nation's capital. The Metro, with an average daily transit users of over 600,000 passengers, is the second busiest rapid transit system in the U.S. It spans over 117 miles, connecting key areas in the city and extending into Maryland and Virginia.
Recent developments include the Silver Line extension, enhancing connectivity to Dulles International Airport and Loudoun County. With over 1,500 buses, the bus network complements the Metro, providing critical links to neighborhoods not served by rail. Also, WMATA's focus on safety and reliability has led to significant investments in infrastructure upgrades and modernization efforts, such as the SafeTrack program and the purchase of 7000-series railcars.
Boston, Massachusetts: Blending Historic Charm with Modern Transit
The Massachusetts Bay Transportation Authority (MBTA) operates Boston's diverse transit system, including buses, commuter rails, ferries, and the oldest subway system in the United States. The MBTA's subway, known as the 'T,' has an average weekday of over 500,000 passengers. Moreover, projects like the Green Line Extension aim to improve accessibility to underserved areas.
The MBTA's bus network, with over 170 routes, complements the rail system, providing comprehensive coverage across the city and suburbs. Ongoing projects like the Rail Vision plan aim to transform the commuter rail system into a more frequent, reliable service, reflecting the city's commitment to enhancing public transit.
Chicago, Illinois: The Backbone of the Midwest's Transit Network
The Chicago Transit Authority (CTA) operates the 'L' train system and an extensive bus network, serving as the backbone of Chicago's public transportation. The 'L,' with over 750,000 passengers on an average weekly, is known for its elevated tracks and is the second-largest rapid transit system in the U.S. The CTA's bus network, with over 1,800 buses, provides essential connectivity throughout the city.
Up-to-date initiatives in one of the U.S. cities with the best public transportation systems include the Red and Purple Modernization Program, aimed at rebuilding and expanding the city's busiest rail lines. Besides, the CTA's investment in green technology and regular fleet management, such as adding electric buses, underscores its commitment to sustainable urban transit.
Philadelphia, Pennsylvania: A Comprehensive Network Serving a Historic City
The Southeastern Pennsylvania Transportation Authority (SEPTA) offers a wide range of transit services in Philadelphia, including buses, trolleys, commuter rails, and a subway system. SEPTA's network, attracting more than 300,000 commuters on an average weekday on its rail services, is integral to the city's mobility.
The newest expansions include the SEPTA Key program, a contactless fare payment system, and the ongoing modernization project to upgrade the aging trolley fleet. Also, SEPTA's commitment to sustainability is evident in its plans to introduce more environmentally friendly vehicles and reduce its carbon footprint.
Seattle, Washington: Pioneering Sustainable Urban Mobility
Seattle's public transportation, operated by King County Metro, is known for its efficiency and comprehensive coverage. The city's bus system, serving over 400,000 passengers on average weekdays, is complemented by light rail, commuter trains, and ferry services. Furthermore, the latest improvements include expanding the Link light rail system. Sound Transit's 2021 Progress Report highlights that the light rail system is on track for substantial growth by 2024, with 28 new stations planned across the region in the next few years. Also, RapidRide bus lines are added, offering high-frequency, high-capacity service.
Seattle's focus on sustainable transit is apparent in its investment in electric buses and integrating bike-sharing programs with public transit. It is further highlighted by its initiatives to improve pedestrian infrastructure, ensuring safe and accessible walking routes that complement the public transport system. Therefore, it is fostering a holistic approach to urban mobility.
Los Angeles, California: Redefining Mobility in a Car-Dominant Metropolis
Los Angeles is transforming its approach to public transportation with the Los Angeles County Metropolitan Transportation Authority (Metro) at the forefront. The Metro's network of buses and rail lines is expanding to offer more efficient alternatives to driving in a city traditionally dominated by cars. Also, the latest data shows a significant increase in ridership on the Metro's rail lines, with the Metro Rail system benefiting over 300,000 passengers on an average weekday.
Ongoing projects, such as the Purple Line Extension and the Regional Connector Transit Project, aim to enhance connectivity and reduce travel times across the city. In addition, Los Angeles' ambitious plan to redefine urban mobility includes introducing electric buses and expanding bike-sharing programs.
Portland, Oregon: A Beacon of Integrated Transit Innovation
Portland is renowned for its innovative and integrated public transportation system. TriMet, the city's primary transit agency, operates the MAX light rail, buses, and streetcars. The MAX light rail, recording over 120,000 fare-payers on a typical weekday, is central to the city's transit system. Especially with ongoing expansions like the Red Line Improvement Project enhancing service to key areas.
Portland's commitment to sustainable transit is evident in its investment in electric and low-emission buses, aiming to create a greener and more efficient transit system. Hence, integrating bike lanes and bike-sharing programs with public transit highlights Portland's holistic approach to urban mobility.
Denver, Colorado: Bridging Urban and Suburban Through Transit
Denver's Regional Transportation District (RTD) provides a vital link between the city and its suburbs through its network of buses, light rail, and commuter rail services. The RTD's light rail and commuter rail services, with weekday usage surpassing 100,000 passengers, have significantly improved connectivity in the Denver metropolitan area.
Furthermore, recent projects, such as the opening of the N Line commuter rail, enhance access to suburban areas. RTD's focus on accessibility is evident in its efforts to enhance station facilities and introduce more user-friendly services, such as mobile ticketing and real-time tracking apps.
Shaping the Future of Urban Transit in America
These cities and data on public transportation in the United States exemplify its ongoing evolution. Their efforts in expanding networks, upgrading infrastructure, and integrating sustainable practices are not just about enhancing urban mobility. They also represent a commitment to improving the quality of life for residents and reducing environmental impact. As U.S. cities with the best public transportation continue to innovate and adapt, they set the standard for urban transit, shaping a future where public transportation is a cornerstone of city living, offering efficient, accessible, and sustainable options for all.

Everyone from the packers to the movers were awesome! They were all very professional and showed up when they were supposed to. would definitely use them again.
Let our team put together a comprehensive moving plan for you. Complete our simple free quote form or contact us at 1-208-375-0961.