Safety tips for moving while expecting a child
Pregnancy is both the most beautiful and most challenging period in a woman's life. Young couples often decide to move to a bigger apartment or house when they find out that they are expecting a child. To provide more comfortable conditions for the child and themselves, they plan to move during the pregnancy. Moving and organizing a move is a lengthy process that requires a lot of work. It includes not only the choice of place to move but also many activities such as packaging, choice of transport vehicles and also moving companies. If you choose moving companies Boise, your move does not have to be complicated. With the support of experienced movers, you will move more easily. It is especially important to take care of safety. So read a few safety tips for moving while expecting a child below.
Planning and organization are vital when moving while expecting a child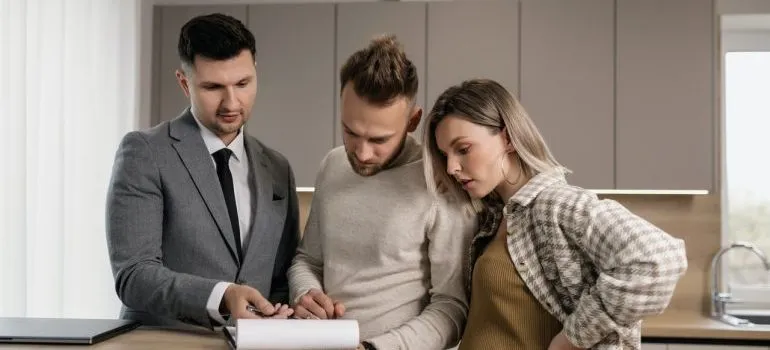 The key to any successful move is timely planning and good organization. When you start planning your move on time, you are much less likely to have an unforeseen circumstance. And therefore there is less chance of an injury occurring. If you are planning to move during pregnancy, try to start planning as early as possible. Organize down to the smallest detail before moving. That way, everyone will be safer, and you will have less work to do as the pregnancy progresses.
Hire professionals to handle your relocation
It would be ideal to move as early as possible in the first months of pregnancy, but if this is not possible, do not be afraid to ask for help. It is best to hire seasoned movers Meridian ID. After all, a licensed moving company can be a great help as they can:
pack all your belongings for you
organize transportation for your belongings
handle the unpacking process
provide you with storage solutions
disassemble and assemble large pieces of furniture
This, of course, is not all. They can do a lot for you, and most importantly, they will move you safely.
Seek help from friends and family when moving during pregnancy
Movement is quite limited during pregnancy. Due to the size of the pregnant belly, mostly pregnant women cannot do everything they would like. So don't be ashamed to ask for help. In addition to a moving company, your closest friends and family can be a great help. Ask them to do some things for you that you don't want to leave to the movers. Don't endanger either your own or your baby's safety by trying to do some things yourself that you can't. Everyone will be happy to help you.
Leave yourself enough time to pack for moving while expecting  a child
The moment you decide to move, it's time to start packing. Make a packing schedule and make sure you stick to it. Try not to overdo it and don't take too much work in one day. Be sure to be careful when bending and lifting things, and be careful not to lift anything too heavy on your own. When packing, try to start with the things you will put in storage pods Boise. You can pack it a month before moving. This will make it easier for you to pack and move while expecting a child.
Hire a cleaning company
Before each move, you need to clean the house you are moving from, but also the house you are moving into. It's too much work for a pregnant woman. Since you need to avoid hard physical work and dangerous cleaning chemicals during pregnancy, consider hiring a cleaning company. After all the things are packed in the moving truck, they will clean the whole house. It is the safest option for both you and your baby. And it will significantly reduce the stress of moving because you have fewer obligations.
Pack essential pregnancy items for moving day
For each move, we recommend packing an essential moving bag. When it comes to moving while you are expecting a baby, it is even more important to pack a bag of essential maternity items. Pregnancy is an unpredictable condition, so it is safest and smartest to always have all the necessary things at hand. You pack in one bag or a transparent plastic box all the things you may need when moving.
Consider hiring a relative or babysitter to care for your kids
If you have more children, the relocation process becomes more complicated. To keep them safe on the day of moving, ask a relative or babysitter to look after them. You also need to think about children's feelings and help your kids adapt to the new surroundings. If you have prepared everything on time, you will not have to worry about children's sleep, snacks, or what they want to play on the day of the move. Moving becomes more carefree and peaceful when you know your children are safe.
Beat the pregnancy brain, make a moving checklist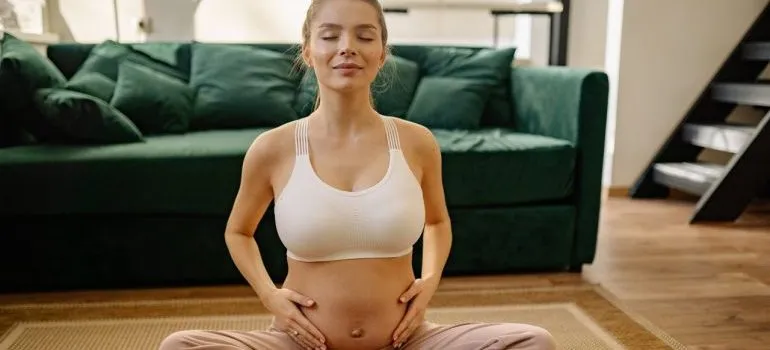 Pregnancy brings with it a series of changes for a woman, and one of them is to become more forgetful. fortunately, there is a solution to this. To safely organize the move while you are expecting a baby, make sure you make a moving checklist. It should contain all the important and less important things that you have to do before moving. If you have everything written down, you will not spend time thinking about how best to pack the boxes for moving. Let others deal with the physical part of the job, you take over the logistics.
Listen to your body when moving while expecting a child
The last but most important thing is to listen to your body. To go through the whole move safely and try not to overload yourself. Try to delegate all the responsibilities that you don't have to do in person. Take advantage of all the help you can get and try to rest as much as possible. Moving can be very strenuous even under normal circumstances. And moving while you are expecting a baby is a particularly big challenge. Nothing is more important than you and your baby. That is why it is important to follow the signals that your body sends you and to slow down if you notice and get too tired.

Everyone from the packers to the movers were awesome! They were all very professional and showed up when they were supposed to. would definitely use them again.
Let our team put together a comprehensive moving plan for you. Complete our simple free quote form or contact us at 1-208-375-0961.