Special mover services that will make your relocation easier
At a base level, relocating is usually defined as a process of moving household goods from one location to another. But, as many people learn sooner rather than later, moving your household isn't that simple. The moving process involves quite a few different aspects, from psychological factors to practical preparation. If you have to find a new home, search for the best moving companies Boise is offering including both regular and special mover services, and mentally prepare for the process ahead. Then comes packing all of your items, wrapping up tons of paperwork, and making sure everything's in order before the moving day arrives. Once it does, you must be aware of everything and monitor the entire process, while keeping your sanity in check. And even though it is up to you to handle the flow of your move, your chosen movers can still provide professional assistance to make things easier.
Know what you need before looking for special mover services
In addition to relocating your belongings, most movers offer a number of accessorial services. The design of these services allows you to drastically increase the speed and efficiency of the process. One thing worth noting is that these services usually increase the cost of your move. Each moving company creates its own list of available services and sets its rates. So when you're looking for movers, we advise you to carefully look at the specialty moving services they offer.
Your goal is to find a combination of services that satisfy your needs and your budget. And remember, sometimes circumstances beyond your control may require you to get special mover services. Regardless of whether you need them or not. Today, we'll help you get familiar with these services, and understand them. This knowledge will make your relocation simple, fast, and enjoyable.
The definition of special mover services
If you've ever moved in the past, you may be familiar with the basic types of moving services available. In most cases, movers specialize in residential moving, long-distance moving, and office moving, to name a few. These services come with a few subcategories, such as furniture moving, and item packing. However, some types of items can't be handled by these standard categories of moving services. And, that is where specialty moving services come in. Let's take a look at a few situations where special mover services are needed.
Extremely heavy items, such as pianos, hot tubs, and machinery, require the services of heavy equipment movers. These items can be extremely heavy, but also very large, and thus, not able to fit into the moving truck. To properly handle these items, movers usually apply special hoisting rigs and modified trailers that can safely transport them.
Historical items and art pieces don't have to be large or heavy. However, their fragility, and more importantly worth, require movers to apply extra effort when relocating them. High-value items require special packing methods and materials.
Special furniture pieces, like antique armoires, or glass cabinets, also require special handling. Specialty movers have the needed skills and tools to move and, if necessary, safely disassemble said pieces without risk of damage.
Anything that is too big and bulky to fit through the door. Refrigerators, washers, or dryers can be quite a handful on a moving day. With specialty movers, you can safely get these items out of your home, without damaging your floors or doorways.
Now that we know where special services are usually applied, let's take a closer look at the different types, and how they function.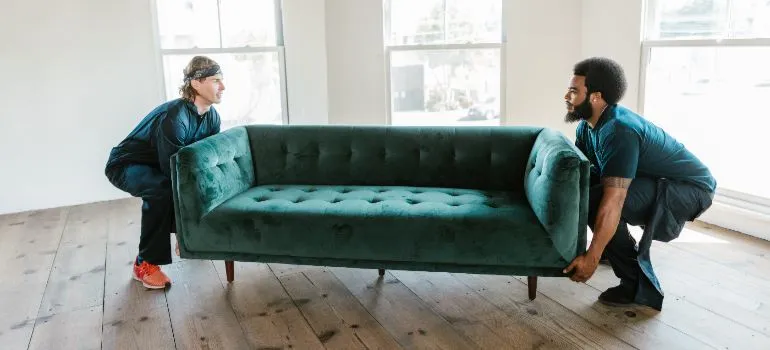 Bulky item handling is a very common special service
Sometimes, relocating your home or business requires you to move some very hefty items. These items may not be excessively heavy, but their size alone makes them quite a difficult task to tackle. Trying to move these items on your own can prove to be a far greater challenge than you think. If you lack experience, not only can you damage your item, but you also risk injuring yourself in the process. To avoid this, you should consider giving trained professionals a call. Piano movers Boise, for example, can quickly take care of your enormous musical instrument, while making sure there's not a scratch on it. This is all possible thanks to their experience in the field and specialized equipment. Of course, they can help you out when you reach your destination too. Special movers will bring your bulky items into your new home, with equal care and dedication.
Packing and unpacking are also considered special services in some cases
Without a doubt, one of your main goals when moving is to ensure all of your possessions are neatly packed. You simply have to do this, if you want your items to reach your new home unscathed. However, proper packing requires a lot of time and effort. Not only that, but it also needs a high amount of specialized padding and wrapping materials. And sometimes, we simply don't have the time, or the resources, to tend to this delicate task. Luckily, we can delegate these services to professional packers. This way, you can be sure that they'll pack everything in a safe and speedy manner. In addition to this, your packers are liable for any damages that may occur. Just the same, movers don't assume liability for items they didn't pack themselves. Movers calculate packing rates based on the number of materials and time needed to accomplish the task.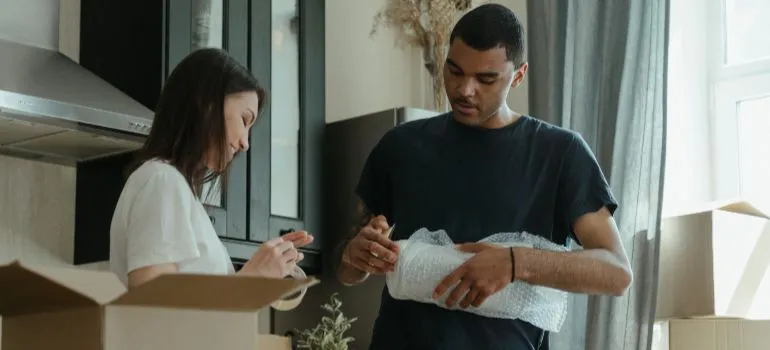 If you have specialty items that can't be packed by standard means, you can request custom packing services, like crating. The packers will store your items in custom-built boxes, based on the type of items they'll contain. If you have to ship medical equipment, for example, your packers can store it all in sterile boxes, making sure everything is tightly and safely sealed. You can then make use of medical equipment shipping services, and safely deliver your items to their destination. At your request, unpacking services are also an option. Once your movers deliver everything to your new home, they can unpack the boxes, and leave the decorating to you. For an added fee, they can also collect the used packing materials and take them away for recycling.
Furniture disassembly and reassembly services
If you aren't sure how to get a large piece of furniture out of the house, you should consider using furniture special mover services. This is especially true if you have to deal with a particularly expensive or delicate piece of furniture. Your chosen movers will assess the item, and find the safest possible way to carefully dismantle it piece by piece. They have the specialized tools, equipment, and know-how to safely deconstruct any type of item. They can then pack it, load it onto the moving truck, make sure it's properly secure inside, and deliver it to your location. Upon arrival, they will apply the same process, but in reverse. The item is carefully unloaded, brought into your home, and assembled on the spot. A skilled team of movers can do it in such a way that you won't even notice any signs of work on your item.
Storage handling is one of the more convenient special mover services
In some cases, your home isn't immediately ready to receive your items. This may be due to a number of reasons. The home may not be ready on time, or there may be other problems preventing you from receiving your boxes. In such cases, your belongings can be taken to your carrier's warehouse until the relocation can be fully complete. If you opt for this service, your items will be under the full care of your movers. If you own delicate items, such as paintings, temperature controlled storage Boise is a very viable option. While your items are in their care, your movers will do their best to ensure optimal conditions at all times. And in most cases, these warehouse locations are under very tight security surveillance. This way, you can rest easy, knowing that everything you own is safe and sound, in a controlled environment.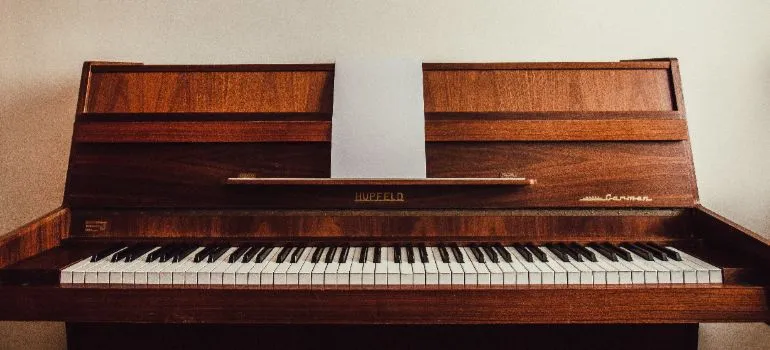 Rigging services are required when handling heavy-duty items
What can you do if you have a piano that is simply too big to fit through any of your doorways or hallways? The services of regular piano movers simply won't be enough in this situation. Generally speaking, it doesn't have to be a piano specifically, but any bulky appliance or item that can't be removed from the home by usual means. In a situation like this, you'd need hoisting, or rigging experts, to assist with your move. With a set of rope-and-pulley rigging systems, your movers will remove the item through the window, or if possible, through the roof. Special mover services like this most commonly see use during office moves, which require shifting heavy equipment. Given that this service requires high expertise and specialized equipment, you can expect high rates. If you know that you'll need this service, consider this as a factor when creating your moving budget.
Transport-only services are a convenient method of moving items
Sometimes, people feel safer when they conduct most of the relocation themselves. They will prepare all of the materials, pack their belongings, and make sure all of the boxes are secure. All they need from movers is their strength and their vehicles. If you opt for a transport-only service, the only thing your hired crew will do is load your items onto a truck, deliver them to a location, and unload them. Everything else as far as preparation, packing, and unpacking, is up to you. Technically speaking, transport-only services are a part of using storage pods Boise offers. Their vehicle will simply deliver empty portable storage units and leave the packing and loading process in your hands. Once you finish, they will collect the filled pods with a specialized vehicle, and take them to a safe storage facility. This is a cheap and convenient way to safely store items.
Special mover services include taking items up and down the stairs
If you happen to live in a multi-story home, or a high-rise building without an elevator, there exists a special mover service that helps with the problem. For an additional fee, your movers can take your items up or down several flights of stairs, which are usually difficult to navigate. Attempting to do something like this on your own, may lead to not only item damage, but personal injury too. Luckily, specialty movers have the necessary tools which make carrying heavy items a breeze. Additionally, they know how to best coordinate their efforts, and navigate any type of item down a flight of stairs, risk-free. People often use this service even if their building has an elevator. However, some elevators have a low carrying capacity, and can't handle larger, heavier items. In this case, moving your items down the stairs becomes the only viable alternative.
Home staging services ensure a faster and better property sale
Before you start your relocation and head for your new home, you need to sell the one you're currently living in. When selling your property, you want the process to be quick, with a good selling price. In order to achieve this, your home must look presentable and appealing to potential buyers. This is where home staging services come in. When it comes to special mover services, this one is rather obscure, since we usually relate movers to, well, moving items. However, home staging is very important, and effective. Working with an interior designer, your movers can, at your request, shift items around your home and reorganize them to achieve maximum appeal. Once they finish, you won't have to do much when it comes to advertising. The layout of your home will speak for itself and will captivate the attention of clients who come to look at it.

Everyone from the packers to the movers were awesome! They were all very professional and showed up when they were supposed to. would definitely use them again.
Let our team put together a comprehensive moving plan for you. Complete our simple free quote form or contact us at 1-208-375-0961.