Room-by-room unpacking guide
Usually, when you talk about the moving process, it is all about making it easier by organizing better, decluttering, and so on. The process of unpacking gets far less attention but it is quite important, as well. For example, if you are moving to Idaho with the help of a professional moving company, you might not have all that much to do. The room-by-room unpacking might be at the forefront of your thoughts. However, everything is easier with some help. This article will try and guide you through this particular process, and to provide some tips, as well.
Room-by-room unpacking like a pro!
While the easiest way to unpack your belongings is to simply hire professionals, you can achieve similar results on your own. Yes, you will need to put in your own time and effort into the task but you will save quite a bit of money. And, to be honest, unpacking can actually be a lot of fun if you approach it correctly. You don't need to hire any of the moving companies Nampa if you but only approach this task with an open mind. You can do a really good job if you put your mind to it. The only thing you might require is some direction.
When unpacking in this way, you will start with the rooms that you will enjoy the most. This will set the tone for the whole unpacking process and will make it a lot more fun. Are you excited to see how your bed fits in the new bedroom? Start with that. Perhaps you want to see how will the bathroom look once fully decked out? This is also a great place to start. All in all, there are no wrong choices here but you may want to consider some practicalities. Therefore, you need to know what are the best rooms to start with, if you have no special preference.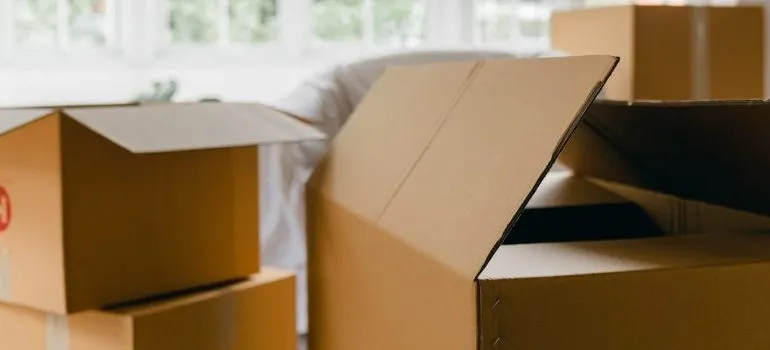 Where to begin?
Here is the list of the rooms that you might want to start your unpacking with:
Kitchen
Bathroom
Bedroom
Living room
Kid's room
Room-by-room unpacking – The best place to start is usually the Kitchen
Universally regarded as one of the best starting points, the kitchen is the place of food. And you will need nutrition for the job ahead. Unpacking the kitchen straight away will make it possible for you to prepare meals while you take a break from unpacking the rest. It is a great place to start and Peasley Moving & Storage highly recommends starting here. However, be prepared for a long process. The kitchen might have the most items out of every room there is. There will be numerous spoons, forks, glasses, and so on. Depending on your personal preference, you may want to clean all those utensils straight away once you unpack them. This will take a lot of time, mind you.
The best practice here is to simply find a place for everything and simply unpack without much organizing. You will have plenty of time in the following days to organize and sort everything to your liking. Right now, you do have a lot more to do.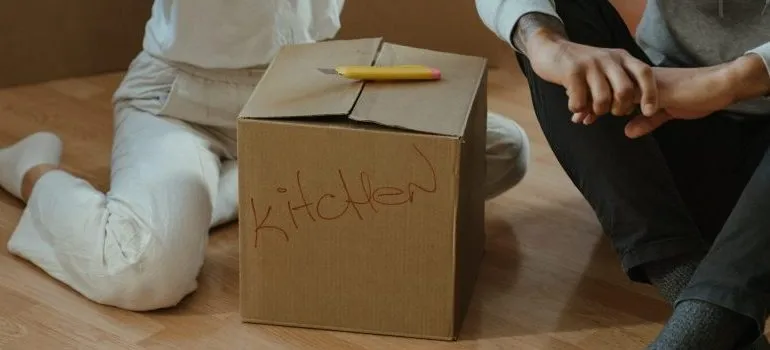 Bathroom
The bathroom is also really important. If you want to start with the bathroom, you might want to unpack only the essentials at first. The reason is that you will most likely want to use the bathroom to take a shower after the day is over and before you head into bed. You will want your bathroom properly stocked before you do that. To be honest, there is no big reason to unpack the bathroom fully from the get-go, just make it usable for all the essential purposes. It will not take much of your time nor effort so you might as well do it sooner rather than later.
Bedroom
The bedroom priority depends on your level of tiredness. If you arrived late in the evening and will have only a few hours to unpack, the priority will be higher. However, if it is early morning and you have a full day of unpacking ahead of you, you may push the bedroom unpacking for later on. As most of your items will be in the moving boxes Boise, you might want to leave them there for the time being and focus on something else. But if you're tired and could use a nap, make unpacking the bedroom the highest priority. You will need some rest after all and comfort is king.
Living room
You should not prioritize the living room unless you have someone coming over and you want to make a good impression. The best thing to do is simply carry all the living room boxes into it and leave them there for the time being. In fact, you might want to make this the last room to unpack, after all the others are done.
Kid's room
This one really depends on your kid a lot. If you know that they are going to be simply impossible to deal with, this room has a high priority. On the other side, if your kid is calm and quiet, you can postpone unpacking this room. For the most part, the kid's room unpacking largely depends on your kids and their age and that is the whole truth. If your kids can unpack and sort everything out on their own, simply leave them to it and swing by from time to time to see if they need anything.
Tips for quick and easy room-by-room unpacking
Here are some quick tips to unpack as efficiently as possible:
Sort boxes into respective rooms
Inspect boxes for damage
Make a priority list for unpacking
Keep essentials close
Unpack necessities first
By following the above advice, your unpacking will be a lot easier. Proper organization and preparation is the key to almost every endeavor. If you consider these things before you actually arrive at your new home, and prepare accordingly, room-by-room unpacking will be a piece of cake!

Everyone from the packers to the movers were awesome! They were all very professional and showed up when they were supposed to. would definitely use them again.
Let our team put together a comprehensive moving plan for you. Complete our simple free quote form or contact us at 1-208-375-0961.