Minimalist moving tips for effortless moves
Over the past couple of years, minimalism saw a rapid expansion. So much so, in fact, that it became one of the hottest trends, both in private and business spheres. No wonder there, really. It only takes a glance to see its upsides: you get more for less. More space, contemporary feel, a great deal of elegance. But, above all, you get an increase in functionality. On the flip side, it allows you to cut the time, effort, and costs of maintaining your home or office. And, if you decide to downsize when moving, to save a lot on utilities. However, one of the often-overlooked perks of minimalism is that it can help during the relocation, too. Here are some minimalist moving tips from one of the best Idaho moving companies, to help you make your move effortless.
Decluttering – the basis of minimalist relocation and its mightiest tool
When you think about how much stuff you have, you'll probably come up with "not enough." But, when the time comes to move, you'll realize you have a lot. And, we mean a lot – more than you may need or want in your new place. Most of those things will serve the same purpose after the move. They'll become useless clutter that you'll only end up shifting from one place to another.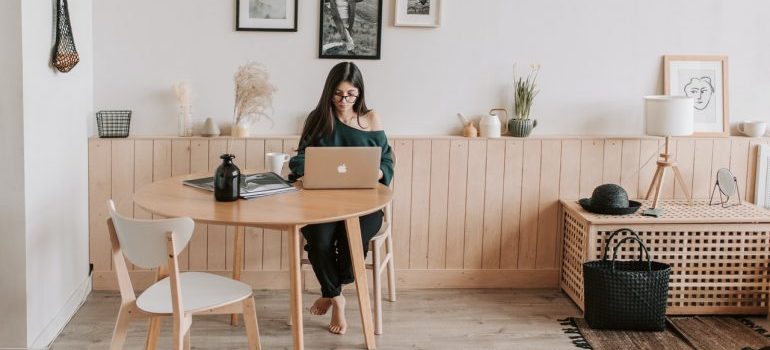 And, therein lies the power of decluttering your office or home. This act will let you create your ideal space – even before the relocation takes place. With useless stuff out of the way, you'll have all the space you need for things that matter. Moreover, you'll have more time for things that matter. This is especially important right after the relocation. Unpacking and staging your home or office will take far less time and effort. Therefore, you'll be free to explore and enjoy your new surroundings even sooner.
There are even more benefits to decluttering before moving
At a glance, decluttering may seem like a counterproductive way to start a relocation. After all, all that stuff has some value. So, it's a guaranteed loss, right? Quite the opposite! Maintaining it is a waste of time, energy, money, and nerves.
However, decreasing the size and weight of your cargo means you'll pay less for relocation. For instance, let's say you hired some of the best movers Meridian ID has to help you through relocation.
Movers charge by the hour for local relocations. So, the fewer things you have, the less time it'll take them to finish the move;
For long-distance and interstate relocations, movers charge by weight. Therefore, the less you transport, the less the weight.
So, going minimalist via decluttering will save you money in the long run.
Minimalist moving tips: A guide to methodic decluttering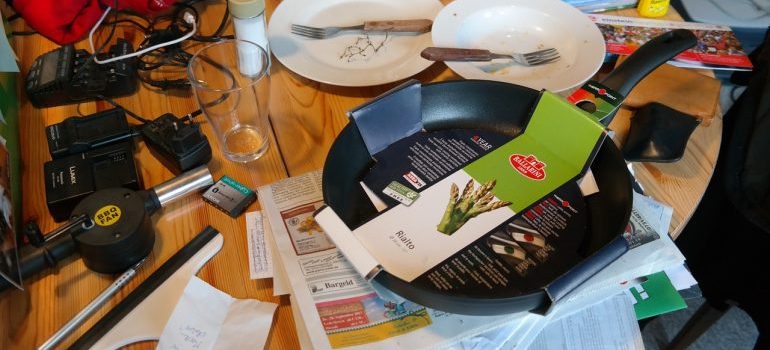 Decluttering is a time and energy-intensive process. Combined with other moving chores, it can become exhausting, and fast. Therefore, it's imperative to preserve both resources, to the best of your abilities. And, the best way to do that is by being organized and methodical.
Tip #1: Devise a plan of attack
A good plan can help you with virtually every aspect of decluttering and moving in general. Therefore, it should always be your first stop. There are many ways of devising a good plan, and you should use the format that suits you best. But, at the very least, it should contain:
An approximate timeline for the completion;
A checklist of all the things that need doing;
An inventory
Devising a detailed plan will take some time. Still, it will help you save much more in the long run.
Tip #2: Sort items by categories, not by room
Now, we know that going room-by-room sounds more intuitive. But, what it actually does, is give you a false sense of completion. Let's take clothes, for example. There's some in your bedroom closet, in boxes in the attic, or in your storage room. You declutter the bedroom, but there are more clothes. So, you declutter the attic, but there are more clothes. So, you declutter the storage room… You can see where this is going. But, if you have all the items in the same category at one spot, you're decluttering once, and that's it. It's much more efficient and effective.
Tip #3: Emotions: OFF – Logic: ON
Parting with your items is difficult, even if they don't serve any purpose. After all, they all have some value, monetary or emotional. However, this sense of false guilt is the bane of efficient decluttering. That's why this is the most important of our minimalist moving tips.
To counter this hindrance you'll, again, use a methodical approach. So, when you're considering if you should keep something, ask yourself these questions:
Does this improve my life/make me happy?
Do I use this regularly?
Did I use it in the past three months?
Will I use it in the next three months?
Will I have to buy it again?
If the answer to all these questions is a resounding "no" – toss it. There's no place for such an item in your new life.
You can apply these minimalist moving tips when moving your business, too
There's a reason the business world went nuts for a minimalist workplace style. It maximizes the space, without demanding excessive remodeling. It boosts functionality and reduces maintenance costs. But, most importantly, less clutter means more productivity and creativity. Also, it looks elegant, yet decisive – which is a big plus. So, all the benefits are there.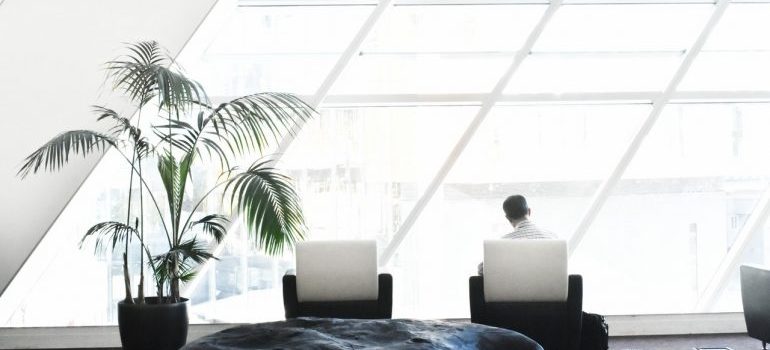 The downside, however, is that decluttering an office presents a bigger challenge than decluttering a home. Office equipment, especially electronics and machinery, can cost exorbitant amounts. And, if these are the backbone of your business, ensuring their safety will take some extra time and effort. Therefore, it's strongly advisable to have commercial equipment movers help you with this part of the work.
Use these minimalist moving things to elevate your life
The advantages of the minimalist style are noticeable right from the get-go. It improves your place and gives you more space, without taking away any functionality. As such, it is one of the prime life-improving methods available today. So, use these minimalist moving tips to your advantage and make your new life even better.

Everyone from the packers to the movers were awesome! They were all very professional and showed up when they were supposed to. would definitely use them again.
Let our team put together a comprehensive moving plan for you. Complete our simple free quote form or contact us at 1-208-375-0961.