How to throw a housewarming party on a budget
Someone's planning a party? We are not fishing for an invitation or anything, but we do have a few suggestions to help things go smoother. After all, we know what kind of party we're talking about here. You're planning a housewarming party! Firstly, we understand that relocation is difficult. Hopefully, it all went great. Furthermore, we hope that you're now settled in your new home already. Let's say you already did all of your unpacking even. Your new home in Eagle ID, for example, is now furnished, nice and clean. Any kind of construction work is something you don't need to worry about anymore. In addition movers Eagle ID is proud to have helped you reach your destination and you're completely ready for your new life in Idaho. However, you should definitely celebrate before you open a new page. Learn how to throw a housewarming party on a budget now.
Step into your new home in great style
Throwing a housewarming party is your reward. If you've reached this stage of your new life, then you're done with the most difficult parts of the relocation process. You've probably had some issues along the way. The relocation process is not easy. However, the good news is that you're now ready for the actual fun part. Before you start the next chapter of your life, it's important to mark the occasion in a significant way. Now is the perfect time to have a party in your new place. Doing that will make the place truly feel like a home.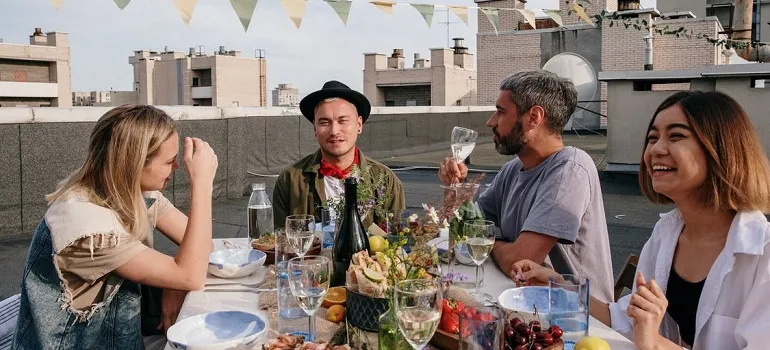 Just because you need to economize, doesn't mean you can't have some fun
It's important to celebrate even the smallest victory. And moving is no small victory by any means. Relocating and starting a new life somewhere else should be celebrated. Moving companies like Peasley Moving & Storage have brought you this far. Now it's your turn to do something for yourself. You need to take things slowly and, first and foremost be gentle towards yourself and think about your mental health. Spending some pleasant time with your friends, celebrating this milestone will surely be beneficial in more ways then one. You should now learn how to put on a housewarming party on a budget.
How to throw a housewarming party 101 – a good plan is the one you make as soon as possible
Move those fancy decorations to storage units Boise residents usually use. Make room for dancing and prepare the good stuff from the cellar. Because, honey, this party has to be one for the ages. If you want to go the extra mile you can also do some of the following:
prepare hand-written invitations (use cheaper stationery to reduce the expenses, friends won't mind)

visit the local market and scout for fresh food supplies (open markets are cheaper than the supermarkets, not to mention the wares are better)

go online and find some affordable, yet fancy decorations

remember to remove any expensive artistic or decorative pieces out of sight (we never know how messy a party can get, you can only try to predict that)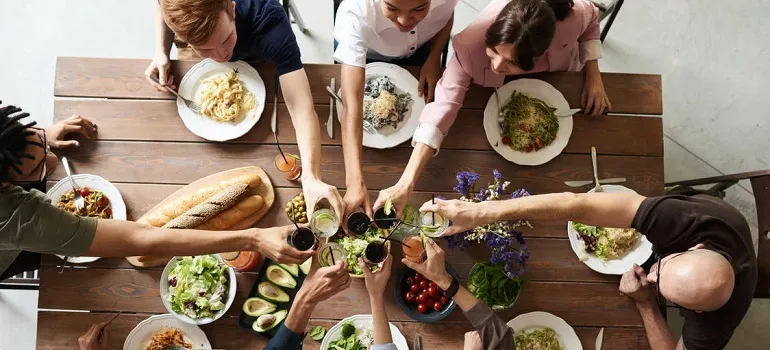 Do everything, even celebrating, wisely and carefully
Relocating is a big expense. No one understands that better than professional movers. We know just how difficult of a time you might have had. Therefore, even though it's important to celebrate your success, it's advisable to do it carefully. After all, you've just moved there. You probably feel the consequences of moving in your family budget. Furthermore, you need to keep thinking of the future. You should be aware that your new life might also have some unexpected expenses. Therefore, you should definitely celebrate your relocation. However, you should keep your limitations in mind.
Throwing a housewarming party is all about prioritizing
Don't go overboard. Your friends and family wouldn't want you to either. And, in the end, there is really no need to do that at all. Your housewarming party shouldn't be a formal gathering with expensive champagne and caviar. Some homemade meal, a bit of music, and a dash of old wine will do just fine.
Knowing how to throw a housewarming party is finding the right balance
Of course, some effort should be put into your housewarming party. For example, good wine is something every party needs. Therefore, if you want to make a good impression, you can look for wineries near you. You should choose the wine and the location most wisely. Pick a spot in your home where you feel comfortable. After all, a party can last for a while. You and your guests need to be comfortable the entire time. Wine can also help with that. Therefore, these two things are something you should prioritize.
Start planning your party and let us wish you good luck
You've been through a lot. We understand just how stressful a move can get. Moving to Idaho was a great idea. You'll come to realize just how fun it can be to start fresh somewhere new. Therefore, some celebration is in order. Now that you know how to throw a housewarming party, you shouldn't waste any more time. Remember to put the important things first. However, that doesn't mean that you need to spend too much on anything. Use everything you have at your disposal to create a pleasant aura around your new house. It's all about how you manage your resources. Remember that prioritizing is the key. Buying cheaper decorations is one thing, but serving cheap wine won't help cheer up the crowd!

Everyone from the packers to the movers were awesome! They were all very professional and showed up when they were supposed to. would definitely use them again.
Let our team put together a comprehensive moving plan for you. Complete our simple free quote form or contact us at 1-208-375-0961.