How to spend the first days after moving
Relocations are difficult processes. There is simply so much to do and so much to prepare for. But once you finish relocating all your stuff to your new home with the assistance of a moving company, like Peasley Moving & Storage, for example, you will still have some things to do in the first couple of days after moving to your new home.  If you would like to spend the first days after moving as productively as possible, you might want some guidelines. And this article is going to provide you with just that, guidelines for your first few days after relocation.
Useful tips on how to spend the first days after moving?
Here is the quick list of things you might want to do straight off:
Inspect your new home before you start unpacking
Unload the boxes and place them in the correct room
Unpack your essentials
Assemble essential furniture
Install large appliances
Visit malls, restaurants, and parks
Meet your new neighbors!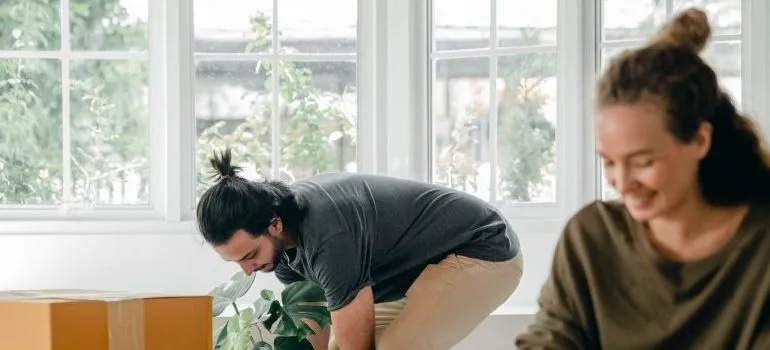 Inspect your new home before you start unpacking
The first thing that you need to do, once you arrive in your new home, is to thoroughly inspect it. Before you even think about unpacking anything, you need to stroll around the home and figure out if anything needs working on. Your home will be devoid of all the furniture and other things that might interfere in the inspection so this is the best opportunity to do so. If you had some of the freight companies Idaho bring a container to your yard, leave it there for the time being. You will need the home to be as empty as possible for your inspection. You will most likely see a few things that you may need to repair.
Don't worry about them for the time being, just write them down for later consideration. Even if you don't get around to it shortly, you will still have a reminder of what is there to do. Just make sure to write it somewhere where you can have a constant reminder. The front of the fridge is usually a good spot.
Unload the boxes and place them in the correct room
After your inspection is over, it is time to get the boxes in. If you have some items in full service storage, this is the time to bring them out. Place the boxes in their corresponding rooms. Don't start unpacking straight away, simply put everything in its place for now. You will get to unpacking soon enough. This part of the process will be simple if your boxes are properly labeled. If not, you may need to spend additional time on this task. But don't worry, even if you carry a few boxes to the wrong place it is not the end of the world.
Spend the first days after moving by unpacking your essentials
If you have a lot of things to unpack, it may require several days to do so. What you might want to do is unpack the essentials first. And, to tell the truth, most of your things may be considered essential. But start with the items that you use the most and can't imagine living without.
Don't be afraid to move from room to room and unpack only a few boxes in each. If you start unpacking everything from each room, you might find yourself really tired or need to do something else, without your essential belongings unpacked. If you don't have time for any of this, however, you can always hire some extra Boise moving services to reduce the work that you need to do on your own. It might also be a good idea to sit down and think things through before you start unpacking. Even if you give it only five minutes, this mental exercise will help a lot.
Assemble essential furniture
Your furniture will most likely need some assembling before it is ready for use. Start with the essential pieces, such as the bed. Then move on to the furniture that you see yourself using in the next few days. You will not need all those armoires straight away so you can skip them for now. But living room furniture might come in handy in the evening when you want to sit back and relax. Do note that assembling your furniture can be quite difficult with some particular pieces. You may want to save those for later, once you have the essential things done with.
Install large appliances
After the furniture is done, it is time to install the large appliances as well. Up until this point, you did not really need to concern yourself with it but now is the time. Make sure that you either know what you are doing or hire a professional to do it for you. These appliances might have a few specific twists to them and if you don't know them you will be risking accidents. Always read the appropriate manuals, even if you think you know them by heart. There is always something that might slip your mind and is quite important. Or, in the case of hiring professional help, sit back and let them work.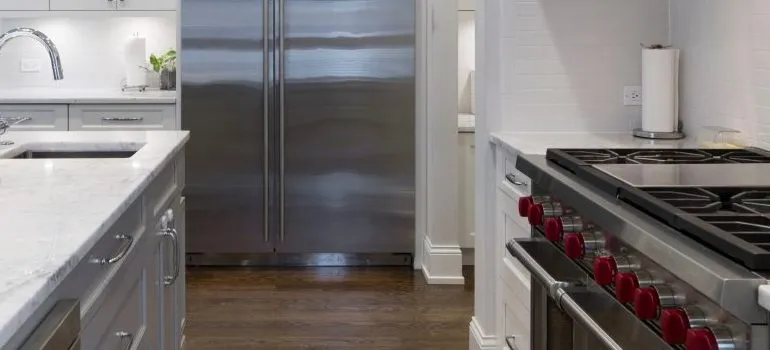 Spend the first days after moving in shopping, restaurants, and parks
Aside from work, you will need some R&R as well. You may want to "fill your batteries" with any activity that you usually use to do so. If you love shopping, go explore the local stores. Also, avail yourself of the services from the local restaurants for the first couple of days. It will make it easier for you, not needing to make any food, and it will serve as a great resting point. Finally, you may want to consider getting closer to nature and try to inhale some of the serenity that it offers by visiting a park or two. Green spaces have a positive effect on the human psyche and you can always use more of that.
Meet your new neighbors!
Don't forget to meet and greet your new neighbors, as well. You might want to start on the right foot with them, as they will be around for possibly years to come. There are no second first impressions so try to make a good one from the start. But don't overly worry about it, the first impression is not everything, after all.
Also, every person will want to spend the first days after moving in their own way. If you have something that you ordinarily do in order to feel better, incorporate it in these first few days as well. Follow your feelings and act accordingly, these were just the guidelines, not rules set in stone.

Everyone from the packers to the movers were awesome! They were all very professional and showed up when they were supposed to. would definitely use them again.
Let our team put together a comprehensive moving plan for you. Complete our simple free quote form or contact us at 1-208-375-0961.