How to establish yourself in a new community
Moving into a new home and community is full of both excitement and anxiety. However, there is so much more to moving than just unpacking a few boxes and arranging your furniture. What you have to do, is make yourself and your loved ones feel comfortable in your new surroundings. To do this, it is very important to connect with your neighbors and other members of your new community. This means that, after you reach your new home with the help of movers Kuna ID, you'll have to do a bit of socializing. And even though the thought of meeting new people seems daunting, believe us when we say, it's simpler than you think! We've taken the time to explain in detail how to establish yourself in a new community and become a great neighbor. Follow our advice, and you'll fit in before you know it!
Do a bit of research before you establish yourself in a new community
The good thing is, you can start adapting to your new area even before you move in. While you're looking for a new property, take a bit of time to research the neighborhood, and decide if it's a good fit for you. The best way to do this is to simply walk or drive around the neighborhood and observe. If you spot many front lawns with toys strewn around, you'll know that the neighborhood is favored by families with children. If there are dog parks in the area, you'll know just how much people like animals in the area. You might also get some other valuable intel during your exploration. Such as the average age of the area's residents, or the locations of important places like schools, shops, and hospitals. All of this can tell you a lot about the neighborhood, and whether or not it will match your lifestyle.
Don't be afraid to start a conversation
We all know just how difficult it can be to put yourself out there. But, you'll establish yourself in the community much faster if you start making connections. Of course, this doesn't mean that you should go knocking on doors announcing your presence. But, simply taking the initiative to start a conversation can really go a long way when forming bonds. You can start small with a simple wave and a hello. If you want to take it a step further, politely introduce yourself and explain that you're new to the area. To form a connection, ask your neighbors if they can recommend a local grocery store, or if there is any storage facility Boise ID nearby. Alternatively, you can try and find something that interests you both as a conversation starter. Pets, daily topics, and music can all be great ways to get to know your neighbors.
Get involved in the daily activities of your new community
One of the best ways to establish yourself in a new community and get to know its members is to participate in their activities. You might have to do a bit of exploring before you find something that fits you. A good way to do this is to check local universities, sports organizations, or park districts for something that interests you. Or you can seek recommendations from your neighbors. Another great way to get out and about is to donate time to your community and help the people in it. You can clear park trails, clean the streets from trash, or assist other residents. If you learn that someone will be moving soon, you can recommend one of the best Idaho moving companies to them. They'll surely appreciate the help as their relocation will be quick and fast.
No matter which activity you choose, it is very important that you remain approachable at all times. Allow your neighbors the opportunity to approach you and welcome you. Be open and friendly, but above all, be genuine. All of the activities we mentioned above revolve around one thing, and that is teamwork. If you make an effort to be an active part of the community, you'll undoubtedly fit in, and make new friends along the way.
Organizing a yard sale will boost not just your budget, but your social status too!
If you didn't have time to fully declutter your home prior to moving, now is the perfect time to do so. One of the best ways to get rid of excess goods is to host a garage or yard sale. The good thing is, you can benefit from this in many different ways. Mainly, you will score some extra cash and restore your house budget after the move. But, your current goal is to meet new people and introduce yourself to the neighbors. So, not only is a well-organized yard sale a good way to declutter, but it is practically an open invitation to your neighbors to visit you. They'll stop by, have a chat, and maybe even buy something, which can be a great conversation starter the next time you see them. You will also learn about their hobbies and interests, which can help form future bonds.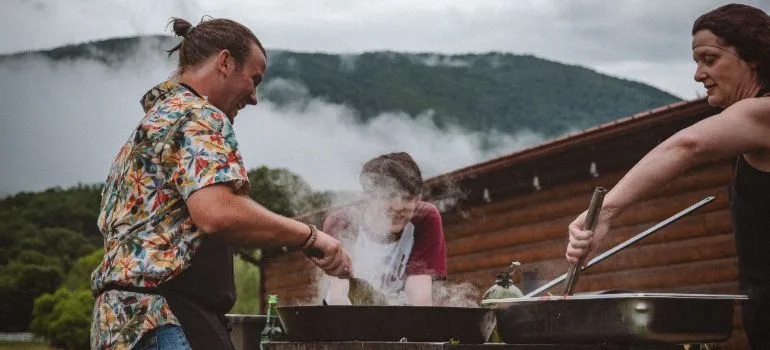 Throw a housewarming party in order to establish yourself in a new community
Now that you've met a few neighbors, and discovered you share some common interests, it is time to take it a step further. Now would be a good time to invite a few of them for a housewarming party. This is a common social event that can really help you establish yourself in a new community. Select a weekend evening, and invite your community members over for dinner. You don't have to invite every single person you met, but don't forget to include your next-door neighbors. If you're planning a housewarming party for your friends and family, separate it from the one meant for your neighbors. Doing so will allow you to dedicate your full attention to your community members, without unintentionally neglecting them.

Everyone from the packers to the movers were awesome! They were all very professional and showed up when they were supposed to. would definitely use them again.
Let our team put together a comprehensive moving plan for you. Complete our simple free quote form or contact us at 1-208-375-0961.