Expert tips for moving your washer and dryer
Moving an item such as a washer and dryer is a bit more complicated than moving a, let's say, sofa or an armoire. There are steps that you need to take to ensure that you don't damage your appliances. Furthermore, these appliances are quite heavy, meaning that you will need some additional help to transport them. You can, of course, utilize the help of one of the professional moving companies Boise residents turn to in their time of moving need, to make things easier. But even if you have professionals assisting you, there are still things you will need to do. This article will guide you through the process of moving your washer and dryer, and provide you with some expert tips on doing so.
6 expert tips for moving your washer and dryer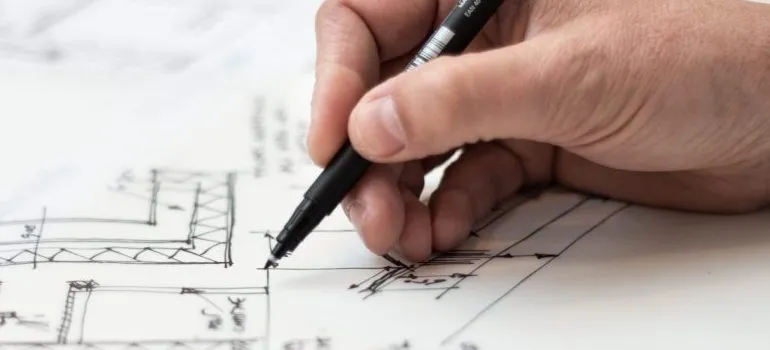 Here is a small list of things that you will want to accomplish before you actually get to transporting your appliances:
Clean and air dry your washer and dryer
Acquire necessary supplies before moving
Properly disconnect the units
Make sure doors, drums, and latches are secured
Secure the route
Ask for help from friends and/or family members
Also, if you are planning on having your movers relocate the machines for you, there is an additional step. You will want to have the appliances professionally serviced before the moving day. That way, you will ensure that they are in the best shape to endure the necessities of transportation. Be sure to do that before moving to Idaho, to avoid any unnecessary unpleasantness.
Cleaning your washer and dryer
Making sure that your washer and dryer are properly cleaned will improve their efficiency, as well as their life cycle. This is a step that you can easily do on your own, but you can hire professionals if you don't have the time for it.
Cleaning the washer is quite simple, all you need to do is run a clean rinse cycle with the cleaning tablet present. It is always best to use the tablet that is recommended for your specific model. Important note: leave the washer door open for a minimum of 24 hours after you disconnect the water supply (more on that soon). The goal is to ensure that the washer is completely free of moisture, preventing any mold from taking hold.
As for the dryer, you will want to remove any debris, or lint, from the lint trap. Clean the filters using a mild soap and some water. The vents can be cleaned by using a handheld vacuum tool, or a specialized vacuum cleaner extension.
Do note, however, that every appliance is different. You will want to refer to the manufacturer's manual before you proceed. There may be some special procedures that you will need to observe.
Supplies that you will need for moving your washer and dryer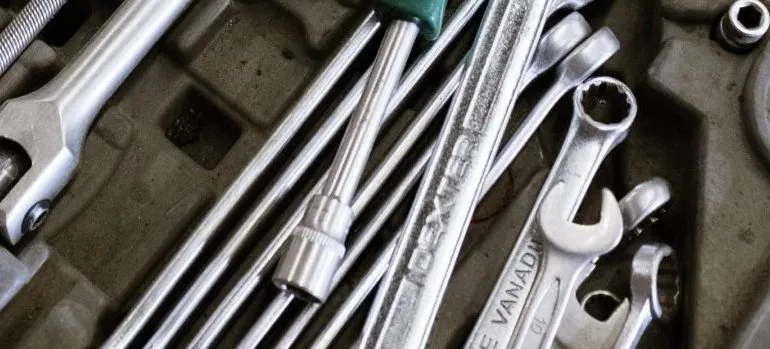 You are going to need some supplies and tools for the whole process. The things that you will most likely need are:
Bucket
Pliers
Wrench
Packing tape
Appliance dolly
Moving straps
Sturdy gloves
Padding (moving blankets, etc.)
These items are very important in making sure that both you and your appliances are as safe as possible throughout the process. Once you have everything that you need, it is time to move on to the next step.
Disconnecting the units the right way
First off, while it is possible for you to disconnect the appliances on your own, we recommend utilizing a qualified professional for the job. The main reason is that disconnecting high-voltage electrical connections is a dangerous undertaking, and you really need to know what you are doing. While this is not covered by Boise moving services, your moving company can help you arrange and coordinate disconnection services. Contact your moving company and ask for recommendations.
And if you really want to go about it on your own, you will want to spend some time studying the user manuals. You will need to shut off the supply lines (gas, water, electricity) before attempting to disconnect the appliances. Take extra care when you are pulling the dryer from the wall, as there might be "hidden" supply lines present. Furthermore, the unit may have a flexible or solid vent pipe that is held secure by screws or a clamp. You will need to remove these first.
Securing the latches, drum, and doors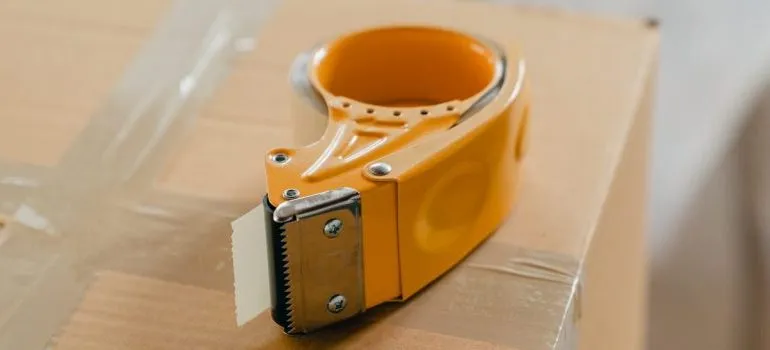 The washer's drum is made out of several moving parts and is prone to serious damage if it gets tossed about during transport. That is why it is absolutely necessary to secure it prior to relocating. Check if your machine came with moving pins or shipping bolts, they are used to keep the drum stationary during relocation. If you don't happen to have these on hand, you will want to contact a qualified technician about the best way to protect your drum.
The doors and latches can be easily secured by utilizing strong moving tape. The tape itself can be easily removed and it will hold the doors and latches shut throughout the move. Furthermore, it will also offer a degree of protection against any scratches or dings.
Paving the road to success
Make sure that you have the route your appliances will take when the moving day arrives. Measure all the hallways, doorways, as well as stairways, to ensure that there is enough room for the machines to go through. This is also the time to consider whether using one of the portable storage Boise solutions is best for your particular situation. Map your route thoroughly, and you will minimize any chances of damage occurring.
Enlisting help when moving your washer and dryer
You are going to need help when moving your washer and dryer, simple as that. Therefore, make sure that you ask for help from your friends and family members, and give them enough advance notice as well. Not only will your inner circle be able to help you with the heavy lifting, but they will also provide you with a fun atmosphere. And that can be even more important.

Everyone from the packers to the movers were awesome! They were all very professional and showed up when they were supposed to. would definitely use them again.
Let our team put together a comprehensive moving plan for you. Complete our simple free quote form or contact us at 1-208-375-0961.