Cardboard vs Plastic Moving Boxes
When it comes to relocating your house, apartment, or office to another city, you will undoubtedly need to be prepared for a lot of work. The relocation process is quite challenging and entails many big and small tasks. If you wish to complete them in due time, you will need to put in a lot of effort and dedication. Certainly, one of the most crucial moving-related tasks is finding appropriate moving supplies. Therefore, the following question arises: "Which boxes should I get?" and "How do I decide between cardboard vs plastic moving boxes?". Luckily, Peasley Moving & Storage Boise experts are happy to advise you on this matter. Therefore, in this article, we are going to go into detail to indeed find out what is better to use – cardboard vs plastic moving boxes.
What you need to take into consideration
If you wish to decide between using cardboard vs plastic moving boxes, first, you will need to determine the factors on which to base your decision upon. By looking into Idaho storage solutions, we have come up with a list of factors that may help you decide which kind of packaging would be best to use for your relocation. Therefore, when deciding on plastic or cardboard containers, you should pay attention to the following:
Price difference – Since the price of a move can really add up, the price might be an essential factor when deciding between cardboard and plastic moving boxes.
Quality and durability difference – If you wish for your belongings to arrive safely at their destination, this factor is quite essential to consider.
Possibility of re-usage – Getting your money's worth when purchasing moving supplies is an excellent option. We will see in what ways you can re-use both kinds of boxes
Recycling options – Protecting the environment is a severe matter nowadays. Therefore, looking into recycling options might be the best idea after you finish using your supplies.
Possibility of disinfection – This factor is closely associated with reusing your supplies. If you are going to do that, it's essential to know whether it is possible to clean them thoroughly after usage.
What after the move? (storing and keeping) – If you don't want to throw away your boxes, there are some excellent options for storing them or giving them another use.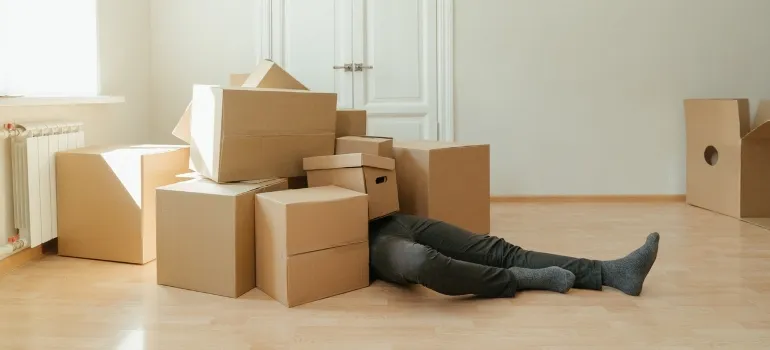 How much do plastic and cardboard boxes cost?
Determining the price of both plastic and cardboard boxes largely depends on the size or color and whether you buy them in bulk or individually. However, for the sake of comparison, let's see the following examples. On average, for a price of $50, you can get three durable plastic boxes. Their dimensions are 16 X 12 X 11 Inches, and their weight-carrying capacity is 30 kg.
On the other hand, for nearly the same price ($48), you can get a packet of 25 cardboard boxes of similar dimensions (16 X 10 X 10). Their carrying capacity is 27 kg. Therefore, it's safe to conclude that cardboard boxes are much more affordable than plastic boxes. So, if you are moving on a budget, the best option might be to get storage packing supplies Boise offers for sale that are made of cardboard.
The difference between the quality and durability of cardboard vs plastic moving boxes
Protecting your belongings during transportation is of utmost importance. Therefore, you will need to ensure that the moving boxes Boise locals rely on during a relocation are of good quality and durable. Cardboard boxes provide enough protection for your belongings. They are designed to provide safety to your belongings. And if you invest in good-quality cardboard boxes, they will be hard to penetrate and will undoubtedly protect your items from exterior damage, such as vibrations during transport. So, they are perfect for transporting your belongings if you are changing homes.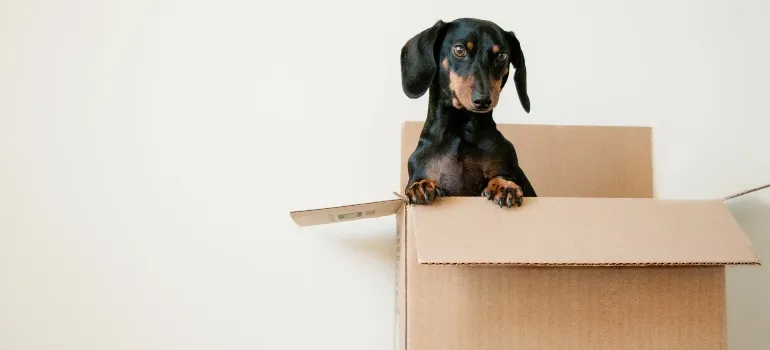 However, cardboard cannot withstand all external factors. If you want your items to be protected against moisture, heat, mold, and anything else that might ruin your belongings. Plastic containers are ideal for use in storage and for the services of freight shipping Boise offers since they are more likely to last longer than cardboard. But they are much more expensive. So, if you don't wish to waste your money on plastic boxes that you will use once or twice, it might be better to opt for cardboard.
Can you reuse plastic and cardboard boxes?
Cardboard boxes come in various shapes and sizes, so it's possible to find many uses for them. If they are in good condition after moving, you have multiple options when it comes to choosing what to do with them. You can save them for another relocation if you wish, but make sure to protect cardboard from moisture, heat, and other external factors. If you don't want to wait long, you can use your boxes immediately. Some of the ideas are to use them for shipping items through the post, protecting your floors while painting, or for compost. You can also keep your books, DVDs, old toys, and clothes stored in them somewhere in your home. Furthermore, you can use the smaller boxes for gift wrapping or as toys for your children and pets, who just love playing inside cardboard boxes.
As for plastic boxes, they can also be reused. Since they are generally stronger and more durable, you can use them to protect more fragile items. Their main advantage is that they are waterproof and will protect the things that mustn't be around water. Furthermore, they can be stacked hire when storing, so they will take up much less space. They are also great for organizing the toys your children tend to leave around the house. The best news here is that plastic doesn't have an expiration date and is not likely to get damaged. This means that you can use and reuse them for decades to come.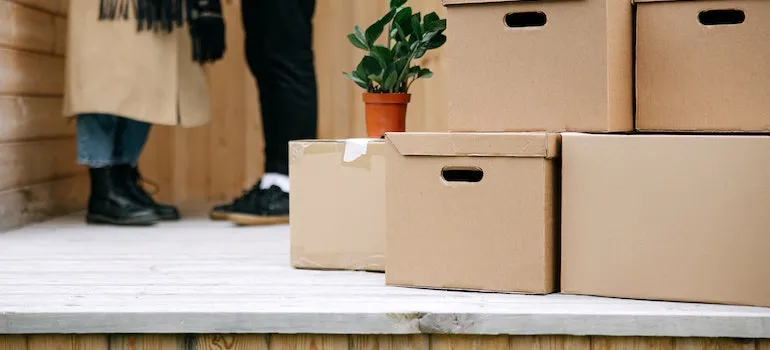 Recycling options
Although cardboard and plastic boxes have many similar advantages, they significantly differ regarding recycling. The main difference is that cardboard comes from trees, a possible resource to replenish. Therefore, cardboard naturally decomposes and, as such, is easy to recycle. Plastic, however, never breaks down and is very difficult to recycle since it's made of oil.
Recycling plastic
Many everyday items people use, such as bubble wrap, plastic food packaging, and other protective coverings, are made from polyethylene. This is the most common type of plastic in the world. However, to make it, there is an enormous energy expenditure. In order to reach its final form, plastic undergoes heating, cooling, molding, and numerous chemical treatments. It's a complicated process, but it is so vastly used that the final material is low-cost. But, the main concern is that plastic is extremely difficult to recycle. Although there are options to recycle plastic, efforts are insufficient as only 5% of plastic was recycled in the US in 2021 according to a Greenpeace study.
Recycling cardboard
We mentioned that since cardboard comes directly from trees, it is considered a renewable source. Nevertheless, it's imperative to know whether the material is sourced via deforestation or from sustainable wood grown for the purposes of manufacturing. In order to make paper, a tree needs to be cut down and turned into wood chips. These are then boiled and mixed with chemicals for pulp. The pulp is spread out and pressed with large flat items in order to remove excess water. For this to be turned into cardboard, two pieces of paper need to be glued together on each side of a corrugated sheet so that it will have more strength.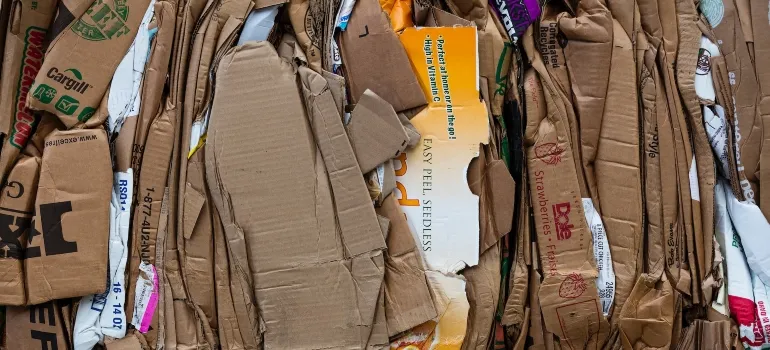 One fully grown tree is enough to make around 150 large cardboard boxes. But, on a global level, 55% of all cardboard is still made from cutting down trees. Luckily, the majority of these trees are from controlled environments. Numerous organizations certify sustainable forests. They help manufacturers follow environmental standards helping them make a choice between using cardboard vs plastic moving boxes.
The possibility of disinfecting moving boxes made from plastic and cardboard
Ideally, if you wish to reuse plastic or cardboard moving boxes, you will need to clean them thoroughly. Depending on the type of items that were stored in them, the boxes can be more or less dirty. However, there is one significant difference when it comes to cleaning them. Plastic containers will withstand cleaning with soap and water, and various strong chemical cleaning means. You can disinfect plastic bins with alcohol, and they will be good to go.
On the other hand, cardboard doesn't withstand any cleaning except cleaning with a dry cloth. If dust has accumulated over time on your cardboard box, you can remove it with a dry cloth. But if anything else contaminates the box, such as mold or plain moisture, you must throw it away the box. That would be a fertile ground for various bacteria to spread, and that's something you definitely want to avoid.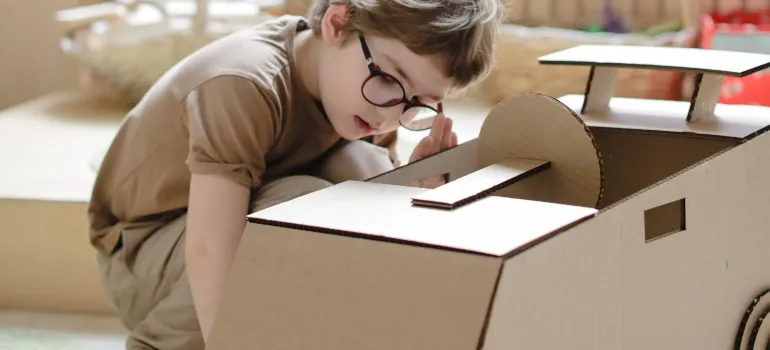 What to do with the boxes after the move?
Upon your relocation, you may choose to get rid of your moving boxes or keep and reuse them. There are numerous options for both. First of all, you can get rid of your used moving supplies by recycling them. However, we recommend recycling cardboard boxes, while it would be much more environmentally friendly to keep the plastic ones. Furthermore, if you don't have time to deal with recycling, you can always pay for the service of junk removal. Many moving companies offer this service for an additional fee. The professionals will come to your home and deal with all excess supplies, so you won't have to.
But if you wish to keep the boxes, there are many ways you can use them. For starters, both plastic and cardboard boxes can be excellent for garage, pantry, self-storage, mobile storage, or attic storage. You can even make stylish storage for toys that belong to your children or your pets. Be creative and give them a makeover. A lovely fresh paint or some stickers will do the trick. Moreover, you can search the Internet for plenty more DIY project ideas.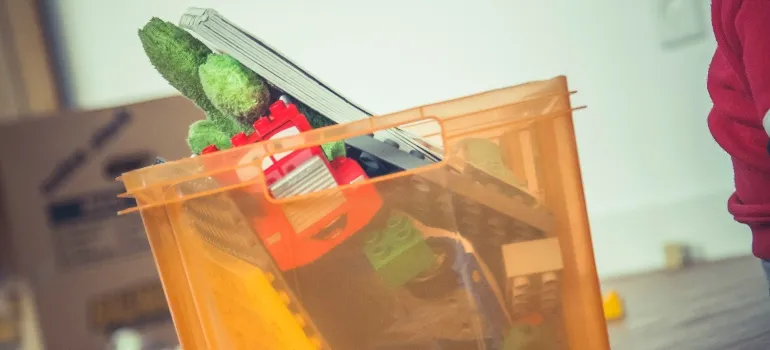 Final words
Finally, when it comes down to choosing between cardboard vs plastic moving boxes, it all depends on your needs. We have given you the factors that will hopefully help you decide which type of box is the best choice for you. They both have their advantages and disadvantages. The crucial thing is to determine the factors that are most important to you. If you want a cheaper, environmentally friendly, reusable option, cardboard boxes are for you. And if, on the other hand, you want durable, long-lasting boxes that you can clean and use multiple times, plastic containers may be for you. Whichever choice you make, try to base it on your needs. After all, you and your loved ones will be using them the most.
Reference:
MindsetEco, 5 Reasons to Choose Cardboard Packaging in 2023, https://mindseteco.co/cardboard-packaging/

Everyone from the packers to the movers were awesome! They were all very professional and showed up when they were supposed to. would definitely use them again.
Let our team put together a comprehensive moving plan for you. Complete our simple free quote form or contact us at 1-208-375-0961.