Best ways to pack and move electronics
Electronic items can be quite sensitive. It is really easy for them not to work after you move them a couple of times. However, with proper packing and moving they will be in minimal danger. In order to pack and move electronics properly, you have a few choices. The number one choice is to simply hire Peasley Moving & Storage to move them for you.  This will require absolutely no effort on your part, your movers will do everything for you. But if you want to know how to do it on your own, then this article is for you! We are going to go over all the proper procedures on packing and moving electronic items.
How to safely pack and move electronics?
Here is what you will need to do if you want to have maximum protection for your devices:
Backup all files and data before you pack and move electronics
Unplug wires and accessories and remove batteries
Use original boxes to pack and move electronics
Use moving blankets
Backup all files and data before you pack and move electronics
First of all, no method is infallible. There is always a chance that something will go wrong and your items may become unusable. For this reason, you will want to backup all the data on your devices. However, you don't really need to back everything up. Make a copy of all the files that you simply can't find anymore. That is the most important part. If you have any photos or similar files, you will want to make several copies in order to protect them.
You can store your files on any of the free storage clouds. In fact, your best bet is to store them on multiple clouds. True, that might be redundant but if the files in question are irreplaceable, you don't really want to risk anything. The whole registration and uploading process is really fast and effortless, you really don't have a reason not to do it. If you are intimidated by the prospect (and, to be honest, many people are) simply ask for help from someone who is not. Really, the whole process does not take much time.
Alternatively (or additionally), you may want to also create hard copies on USB flash drives. Basically, the more copies you have, the better. Even if something happens to one venue, you will have more.
Unplug wires and accessories and remove batteries
After all of your data is safe and sound within the cloud, or on a flash drive, it is time to start preparing your electronics for an interstate relocation. Now it is time to remove any batteries from the devices. Do that first, before doing anything else. You want to remove the power before you start with anything else. After you remove the batteries and unplug the power cords, it is time to do the same with the rest of the wires.
Now, when unplugging electronic devices with a lot of wires, you will want to know which one goes where. The simplest way to accomplish this is to take a photo of a fully plugged device before you unplug anything. This will ensure that you know which wire goes where after you transport the device. If there are a lot of wires, you may want to have additional safeties, such as more photos from different angles.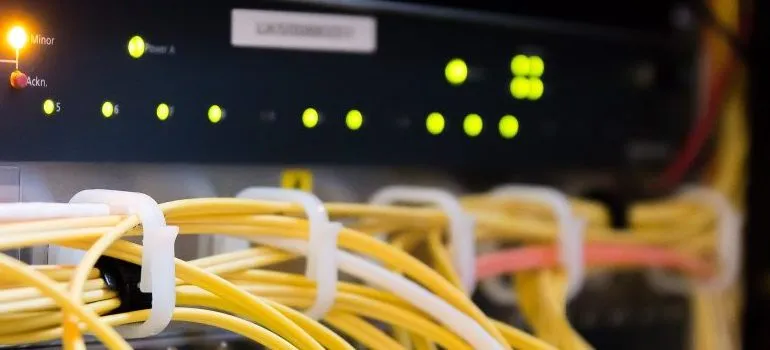 Use original boxes to pack and move electronics
The best way to transport electronics is in their original boxes. After all, they were created for just this purpose. However, if you don't have the original packaging, that is fine as well. You will simply need to properly prepare the containers for them. Most of the freight companies Idaho recommend using quality packing materials for this purpose. Your electronics might be quite valuable and you will want to give them the protection that they deserve. Just make sure that whatever you use does not generate any static electricity, as this may damage your items. If you are in doubt about whether to use particular padding, simply ask your movers about it. They will know and they will tell you what to do.
You can use plenty of packing materials for this task. Items such as bubble wrapping, packing peanuts, and the like can all be used for this purpose.
Use moving blankets
Your items may also need additional protection while in transport. You can use moving blankets to wrap your boxes after you place your items inside. The blankets themselves will provide you with additional protection. But you will most likely need them to cover your large TV screens.
Make sure to store your items against a wall, in order to have some support. You can never simply lay them flat against the floor. That is one way to damage your items. Also, do not stack them on top of anything, nor stack anything on top of them. The pressure alone can create permanent damage to your TV set.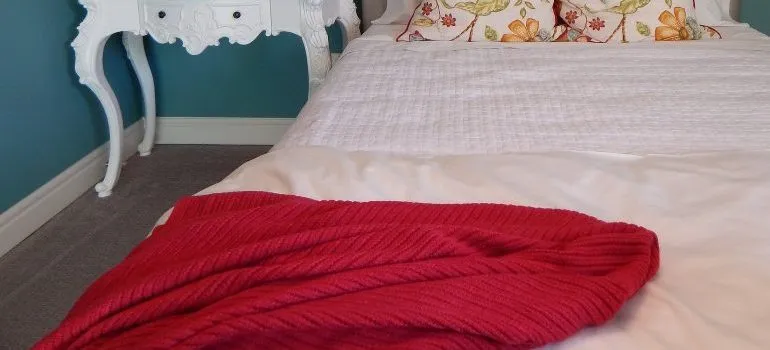 Choose a secure and indoor storage unit for your electronics
Finally, when it comes to storing your electronic items, you need to make sure that they are not easily exposed to outside elements such as weather and dust particulates. You never want your items in a closed-off, cooled, and dry place. This will significantly reduce any chance of weakening the metal of all soldered components.

Everyone from the packers to the movers were awesome! They were all very professional and showed up when they were supposed to. would definitely use them again.
Let our team put together a comprehensive moving plan for you. Complete our simple free quote form or contact us at 1-208-375-0961.