At-home packing supplies that you can improvise with
Ensuring the safety of your belongings while moving can quickly become a costly venture. Boxes, bubble wrap, shrink foil – they do cost a pretty penny. And, when you're moving, especially on a budget, saving every dime is a priority. But, although brand new packing materials are the best choice, they certainly aren't the only ones. You can use some common household items and materials and repurpose them as at-home packing supplies. In combination with the services of some of the best moving companies Boise offers, you won't have trouble ensuring the safe transition of your possessions.
You can replace most of the boxes with at-home packing supplies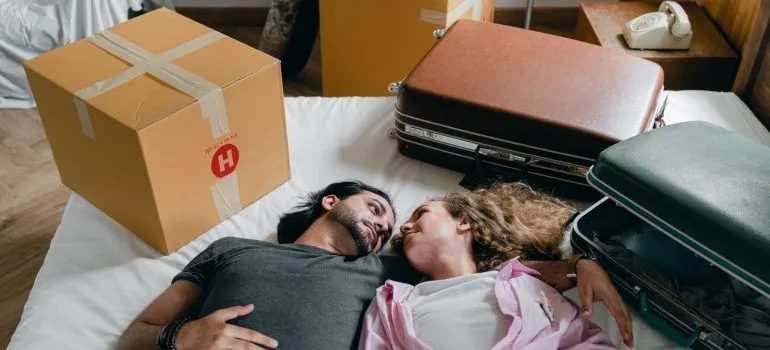 Moving boxes Boise are essential when it comes to packing. However, they're also one of the bigger expenses. So, let's see what at-home packing supplies you can use to replace them.
Suitcases
We know what you're going to say: "But I'm already using suitcases to pack my clothes!" Well, yes, that is their primary purpose. However, if you're looking for ways to save a few bucks, you should use them for anything but clothes.
Large suitcases are a versatile alternative to moving boxes. Especially carry-on luggage with wheels. They are excellent for transporting books, documents, pans, pots, silverware, and many other heavy unbreakables. You can use them for some fragile items, too, but only if you wrap and pad them properly.
Backpacks
Backpacks are super convenient by themselves. Sturdy, resilient, easy to carry – they tick off all the boxes when it comes to convenience. So, they are ideal to use instead of packing an essentials bag/box. Hiking and city backpacks are, by far, the best choice. Plenty of pockets is a big plus and an excellent way to pack small, easy-to-misplace items and valuables.
Bags
Gym bags, tote bags, beach bags, duffel bags – these are all great alternatives to boxes. They are deceptively large and, therefore, can hold a good amount of stuff. However, it's best if you use them for unbreakables only, as they don't provide enough integrity for fragile items. Apart from that, everything else is a go. Toys, cables, utensils, linens – these are all fair game. Just make sure not to overfill them as you will need to seal them to prevent spillage during transport.
Trash bags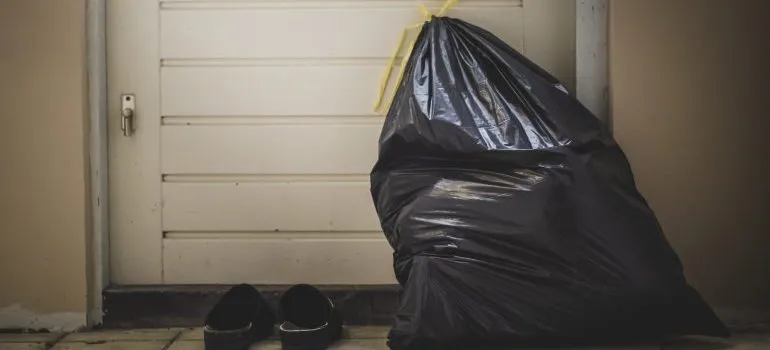 Heavy-duty trash bags are one of the cheapest and most convenient ways for packing light, bulky unbreakables. Coincidentally, they are also the reason why we advised you not to use suitcases for clothes earlier. You can use them for clothes, pillows, curtains, linens, towels, or any items not in danger of breaking. However, they do have some downsides:
Although heavy-duty, trash bags are still just plastic bags. As such, they can tear easily and leave your belongings at the mercy of the elements;
If you'll leave your possessions in one of the storage units Boise movers offer, plastic bags are the worst option. They trap moisture which can cause mold to grow on your items, thus ruining them;
There's no reliable way to secure plastic bags in the moving truck. So, they will shift and bounce around.
With a bit of attention and planning, you won't have to worry about any of the above. Simply don't overfill them, seal them tight, and you're good to go.
At-home packing supplies as an alternative to bought materials
With the big thing out of the way, it's time to focus on the other two nuisances of packing: padding and wrapping. Bubble wrap, kraft paper, packing peanuts,  – you can replace most of them with at-home packing supplies, without missing out on safety.
Newsprint
We have to start with the most obvious one. Old newspapers make for excellent padding material, whether crumpled or torn to shreds. However, despite popular opinion, you should never use them as the first layer of wrapping. Print can easily transfer to a wrapped item and it can be a pain or borderline impossible to remove. So, it's better not to risk it.
Magazines
Thick paper magazines use is a great separator and viable option for padding. A few sheets between breakables provide ample protection. Or, you can use the whole thing to make partitions in your suitcases for better organization.
Paper towels
Although not ideal wrapping material due to their price, if you have some extra lying around you can put it to good use. Paper towels are great as a first wrapping layer for your items. For best effect, combine it with newspapers and magazines for ample, yet super-cheap protection.
Old fabric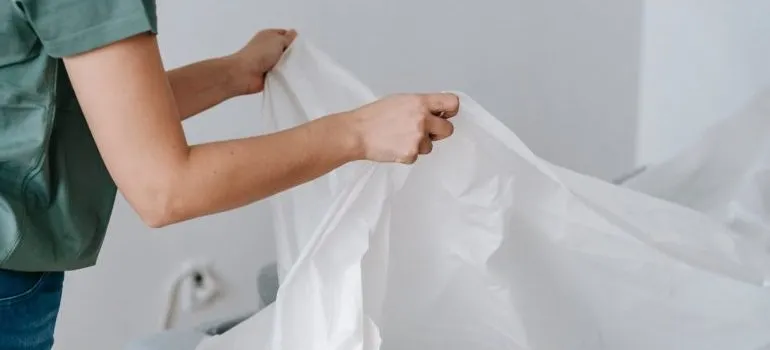 In most cases, you wouldn't take torn clothes, towels, or linens with you when moving. In this case – you should. Smaller, torn pieces of fabric are amazing for padding or, rolled up, as a separator. Larger ones you can use for wrapping breakables but make sure you can wrap it a few times around.
Blankets
There's a reason why the best long-distance and local movers Boise has always insist on using moving blankets. They offer ample protection for bulky furniture and appliances, without adding too much weight. Also, it protects your property from damage in case of accidental bumping. So, it's wise to follow movers' example and use your blankets for wrapping large items.
When safety is critical opt for quality and professionalism
At-home packing supplies are an amazing way to save some cash during relocation. However, when it comes to valuable items, it's best not to cut corners. Therefore, when packing things like art, electronics, or precious china, opt for quality packing supplies Boise. These are the only thing to provide enough integrity and protection for your belongings. Still, if you want to be certain everything is packed properly, and don't want to take any chances, it's best to let professionals do it for you.

Everyone from the packers to the movers were awesome! They were all very professional and showed up when they were supposed to. would definitely use them again.
Let our team put together a comprehensive moving plan for you. Complete our simple free quote form or contact us at 1-208-375-0961.